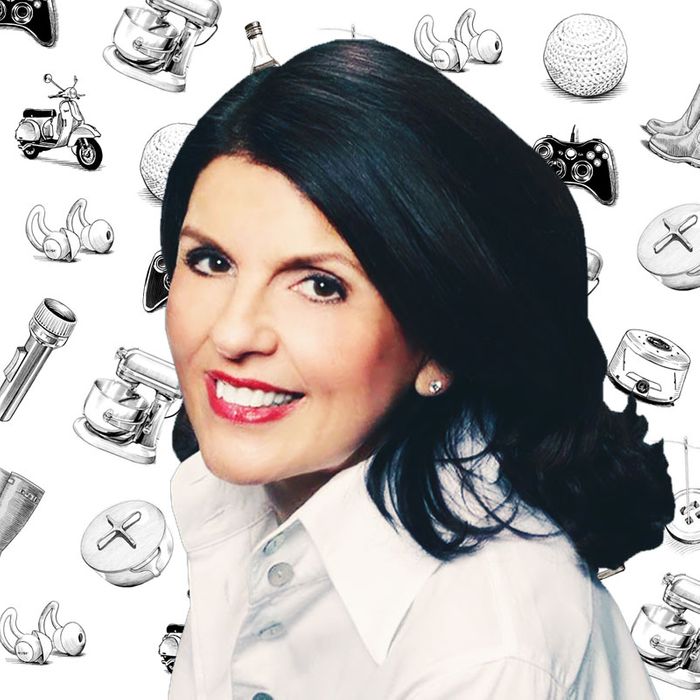 Photo: Courtesy of the subject; Illustration: Joe McKendry
If you're like us, you've probably wondered what famous people add to their carts — not the JAR brooch and the Louis XV chair but the hairspray and the electric toothbrush. We asked astrologer and writer Susan Miller — the co-author of Astrology, a Taschen coffee-table book released earlier this year — about the pillows, perfume, and olive oil she can't live without. 
Swiss Army knives are indispensable. I use mine to open FedEx boxes, slice an apple, open bottles, file a broken nail, get the tags off sweaters. I never leave home without one. I think it's the best gift, too — but if you give someone a knife, they have to pay at least a penny for it, or else it's bad luck. That's what they say.
It's the best exfoliant — soft, yet efficient. There are sugar crystals that you can feel on your skin, so it's not as soft as others where you can't feel any granules. I rub it on my face with just a little water right after my morning shower. It sloughs off all the dead cells you don't even know you have and leaves skin looking so clean and smooth that light reflects off it, as if you're lit from within. And it smells so good. I think Allure gave it an award? I've tried others, but this is the one that really stuck. I've used it for five years.
I taught myself to cook with Julia Child's cookbook, just like that girl in the movie Julie & Julia. I cooked a lot until my mother died seven years ago, then I stopped. My daughter noticed and, last year for Mother's Day, she gave me two weeks of Blue Apron meals. Blue Apron is the Bergdorf Goodman of meal-delivery services. To me, it's the classiest. They must test the recipes to death because everything is delicious. The recipes are very clear: The company prints them on big cards that are easy to follow and have a picture of each dish. It completely changed my life and made me an even better home cook.
I have two in my office and six in my dining room. I've had them since I got married. Every once in a while I have a caner recane them. They're so comfortable — people always say, "Oh, this is so comfortable, I never want to leave." Feng shui says you have to have armrests or else a person feels unstable.