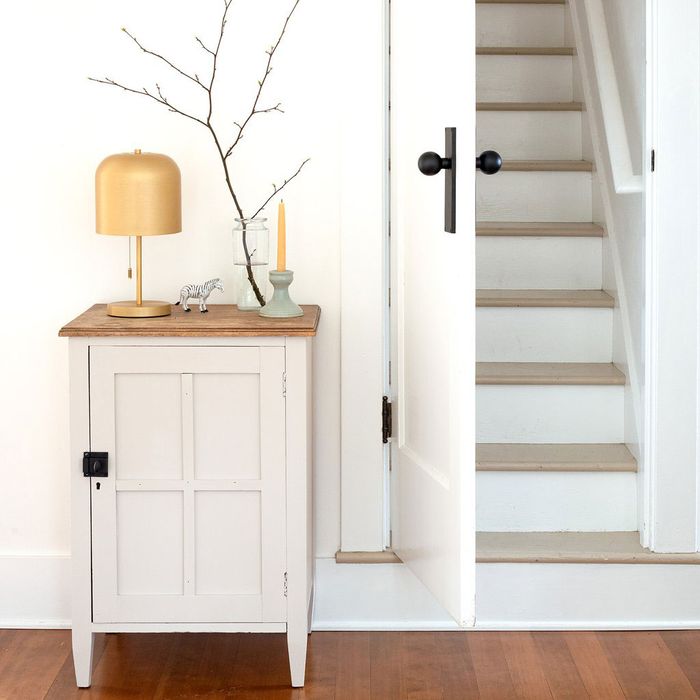 Photo: Courtesy of the retailer
Here are the Strategist, we're firm believers in zhuzhing up our living spaces with cheap (but expensive-looking) décor, like stylish and affordable desk accents, bamboo bath mats, and bud vases. Another thing that can often be upgraded at little cost: doorknobs. "If you're trying to make your old home look new, doorknobs are one way to do it, and it's not nearly as costly as painting everything," says Barbara Schmidt, principal and creative director at studiobystyle.
To ensure a cohesive look, it's important to keep your home's existing fixtures in mind as you search for new knobs. Interior designer Raena Albers says to approach the process this way: "If you have an '80s faux-French brass finish on your hinges, but you really want black door handles, are you willing to take the door off the hinges or do you want a quick replacement?" That's because you're more likely to be happy with your new doorknobs if you consider your space's style, and the look you want to achieve, when choosing them. Below, Schmidt, Albers, and seven more interior designers share their favorite knobs within six popular kinds of door handles, noting which would look best for any style of home décor.
Best matte black doorknobs
For a minimal look, lots of designers pointed us to matte-black knobs. "Replacing your old doorknobs with a matte-black finish is a sure fire way to make a huge visual improvement," says stylist Emily Henderson, who likes that this knob is "modern, but can talk to almost any other style."
Another one of Henderson's picks, "this one is simple, stylish, and is super-affordable," she says. At only $12 each, getting one for all of your interior doors won't break the bank.
This deceptively simple-looking black knob actually features several standout details, according to designer Ana Claudia Schultz, who says the bordered trim "makes more of a statement than a simple round doorknob." And its mixed shapes (a round knob on a square backplate) are very on trend, according to Schmidt.
If you're willing to splurge, Briana Nix, an elite designer at Decorist, calls this style her "dream doorknob." She says, "The tall version [helps] elongate a door, bringing height to a room."
Best brass doorknobs
Many of the designers also recommended shiny, polished brass knobs, and this one, like the Schoolhouse style above, is especially elongated. "[It's] the perfect complement to both traditional projects as well as more contemporary designs," says Joe Berkowitz, president and designer at JAB Design Group. "The exposed screws and rectangular backplate with bevel establish a classic feel."
Caitlin Murray, founder and interior designer at Black Lacquer Design, says she's been using brass knobs with a clean, modern silhouette. She likes this understated knob from Rejuvenation because "its low-key form can complement many different styles." And Albers generally recommends Rejuvenation as a source for a wide selection of doorknobs.
"Anything angular is on trend right now in décor," says Schmidt. "This octagon doorknob and square rosette [backplate] in satin brass is stunning; it feels very Hollywood Regency." Emtek is a favorite among designers for its high-quality, relatively inexpensive knobs (Schmidt particularly likes its range of styles and mix-and-match finishes).
Another geometric brass knob, Anthropologie's is vintage inspired, but still looks fresh. "The hexagonal base … combined with the unique ceramic knob, is the perfect nod to the 1920s," says Lauren Cox, design program manager at Havenly, who recommended the style. "It's an easy way to add an Art Deco element without going too bold or over the top."
For an older look, Schultz suggests searching for vintage brass. "Nothing says well curated and thoughtful like finding options that are from the same era as your home." Vintage styles can quickly get expensive, though, so she suggests limiting your knob swap to one door, like a main entrance, to start.
For more affordable vintage brass, Etsy or eBay will often stock styles with prices in the two-digit range.
Best chrome doorknobs
Like brass, polished chrome knobs are extremely versatile. Rayman Boozer, principal designer at Apartment 48, loves these knobs for their "traditional, yet still current, look. The combination of old-world charm and sleek, chrome finish adds a ton of character."
This knob, chosen by Schmidt, has a more industrial feel than the Karcher style above: "Chrome is making a huge comeback, and I love the round shape with the square backplate," she says.
Best satin nickel doorknobs
This Baldwin knob is almost identical in design to the style above, but it offers a totally different look with its satin nickel finish (which is almost pearly; neither super-shiny and reflective nor totally flat matte). "It may not seem like much, but this sleek and simple doorknob will make a big difference in an ultramodern or minimalistic home with it's 'barely there' silhouette," says Cox.
Although it's more expensive, Schmidt loves the textured, fluted edges of this satin nickel knob, which she says give it more depth and tactile appeal. "This kind of detail feels good in your hand as you turn the knob," she says.