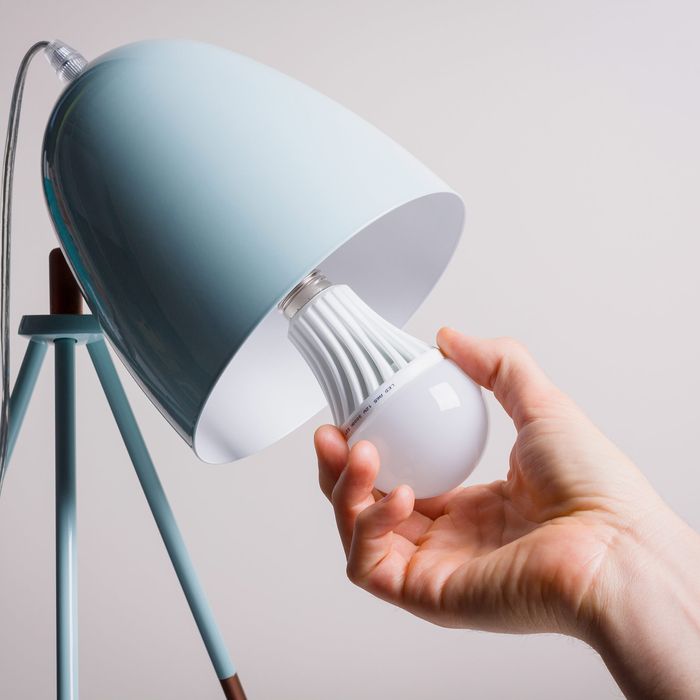 Photo: cegli/Getty Images/iStockphoto
Back in 2005, Oprah got on TV, with Leonardo DiCaprio and his Prius, to warn us all of the dangers of global warming, urging us to swap out incandescent bulbs for more energy-conscious compact fluorescent, or CFL, light bulbs. Not long after, my parents installed a set of CFL bulbs, and it was a nightmare. The CFLs buzzed over our kitchen table, casting a cool, blue light that made everyone's dinners look deeply unappetizing. It made us all a little sad, even though the lights were as bright as sunshine. My dad quietly reinstalled our less sustainable but much prettier incandescent bulbs, and we never really talked about it again.
In the intervening years, I scoffed at most energy-efficient light bulbs, assuming that the only sustainable options were these blue-tinted CFLs that made me feel like I was living inside of a computer screen. But according to Shaun Fillion, the program director of lighting design at the New York School of Interior Design and lighting studio manager at RAB Lighting, there's a less-nauseating alternative to compact fluorescents: LED light bulbs. These bulbs are also more sustainable, since they don't have any mercury in them (which CFLs do). "It lasts a lot longer," Fillion adds. "A typical LED lamp will last four to eight times longer than a compact fluorescent lamp before it burns out, and then color quality and dim-ability are a lot better."
That doesn't mean LED light bulbs aren't immune to the same issues with color temperature. "Both LEDs and CFLs can cast a far cooler, bluer light than regular incandescent bulbs, and that's fine for a store or office, but at home, it does feel unnatural," explains Homepolish interior designer Olivia Stutz. To avoid the off-putting, bluish hue from your LED light bulbs, Fillion recommends taking a look at the lighting facts label on the package of every new bulb. For quality's sake, Fillion recommends only buying bulbs with a high CRI, or color rendering index, "which has to do with how accurately the light shows off color in the room." A high CRI of 85 or above means the colors of furniture and decor will look more or less how they look when the room is sunlit. Look also at the correlated color temperature, or CCT; for warm, near-incandescent light, go for a bulb between 2,700 and 3,000 Kelvin. Here are a few expert-recommended options to get you started.
One light bulb that balances price; soft, warm light quality; and efficiency is this Philips LED bulb. "My clients have been extremely satisfied with the price and performance of this LED bulb," says Stutz, "and it does give a nice soft light that perfectly emulates an incandescent bulb, which is the main focus on what we're trying to mimic." And for just $1.62 per bulb when you buy in bulk, it's definitely an affordable option if you want to make the switch to a more sustainable bulb with as little friction as possible.
If you're really tweaked by any blue light, especially before you go to bed, Fillion recommends light bulbs with features such as these from Soraa. At 2,700 Kelvin, they'll have the same soft glow as the Philips bulbs, but they use a slightly different mix of colors to create white light, using violet instead of blue. "Generally, it's accepted that blue light is going to help you stay alert during the day but can be detrimental to sleep at night," says Fillion, so getting rid of that wavelength might help. They're also dimmable, unlike the basic Philips.
Another exciting feature of LED bulbs, especially over conventional incandescents or even CFLs, is the ability to take advantage of connectivity. For instance, these Philips A19 bulbs have the same color quality as those above, but they're also Wi-Fi-enabled, meaning you can control them with your phone or voice-activated device like an Amazon Echo or Google Home. These smart-enabled bulbs, however, tend to be more expensive than their non-Wi-Fi counterparts. (Think $12.50 per bulb, instead of under $2, each.)
With this new smart technology, you can also control the color of your LED lights through your phone. The leader in this has been Philips, with its Hue light bulb, and this option gives you a ton of flexibility in terms of warmth of light. For instance, if you use your kitchen table as a home office during the day, you could have bluer, brighter light during working hours, then once the sun goes down, switch the hue to something warmer before dinner. You can also get wild, and make the lights green or purple, if you really want.
This color-changing LED light bulb, recommended by writer Steven John, does many of the same tricks, but for a fraction of the price of the Philips Hue.