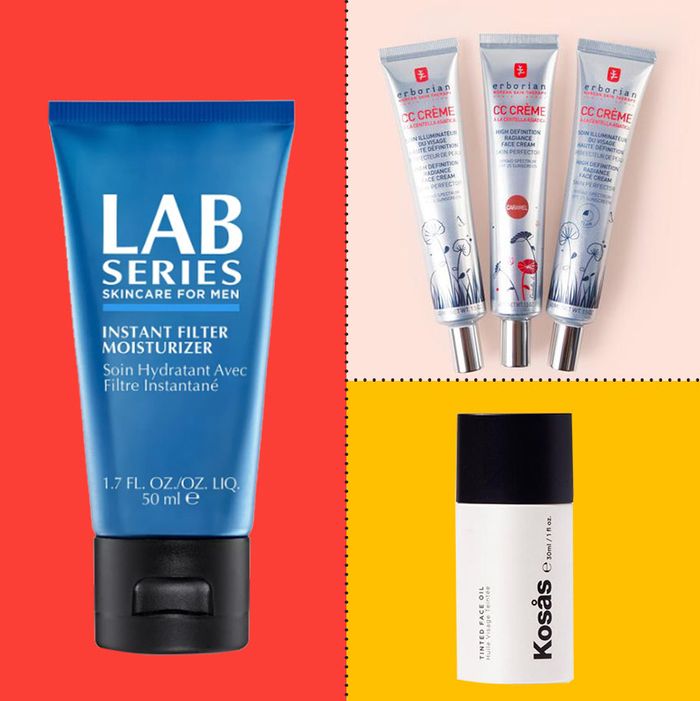 Some create a fake tan while others are more about blemish coverage.
Photo: Courtesy of the retailers.
I'm not going to pretend to know anything about makeup. My experimentation only recently began with concealer, but I've recently dived headfirst into the world of tinted moisturizer, which has all of the properties of a classic moisturizer (hydration, sun protection, sometimes anti-aging effects) with a smidgen of color. I use it to cover up redness (my biggest problem), mask blemishes, and even make it look like I just got back from Holbox.
Experts and makeup purists are particular about the difference between tinted moisturizers, BB creams, and CC creams, but for the sake of simplicity, I'm going to include them all here because there's not a huge amount of difference (BB creams are like foundation, sunscreen, and moisturizer all in one, while CC creams have additional color-correcting properties). What I look for is something that evens my skin tone effectively, doesn't cause me to break out, and feels like nothing. I've tried literally dozens of tinted moisturizers and these are the best ones for men that I've found.
My all-around favorite tinted moisturizer
Erborian CC Creme was once described to me as the perfect hybrid between Korean technology and French luxury — I don't know how true that is, but I can say it's my favorite tinted moisturizer, for being lightweight while still providing great coverage. Of all the tinted moisturizers I tried, it blended most effortlessly and quickly into my skin. The color is encapsulated, which means it comes out of the tube white and turns into a nice skin tone once it's rubbed in, like magic. A little goes a long way, which is good, because each tube is fairly small.
Best tinted moisturizer for beginners
The color in this one is also encapsulated and the tube is larger, which makes it feel more like a moisturizer than a color cosmetic. It's like training-wheels tinted moisturizer: There is only a subtle amount of tint — just enough to even out your skin tone, but not so much that you wouldn't want to put on a regular moisturizer after applying it. It sinks into the skin easily and the finish is powdery and matte, which is great for men. It doesn't have SPF, though, so it's better as a layer on top of sunscreen.
Best anti-aging tinted moisturizer