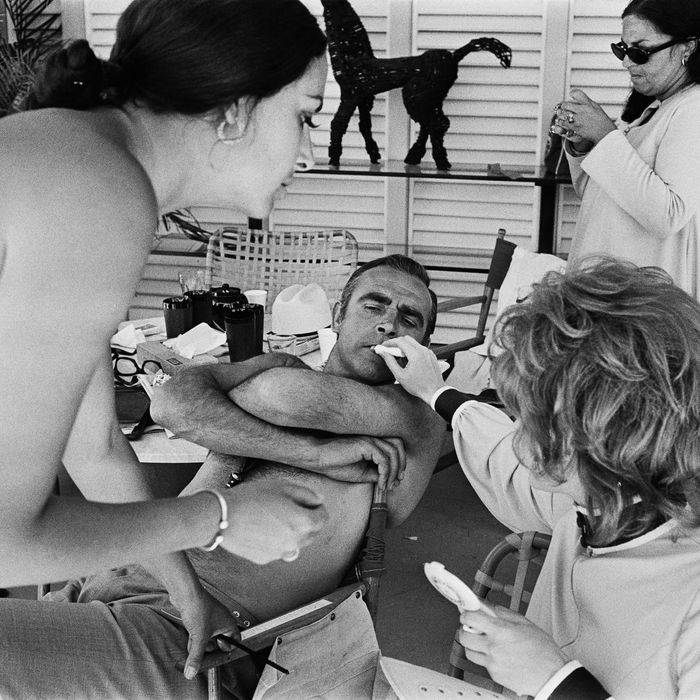 Photo: Antonia Hille/Getty Images
Though I'm obsessed with skin care, I actually know next to nothing about makeup. I, like many men, am honestly a little scared of the stuff. But we're living in a world where mainstream men's magazines are running stories about eye shadow, Friday Night Lights author (and Strategist contributor) Buzz Bissinger is writing about his favorite nail polishes, young heartthrobs are wearing color cosmetics on the red carpet, and luxury brands like Chanel are creating makeup lines specifically for dudes. Of course, men wearing makeup is nothing new (we've been doing it for thousands of years), and this all got me thinking. Why shouldn't I give makeup a try? Concealer seemed like a good place to start.
This multiuse product is often used to subtly cover up blemishes and brighten dark circles, both things I want to do. I zeroed in on formulas that wouldn't require a brush (with a few notable exceptions) and aimed for made-for-men varieties when I could. I focused on a few things: longevity of wear, amount of coverage, and what type of problem area I was trying to cover up. I quickly learned that while concealer is an ideal makeup product for any guy, it isn't always easy to use. After extensive trials (and errors), I found a few standouts that worked for me. My favorites below — all of which come in multiple shades, depending on your skin tone.
The best overall concealer
Of all the concealers I tried, this was my favorite. I dabbed it under my eyes and on various dark spots, blemishes, and little imperfections around my face. It worked just as well under my eyes as it did on spots, blending over both areas seamlessly and with great coverage. It also matched my skin tone very well, which meant I could use it on its own without fear of getting clocked or looking spotty. It also stayed put all day long.
The best full-coverage concealer
This concealer "is like a two-in-one product," celebrity makeup artist Daniel Marti told me. "It covers redness and pimples and also blasts out the darkness under my eyes when I'm on camera." When I tried it, it took me a bit to master. The formula is thick, so a little goes a long way, and it takes a bit of work to blend. But Martin was right. Once I figured it out (two drops under the eye instead of a swipe), it seamlessly covered up my dark circles and blemishes. I even put a dot on my cheeks to blur out redness. My favorite part is that it lasts: I applied this stuff first thing in the morning and it was still in place when I got home 14 hours later.
The best concealer to carry around
Tom Ford is an OG in the world of male cosmetics — the brand launched this concealer back in 2013, and the designer himself has never been shy about his own makeup routine. The teeny-tiny stick concealer is basically a crayon; there's no fussy brush or added applicator. I found that the waxy solid formula didn't offer quite the same amount of coverage as some of the other liquid-based concealers I tried, and it worked under my eyes better than over spots. Still, I can see carrying this with me for touch-ups throughout the day and keeping it in a gym bag or Dopp kit.
The concealer with the easiest applicator
I discovered that one of the biggest issues with concealer is figuring out how to actually, you know, put it on. The large, spongy tip on this one was by far the easiest for me to learn. With a few twists of the tube, the sponge soaks with liquid concealer and can then be applied anywhere (a swipe under the eye, a dot over a blemish). It also smooths into skin much easier than the others. It was already on my short list of favorites when David Yi, editor of men's beauty website Very Good Light, told me it was one of his go-to's as well. He uses it for "blemishes, dark spots, and any discoloration because it blends perfectly with your skin — seriously, magic," he says.
The best drugstore concealer
I bought basically every concealer I could find at my local CVS. But trying to figure out which shade would match my skin tone without opening the packaging was a challenge. I grabbed anything close to a "light beige," and out of all of them, this CoverGirl concealer matched my skin tone best. It was thick enough that it worked well as a spot treatment, in addition to under my eyes. On the downside, it didn't last quite as long as some others. But this drugstore formula, at just $4 a pop, felt the closest to other versions ten times the price.
The best concealer for spot correcting
I can see why people love YSL makeup so much. The quality was far superior to so many of the others, and while yes, it's pricey, a little goes a long way. It was smooth, easy to apply, and worked well for anything on my face that I wanted to hide. Where it really shined was spot coverage. I applied it to zits, dark spots, and red patches all over my face, and it covered them with ease. It didn't take a lot of effort to blend in, which was surprising for something that covered so well. I did notice a little bit of creasing under my eyes after a few hours, so I'll likely stick to spot treatment with this one.
The best concealer for under eyes
Whenever I brought up concealer in conversation with friends in the beauty industry, they always mentioned Nars. Usually people talk about the Soft Matte Concealer, which comes in a pot, but I opted for the applicator version (blame it on my brush fears). Still, I immediately understood what the fuss was all about. The formula was silky and added a wonderful brightness under my eyes without making it look like I was wearing highlighter. I also found that the applicator itself kept me from over-applying. Throughout the day, the concealer held strong, and while it worked a little less well on spots, it's one I found myself reaching for over and over again.
The best concealer for subtle details
Celebrity male groomer Jessica Ortiz told me she doesn't use concealer on her male clients unless they really need it. Instead, she uses this subtle brightening pen on the inner corners of their eyes when their eyes need to look more awake, but their dark circles aren't so bad they need fuller coverage. It took me a few tries to get the hang of using this, but once I mastered it, I was amazed at how a tiny swipe of this made me go from looking tired to wide awake without eye masks and de-puffing rollers.
The best concealer for multiple skin tones
When I polled my friends, including many self-proclaimed "concealer experts," literally everyone said they loved Tarte Shape Tape. One friend even called it his holy grail. (I guess that's why one is sold every 12 seconds.) And it's not all hype; I found that a few dabs blends in seamlessly and will last you all day. Most important, out of all the different concealers I tried, this one offers the widest range of skin tones, with 30 different shades.
The best advanced concealer
Unlike many of the other concealers I tried, this one has to be applied with a brush — and that requires a certain experience level that I'm still mastering. But celebrity hairstylist and beauty expert David Lopez recommended this palette so highly that I had to give it a try. "It's creamy, has a skin-like finish, and can brighten or cover," he told me. "It's perfect." The best thing about it, I quickly found, was that instead of just one shade that may or may not completely match your skin tone, this one has six, which you can mix to perfectly conceal anything you want. This also means, as Lopez pointed out, that "you can use it throughout the year." If I'm buying concealer in January, what do I do when my skin gets a little tan come summer? Using this palette means I won't have to run out and buy new tubes.
The Strategist is designed to surface the most useful, expert recommendations for things to buy across the vast e-commerce landscape. Some of our latest conquests include the best acne treatments, rolling luggage, pillows for side sleepers, natural anxiety remedies, and bath towels. We update links when possible, but note that deals can expire and all prices are subject to change.
Every editorial product is independently selected. If you buy something through our links, New York may earn an affiliate commission.