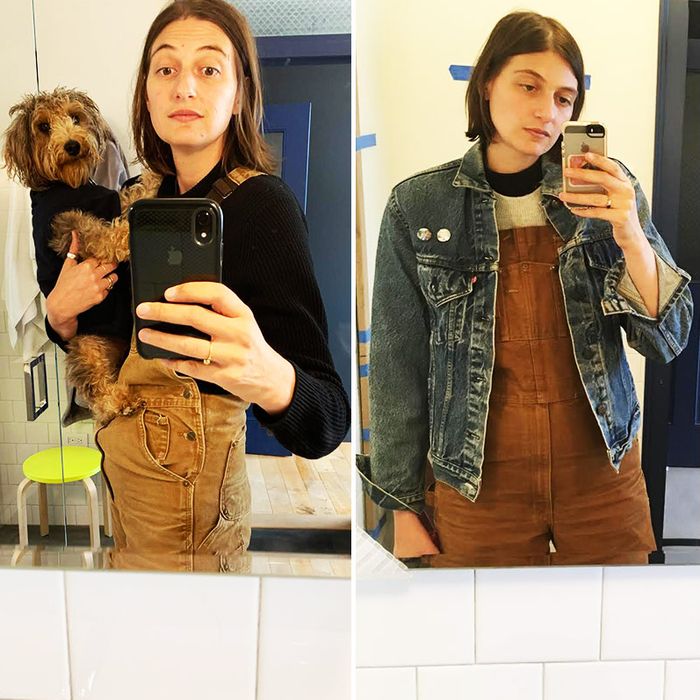 A few years ago I left a staff writing job at a major glossy magazine, ending a spree of employment in the rarefied world of style journalism. I had never considered fashion core to my sense of self — I generally felt like a schlub among swans — but as I slogged through those first lonely days as a freelancer, I realized I had underestimated my attachment to my workplace and the status it conferred. I was unmoored.
I needed a new identity, and a new look: something comfortable but not pathetic the way sweatpants can be when you're still wearing them at 4 p.m. on your couch. So, from the bowels of my closet, I exhumed a pair of men's Carhartt overalls bought online in a spurt of misguided enthusiasm after seeing Gillian Jacobs wearing a similar pair on the Netflix show Love.
Similar is an overstatement. Gillian is a slender 5 foot 4 (per google). I am a rather hippy six feet tall. Both of our Carhartts were tan, but that's where the resemblance ended. Gillian's were slim and breezy and called to mind words like jejeune: mine were boxy, stiff, and strangely proportioned, with excess chest fabric, and tube-like pantlegs that—even given my height—swallowed my lower half. (Other Carhartt wearers concur: "big trash bag legs," is how ceramicist Helen Levi puts it).
No matter: I cuffed the bottoms and made them my thing. They were appealingly utilitarian, seamlessly transitioning from writing to painting to walking my dog (my main pursuits). They even worked well for interviews, with a bib pocket that perfectly fit my iPhone, enabling hands-free recording. And they were un-fashion, normcore bordering on hokey. Carhartt, which was founded in Michigan in 1889, is, as one writer framed it, a brand that bridges the gap between red states and blue, its barn coats and beanies beloved by livestock wranglers, factory workers, '80s drug dealers, skate kids, Kanye, and Daniel Day-Lewis alike. Carhartt WIP, the upscale European licensing line with an outpost in Soho, has helped convert the Carhartt C into a streetwear status logo. But when it comes to overalls, conventional wisdom about Carhartt's ineffable, nonpartisan cool flies out the window. Tupac could rock overalls all day long (though his best-documented pair was actually Dickies); it's touch and go for the rest of us. "Let me be honest," says Strategist columnist Chris Black: "Overalls are hard to pull off unless you are doing manual labor. It can feel a bit forced."
Reader, I forced it. And 20 or so washes later, my commitment to my ungainly garment started to pay off. The initially stiff fabric relaxed and faded to a nice mustard color. The legs shrank to an of-the-moment crop, And the tightness around my hips and butt, which initially struck me as unflattering, suddenly seemed intentional, a little like the Jesse Kamm pants that had recently become Brooklyn-ubiquitous. And I began to notice that whenever I wore my overalls out, people would stop me — in bank lobbies, restaurants, stores — to tell me how much they liked my look. I also started getting text messages from Carhartt-curious women — an ex-boyfriend's ex-girlfriend, who reached out for sizing advice; my husband's cousin, who wondered if she'd be stepping on my toes if she bought a pair. A few years into overalls life, it felt like I was part of a growing secret — or not so secret — society.
Indeed, a rep for Soho's WIP store confirms: Overalls sales are on an upswing. The same is true a mile uptown at Dave's, Chelsea's premier workwear emporium, where the core Carhartt customers are construction workers and tradesmen. But the percentage of Dave's clientele interested in fashion over function is rising, says co-owner Adam Levy, which can make for some funny interactions: It's not uncommon to see construction workers shopping in bibs enviably broken in from years of use, while fashion people circle, slathering to buy the weather-beaten garments right off their backs.
Little surprise then that Carhartt-eralls of all sorts are popping up in unexpected places, from the front page of the New York Times "Arts and Leisure" section (for which artist Risa Puno was recently photographed in black coveralls) to Hinge, where my friend Shawne just met a guy named Francis, whose profile picture shows him camping in a pair of honey-brown bibs. "It's a sexy look," Shawne told me. "It's part of why I chose to match with him." (Francis, for his part, says that one of his matches said she wanted to "drop into my Carhartts" and told him to show up to their first date wearing them.)
Could I get away with sexy Carhartts? I recently noticed that the company was selling ladies overalls in tall sizes, so I sprung for a pair: deep muddy brown, with a slightly more tailored silhouette, and a kicky flare to the leg. Then, with an invite to a fancy fashion party looming, I doubled down and got the same ones a size down in black. These were tight, so tight that it would be tough to sit in them. But with Instagram's encouragement I wore them to the party, paired with patent-leather Beatle booties and a white oxford: a little bit cater waiter, a little bit glam. Later that night, I brushed by a fashion editor I used to work with as I made my way to the bar. She looked me up and down, eyes glinting with approval. "Oh my God," she exclaimed, grabbing my shoulder, and by extension, my strap. "Your Carhartts!"
For My Preferred Look
My current favorites, the same ones that I wore to the party. I'm six feet tall, and the tall mediums are just long enough.
For the Chris Pine Stan
For the Bib-Resistant
Try the Women's Smithville Coveralls in black, à la installation artist and sculptor Risa Puno. "There are tabs on the bottom so you can roll them up to two heights, and snaps on the side so you can adjust the waistband. The proportions are really nice. It's not that restrictive. They would be functional if I were willing to ruin them, but I love them so much."
For the Aspiring Ceramist
Helen Levi started her considerable Carhartt collection with a pair of the men's bibs in natural (currently sold out, but WIP makes a pricier version here). "I love the white ones with ceramics. They start turning pinkish from all the brown stains, but in a nice way."
For the Hypebeast
For the Skinny Guy
Make like Francis, my friend Shawne's Hinge match, and buy the women's Crawford double front bib. "They're still pretty large on me, so I peg the cuffs a bit like we did with jeans back in the '80s. The only downfall: no zippered opening in the crotch, so peeing requires taking off both straps and letting the top section dangle awkwardly below my crotch line." Proceed with caution.
For Chris Black's (Grudging) Approval
"If you must do it, skip over the WIP versions and get the proper workwear cut, and if you are feeling wild, really commit, and go for blaze orange," he says.
For Longevity
When it comes to basic Carhartt canvas, Dave's sells one style: the men's RO1 duck bib overall (it also has denim and insulated options). "It's a durable product that will last you forever," says Levy. "In ten years they're going to be super fashionable again, and you'll still have the same ones."
The Strategist is designed to surface the most useful, expert recommendations for things to buy across the vast e-commerce landscape. Some of our latest conquests include the best acne treatments, rolling luggage, pillows for side sleepers, natural anxiety remedies, and bath towels. We update links when possible, but note that deals can expire and all prices are subject to change.