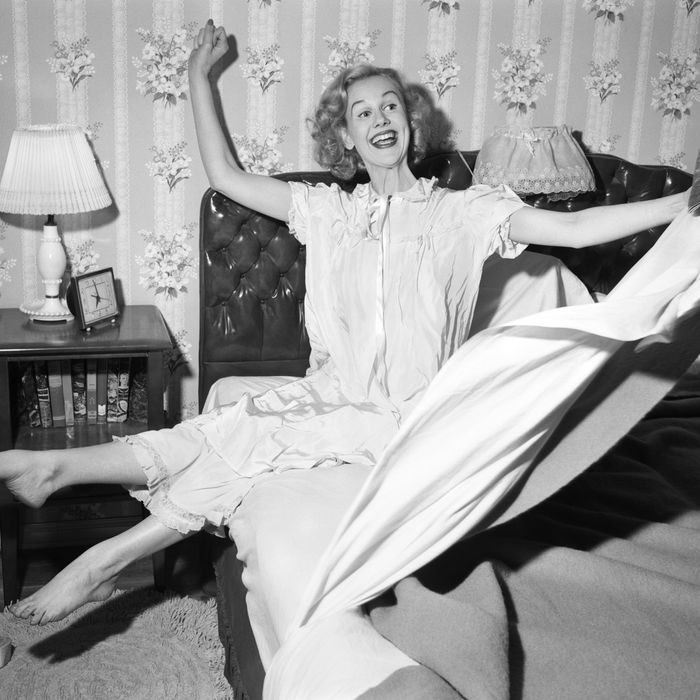 You, too, can wake up this happy.
Photo: Debrocke/ClassicStock/Getty Images
Are you the kind of person who changes out your sheets with the seasons? Are you aspiring to be that kind of person? Let us help you achieve that. Following up our original runaway success of a post about the best bed sheets in general (and the best bed sheets on Amazon), we've gathered 11 interior designers, linen experts, and fabric artists to share their thoughts on the best bed sheets for summer. Read on about cotton percale, organic cotton, and linen to help you become the best summery (and non-sweaty) version of you.
"People who use flannel for winter often just use plain cotton for the other three seasons. That's a huge mistake. Summertime is for linen. Yes, linen is relatively fragile, so I line-dry mine. Yes, they wrinkle, but that's part of what linen does, so embrace it. After a long day out and a shower, nothing feels like jumping into a bed dressed in linen as you get ready to wind down and relax." —Jarret Yoshida, interior designer
"One of our favorites is Naturepedic. We love the idea of eliminating chemicals and toxins and promoting healthy sleep patterns in our household by using organic cotton sheets. These sheets are so soft and cozy to the touch and provide products for the entire family, from babies to adults. Since they are made from 100 percent cotton, they are also more breathable and cooling for these warm summer days." —Angela Harris, TRIO Environments
"I recommend Parachute's Percale Venice Set. It's their signature bedding bundle. It feels cool and crisp to the touch, which is great for summer. I love that the bundle includes a fitted sheet, two pillowcases, and a duvet cover. No top sheet, which is less fabric and one less layer to weigh you down. Plus, the color choices are all good, so you can't go wrong. I went with the sand color because I love how well it complements the natural color of the fibers in my tapestries." —Lauren Williams, fiber artist
"To avoid those summer-night sweats, you must stay away from synthetic materials and use a breathable natural material instead. Linen, cotton, percale, and even bamboo sheets are the best ways to go. Make sure you keep the thread count between 300 and 400, and do not overdry your sheets by mixing them with jeans or non-cotton fabrics in the dryer." —Bobby Berk, interior designer
"Cotton percale is my preference when it comes to cool sheets. Matouk, Pratesi, or D. Porthault are my go-tos for ultimate luxury in quality, feel, and embroidery. For kids' rooms, I love Serena & Lily, as their designs are both cute and colorful." —Anne Hepfer, interior designer
"I like percale-cotton sheets in the summer, which are crisper and lighter than sateen cotton, which I use in the winter." —Miles Redd, interior designer
"I think cotton-sateen sheets are the best for summer. They feel cool and almost silky, so they are less clingy. My all-time favorites are from Eileen Fisher." —Shawn Henderson, interior designer
"I love 100 percent cotton-percale sheets, especially for the summer. They are crisp, cool to touch, and lightweight. My go-to bedding, if it doesn't have to be custom, is Calvin Klein sheets from their store on Madison Avenue." —Mia Jung, director of interiors, Ike Kligerman Barkley
"I love a natural linen for summer. The fabric has great breathability, which is perfect for those hot and humid summer nights. West Elm's Belgian Flax linen sheets are usually my go-to." —Anthony D'argenzio, founder and creative director, Zio & Sons
"My great-grandmother was Irish, so I grew up with hand-stitched Irish linen sheets in the summer and flannel in the winter. I love the texture of linen sheets. They tend to have a looser weave than cotton, so they don't trap heat as much. The higher the thread count a sheet has, the less it breathes, so I stay within a 300 to 400 thread count. I avoid sateen and silk, which trap heat. These CB2 linen sheets from Portugal come in a range of colors, but white is always best in my book." –Ross Cassidy, interior designer
"Honestly, my favorite sheets are from the Target Hotel Collection, Supima Hotel Sheets. These are the most cost-effective and high-quality option I've found. What I love most about them is that they are delightfully crispy and keep me cool throughout the night. Also, the fitted sheet stays put and fits a mattress up to 20 inches deep. Every time I get into bed, I feel like I'm in a luxury hotel." —Meghan Scott, interior designer, //3877
More
of
the
Strategist's
favorite
sheets
that
would
also
be
great
for
summer
The best-rated linen sheets on Amazon. According to one reviewer: "I think this linen is an incredible value for the money, and if you're thinking of purchasing a real linen set with the great linen feel, look no farther."