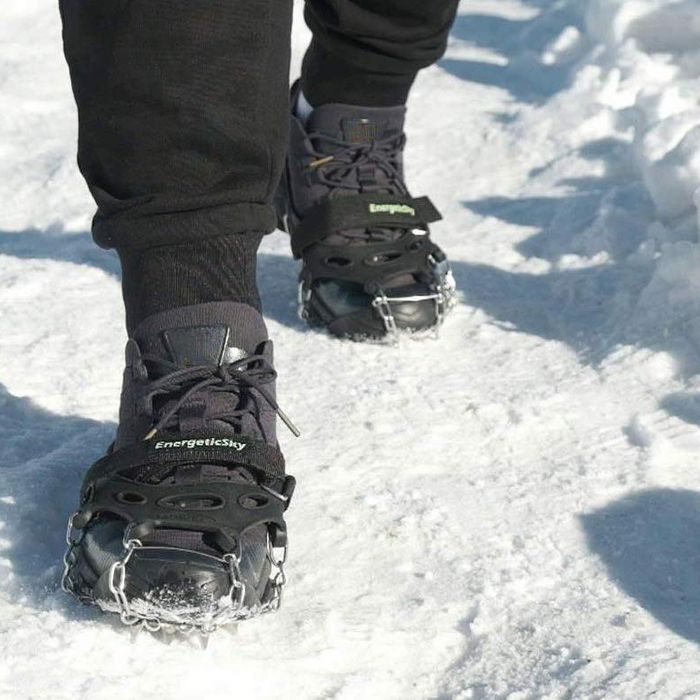 Photo: Courtesy of the Retailer
Here at the Strategist, we like to think of ourselves as crazy (in the good way) about the stuff we buy, but as much as we'd like to, we can't try everything. Which is why we have People's Choice, in which we find the best-reviewed products and single out the most convincing ones. (You can learn more about our rating system and how we pick each item here.)
And while we've written about lots of winter gear before — including the best men's winter boots, the best men's winter gloves, and the best women's winter hats— here, we've rounded up the best traction cleats, as praised by the most enthusiastic reviewers on Amazon.
Best-rated traction cleats
With over 2,000 five-star reviews, these traction cleats received high marks for stability, especially when walking over ice. "I'm so afraid of falling on ice, so when I saw these I gave them a try and wow, they really work," celebrates one reviewer. Another calls them the best "less than $20 purchase ever," noting, "I used these bad boys after it snowed a whopping two inches in Portland, Oregon, the other day. I was running around Portland like Usain Bolt. I didn't slip a bit." Another customer, who admits she's "prone to slipping no matter how careful" she is, says these crampons kept her grounded and fearless: "I could take the smallest waddling baby steps known to man and end up rear-first on the concrete. It's a talent. These things are amazing. I shoveled snow/ice seven different times in these and didn't slip once."
Best-rated (less expensive) traction cleats
"These cleats are lifesavers," exclaims one reviewer. "They stay on, easy to get on/off, rubber and cleat parts all seem good quality. The metal prongs do not come to a point (mixed feelings about that) but if you have to step inside with them on, that pays off big time." Many chose these mainly rubber traction cleats because they stay on better than the metal options mentioned earlier. "They pull on and fit snugly. They are made of inner tube-type rubber. Cleats are metal and evenly distributed. Overall a good value for the money," writes one. Another reviewer says that compared to other more expensive models, "these seem to be much more stable than YakTrax and more sticky, as well. They don't move around as much once they are placed on boots, either." A few complain that they're difficult to get off, but one advises, "They're not easy to put on and off so I picked a pair of low rubber soled shoes and just leave them on for the winter."
And now for some micro-picks for every type of traction cleat you might be looking for.
Best all-surface traction cleats
More than one reviewer calls these traction cleats "the best" they've ever used, including one who calls them the "Best things ever. I have back problems and a slippery step can jar it into spasms easily. This makes me a very boring mom on snow days. With these on, I don't slip so I don't hesitate to head outside in snowy/icy conditions." Another notes these are "very effective on all kinds of ice," concluding, "Nothing is as good as these Yaktrax Diamond Grips. I also appreciate their versatility. They are low-profile enough that I can fairly comfortably walk on pavement with them on my shoes and tough enough to enable me to hike on icy trails in the woods." Another avid winter hiker describes these as "perfect and stood up to many miles on icy rugged trails this past winter without any problems. Very easy to put on and take off of my Vasque hiking boots." And as this reviewer sums it up, "These made it feel almost like there was no ice there at all. Obviously, you still need to be a little cautious on ice because, well, it's ice, but I never felt at risk of slipping in these things."
Best traction cleats for everyday chores
Many reviewers who gave these traction cleats five stars wear them while doing regular chores, like walking their dogs, commuting, and clearing their driveways. One uses them "all winter daily to walk the dog about three miles" and thinks "these are the best ice cleats you can get," noting, "I've tried them all." Another appreciates that "these traction cleats go on your boots with just a little effort and lay tight against the soles." He also adds that "they are not sloppy and they do not come off on icy terrain. They are ideal for trekking through snow on or off the street." One more appreciates that they "make any icy sidewalk or walkway safe." And another concludes, "These are without a doubt the best traction devices for footwear ever. I bought the ICETrekkers again this year and this morning we had black ice all over the driveway and I didn't slip at all."
Best traction cleats for winter hikes
Half of all five-star reviewers think these are great for winter hiking. One used these for "winter hiking and some easy climbing on a mountain in New England winter conditions (snow and ice and ice covered snow)," reporting back that "they worked great. Easy on, easy off, very durable, and they do exactly what you want them to. They make hiking in packed snow and icy surfaces a breeze." Another claims these crampons make you feel "almost superhuman" when "on a trail and approach every obstacle without fear of slipping, sliding or falling." One even notes they'll last a long time, adding, "These ice grippers are super heavy-duty and very sturdy." And as one concludes, "These ice shoes are the best."