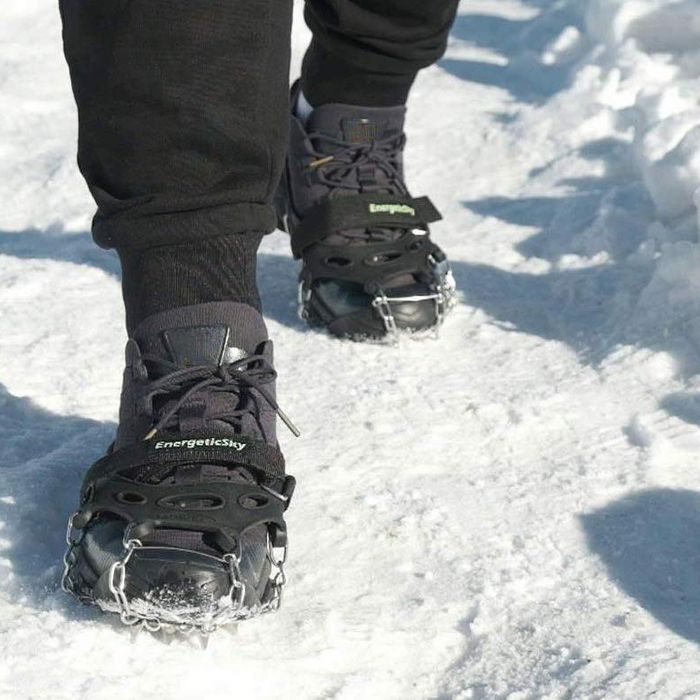 Photo: Courtesy of the Retailer
Whether your morning commute begins with a long trek to the subway or a short walk to your car, iced-over winter pavement can be deadly. A good pair of traction cleats — typically a rubber shoe harness with steel spikes (sometimes called "crampons") — can make sure the day doesn't begin with a wipeout. This shoe accessory can make any pair of boots, sneakers, even Crocs, weather-ready. So while we've written about lots of cold-weather gear for your feet — including the best winter boots, the best boot liners, and the best wool socks — here, we've rounded up the best traction cleats, as praised by the most enthusiastic reviewers on Amazon.
Related articles: How to Weatherproof Shoes and Boots | Best Uggs for Men
Best-rated traction cleats
With over 7,000 five-star reviews, these traction cleats received high marks for stability, especially when walking over ice. "I'm so afraid of falling on ice, so when I saw these I gave them a try and wow, they really work," celebrates one reviewer. Another calls them the best "less than $20 purchase ever," noting, "I used these bad boys after it snowed a whopping two inches in Portland, Oregon, the other day. I was running around Portland like Usain Bolt. I didn't slip a bit." Another customer, who admits she's "prone to slipping no matter how careful" she is, says these crampons kept her grounded and fearless: "I could take the smallest waddling baby steps known to man and end up rear-first on the concrete. It's a talent. These things are amazing. I shoveled snow/ice seven different times in these and didn't slip once."
Best-rated (less expensive) traction cleats
These crampons are praised by reviewers for their great fit, excellent traction, and low price. Unlike some more expensive models, this Silanon pair is not designed for extreme conditions. But reviewers say that if you're looking for traction cleats that will help you stay secure and upright on walks around the neighborhood, these work great. An older reviewer bought these crampons after they fell while retrieving the mail. "Everyone should order these cleats for winter use," they write. "They are perfect and now I feel safe walking outside. They fit perfectly over my winter boots." A second reviewer, who praises the cleats' "great grip" and "plans to buy more," says they "go on easily, and the Velcro strap makes sure they never come off.". And according to a third reviewer, who bought this model specifically for boots, these traction cleats "did as advertised — worked great on snow and ice! The workmanship was good and they were easy to put on."
Best snug fit traction cleats
"These cleats are lifesavers," exclaims one reviewer. "They stay on, are easy to get on and off, and the rubber and cleat parts all seem good quality. The metal prongs do not come to a point (mixed feelings about that), but if you have to step inside with them on, that pays off big time." A professional dog walker who has to navigate icy conditions with a "large, strong overenthusiastic" dog in tow says that even with such treacherousness, "I didn't fall or lose my balance. I would say they are going to be a hip-saver." Many chose these mainly rubber traction cleats because they stay on better than the metal options mentioned earlier. "They pull on and fit snugly. They are made of inner tube-type rubber. Cleats are metal and evenly distributed. Overall a good value for the money," writes a third reviewer. Another says that, compared to other more expensive models, "these seem to be much more stable than YakTrax and more sticky as well. They don't move around as much once they are placed on boots, either."
Best all-surface traction cleats
More than one reviewer calls these traction cleats "the best" they've ever used, including one who calls them the "Best things ever. I have back problems and a slippery step can jar it into spasms easily. This makes me a very boring mom on snow days. With these on, I don't slip so I don't hesitate to head outside in snowy/icy conditions." Another notes these are "very effective on all kinds of ice," concluding, "Nothing is as good as these Yaktrax Diamond Grips. I also appreciate their versatility. They are low-profile enough that I can fairly comfortably walk on pavement with them on my shoes and tough enough to enable me to hike on icy trails in the woods." Another avid winter hiker describes these as "perfect and stood up to many miles on icy rugged trails this past winter without any problems. Very easy to put on and take off of my Vasque hiking boots." And as this reviewer sums it up, "These made it feel almost like there was no ice there at all. Obviously, you still need to be a little cautious on ice because, well, it's ice, but I never felt at risk of slipping in these things."
Best traction cleats for everyday chores
Many reviewers who gave these traction cleats five stars wear them while doing regular chores, like walking their dogs, commuting, and clearing their driveways. One uses them "all winter daily to walk the dog about three miles" and thinks "these are the best ice cleats you can get," noting, "I've tried them all." Another appreciates that "these traction cleats go on your boots with just a little effort and lay tight against the soles." He also adds that "they are not sloppy and they do not come off on icy terrain. They are ideal for trekking through snow on or off the street." One more appreciates that they "make any icy sidewalk or walkway safe." And another concludes, "These are without a doubt the best traction devices for footwear ever. I bought the ICETrekkers again this year and this morning we had black ice all over the driveway and I didn't slip at all."
Best traction cleats for winter hikes
Half of all five-star reviewers think these are great for winter hiking. One used these for "winter hiking and some easy climbing on a mountain in New England winter conditions (snow and ice and ice covered snow)," reporting back that "they worked great. Easy on, easy off, very durable, and they do exactly what you want them to. They make hiking in packed snow and icy surfaces a breeze." Another claims these crampons make you feel "almost superhuman" when "on a trail and approach every obstacle without fear of slipping, sliding or falling." One even notes they'll last a long time, adding, "These ice grippers are super heavy-duty and very sturdy." And as one concludes, "These ice shoes are the best."
Best easy-on traction cleats
Dozens use the word "easy" to describe putting on these crampons. "These are great," raves one. "Easy on and off. Work on black ice, thick ice, under snow ice. Living in Saint Paul, MN, requires ice and snow conquering gear. These 'crampons' do the trick." Another explains that "Living in the Adirondacks one day it could be in the single digits next in the 40s followed by singles again which leaves a nice slick sheet of ice," and these crampons helped him trek through the fickle weather, continuing, "These are great for walking around with, easy on, easy off and so much traction." One even calls them "fabulous" and notes "In these I felt invincible." A fourth reviewer agrees, that yes, they're easy to put on, plus, "have been providing excellent traction," but more importantly, he concludes, "They quite literally have saved me from getting hurt many times."
Best traction cleats for packed snow
Lots of reviewers appreciate that these crampons can sustain through deeply packed snow on trails or the street. "I love these microspikes," raves one reviewer. "I used them in snow and ice and they worked perfectly. The teeth held up really well and I didn't fall once. I walked on packed snow, jagged ice, and even hiked down and uphill." Another hiked nearly five miles on packed snow and ice in these crampons, reporting, "They gripped snowy boulders, hidden ice, and kept me from tumbling down some pretty large cliffs." A third reviewer even calls these "friggin awesome," adding, "Easy to get on and off. These microspikes cut into any iced surface. I hiked on an ice packed trail all day." Another admits he's a "total convert," concluding, "Wow, have just walked 25 kilometers of the Speyside Way with over half of it having packed ice and these little beauties made it seem like there was no ice at all."
Best traction cleats for boots
More than 160 five-star reviewers mention "boots" in their reviews — almost all of them in reference to how easy it is to put these crampons over the soles of even the most heavy-duty boots. One reviewer (and former Yaktrax loyalist) says that once the cleats go on, they stay on: "These crampons go on over my hiking boots in a few seconds and didn't slide around at all. These are great for hiking on ice and packed, glazed-over snow." These Cimkiz traction cleats feature 19 stainless-steel spikes per foot and are ideal for even the most extreme weather conditions. According to a second reviewer, who hiked the Grand Canyon in the winter and used these with hiking boots, "They held up well on both ice and in a couple inches of snow and made me feel very comfortable!" A third reviewer bought these after suffering a "nasty fall on the ice," adding, "I wish I had them sooner. They grip the ice better than any other cleats I've owned. They are easy to put on and take off. They feel comfortable while I'm walking."
The Strategist is designed to surface the most useful, expert recommendations for things to buy across the vast e-commerce landscape. Some of our latest conquests include the best acne treatments, rolling luggage, pillows for side sleepers, natural anxiety remedies, and bath towels. We update links when possible, but note that deals can expire and all prices are subject to change.
Every editorial product is independently selected. If you buy something through our links, New York may earn an affiliate commission.