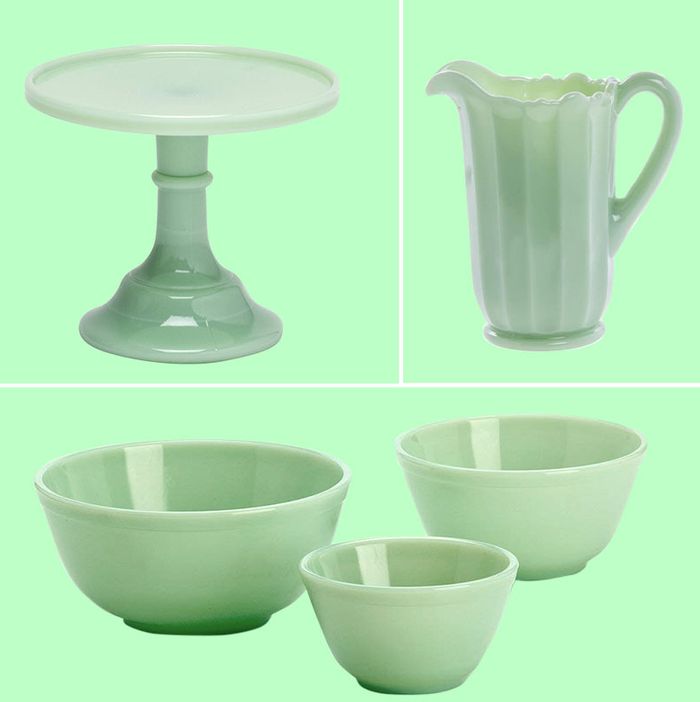 Photo: courtesy of the retailers
Following its resurgence in the late '90s, the opaque milky jadeite glass that was popular in the '40s and '50s for kitchenware and food storage has seen something of a revival in the past few years. Chef Vivian Howard of North Carolina's Chef & the Farmer tipped us off to her obsession with jadeite everything, and ever since it feels like we keep seeing it everywhere. It's also relatively inexpensive to produce, which is why modern jadeite from companies like Ohio's Mosser Glass can sell the stuff at very reasonable prices.
If you're not so keen on brighter colors in your home, jadeite is a more subdued way to add character to a countertop or cupboard. It's known for its resistance to stains, which made it an ideal food-storage container before Tupperware existed. Do note that you should avoid putting jadeite in the dishwasher or microwave, though, as temperatures can get too hot for the stuff. If you're not so lucky to get your hands on an original Fire-King collectible, we found some new jadeite pieces on Amazon that would make a good alternative: from a pretty ballerina soap soap dish to a charming spoon rest to a milky mortar and pestle.
Butter Dish
An elegant way to store your Land O' Lakes.
Mortar and Pestle
There's something very pleasing about seeing a mortar and pestle in this shade of pastel green.
Pitcher
Bowl
A great starting point for a budding jadeite collection.
Mixing Bowl Set
And then you can graduate to this three-piece mixing-bowl set.
Trinket Dish
For displaying a miniature soap or storing your rings and earrings.
Rabbit Dish
Something you can break out for Easter lunch or keep year-round as a candy dish.
Salt and Pepper Shakers
For a condo-in–Fort Lauderdale vibe.
Cake Stand
Think how nice this would look holding up a pastel-colored cake.
Ring Holder
This hand is technically meant for displaying rings, but we think it would look great "naked" on a mantel or a bookshelf.
Vase
Canister Set