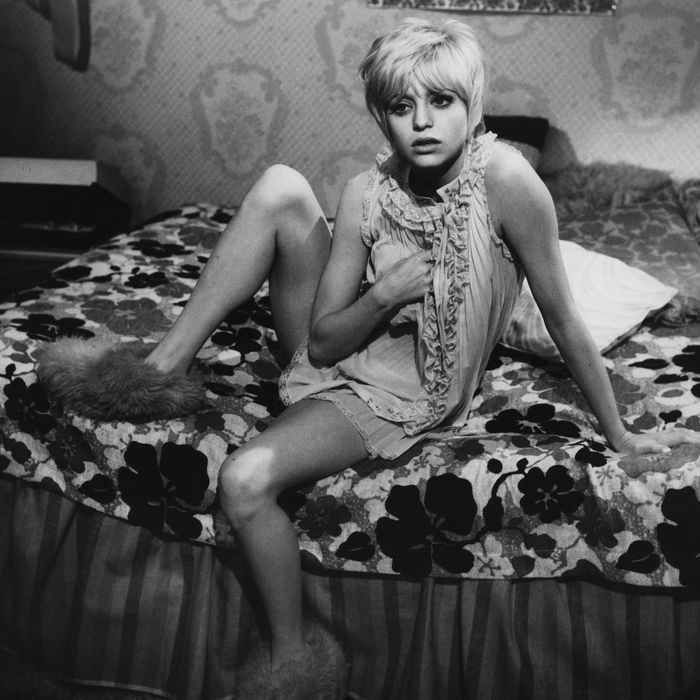 Photo: Silver Screen Collection/Getty Images
In the past couple of weeks, slippers, generally reserved for the specialist of cozy evenings at home, have become useful workday footwear. These cushy saviors can zhuzh up an otherwise dull indoor outfit, keep our feet off the hardwood floor as we pad along from the bedroom to the kitchen (and the kitchen back to the bedroom), and can help trick the brain into thinking we're slightly more dressed than we actually are (wearing something with a sole is perhaps slightly more put together than merely slipping on a pair of socks). Curious about the slippers and slides keeping well-heeled people's feet comfy and warm, we asked ten of them — from the founder of cool sock brand Comme Si Jenni Lee to stylist Alljahni Mack — for their top picks.
The Best Overall Slippers
Five people we spoke to name-checked UGG, which has long been a staple for comfy footwear enthusiasts. Naomi Elizée, a market editor at Vogue and host of the podcast So What Do You Do Again?, owns four pairs of them in different colors, silhouettes, and styles. Her current favorites are her leopard-print Cozette Ugg slippers, which she began looking at with particular fondness after binge-watching Tiger King. The slides "add a little flair to any lackluster WFH fit I throw on," she says. The chunky-ish outsole also makes them suitable for zipping quickly outside and back into the house.
For "reaching peak coziness levels" Elizée likes the Coquette slipper in a classic chestnut shade, which she wears for couch snuggling and milling around the house. She's partial to slide-on slippers in general, because she doesn't have to fuss with straps and likes something with a little fluff for extra softness. "These slippers are so soft," she says. "Whenever I put them on, it feels like a hug but for my feet!" Stylist Mecca James Williams likes to wear these around the house too, and appreciates the solid sole, which she likes for the foot support.
Personally, I'm a fan of the UGG Fluff Yeah slipper, a favorite of celebs like Cardi B and Bella Hadid. My girlfriend gifted them to me for Valentine's Day this past year, and I've been wearing them ever since. I like that they have a small strap at the back, which holds your feet (I'm clumsy). Maricia Josephs, founding editor of We Dream in HD and an associate public-relations manager at UGG is also a fan. "The strap makes them easy to keep on," she says. Writer and host of Dating in NYC: The Podcast Jourdan Ash says these slides are on her radar too: "The pastel colorways are fun and playful and now that we're on lockdown, I'm looking to make my 'inside clothes' just as fun as what I'd wear outside."
Josephs also likes the Fuzzalicious slipper, which have fluffy cross straps, a silky sheepskin footbed, and come in three shades: bright coral, black, and pale pink. "These spice up my loungewear and you can also wear them outside." Josephs also likes that they have ventilation and don't encase her entire foot, as too-fuzzy slippers, she says, can be a little too warm.
The Best Slip-On Slippers
Lots of respondents name-checked more traditional slip-on slipper styles, including Manrepeller's brand director Harling Ross, whose favorites are these from Swedish brand Inabo. They are a slipper-loafer hybrid, and are meant to be worn indoors. "They're great because they are soft and comfortable as all good slippers should be, while still retaining a sense of sophistication that is too often reserved for out-of-home style."
"The most important things to look for in a slipper are grippy bottoms, padded soles, and a secure upper area" says Comme Si founder Jenni Lee, "which is why I prefer slip-ons with a covered toe area — it eliminates the chance of your toes slipping through and gripping the front edge of your slipper." These slippers, which Lee calls "the Porsche of house slippers," and "ultimate slipper goals" tick all of these boxes, and while they're pricey, are worth it for Lee, who likes the cushioned suede soles and leather lining.
For a more affordable option, Lee recommends these slippers from Uniqlo, which are lightweight and have layered insoles. "These are a great, approachable option," says Lee, who likes that they're grippy enough that you won't slip and slide while walking around in them. These also come in a range of colors, which Uniqlo releases seasonally.
Even cheaper than those are these slippers from IKEA, which Josephs says are "cheap, easy, and great for travel" (when traveling is a possibility again). These come in two sizes, small/medium and large/extra large, and two colors: grey and white. The cushioned soles are made from EVA foam and the upper is made from polyester, and they have a grippy sole for added stability.
Freelance stylist Alljahni Mack is partial to the Kith Classic Cord Slipper, which comes in three colors (red, olive green, and cinder), has a corduroy exterior, and sheep fur lining. "Whenever I'm getting out of bed or out of the shower, I slip these on so my feet don't have to touch the chilly hardwood floors in my home," she says.
High Snobiety assistant editor Noah Thomas likes these bright, puffy mules from Subu, which a friend bought him while traveling in Tokyo. "I wear these outside and inside," he says, "that's how good they look." Writer and actress Lauren Adams also swears by Subus, which she calls "puffer jackets for the feet." The Strategist's senior editor Anthony Rotunno also owns a pair, and can confirm that they're just as comfy-cozy as everyone claims.
A fuzzy take on the traditional Arizona style, James-Williams likes these shearling-lined slides, which like other Birkenstocks, shape to your foot the longer you wear them. "They are super comfortable," she says, "I can wear them in the house and also while running errands in the neighborhood."