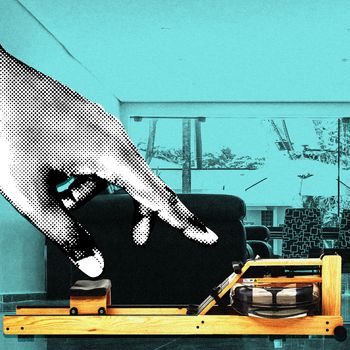 Photo-Illustration: Strategist; Photos: Getty, Nohrd
Assistant is a bit of a catchall term. Sure, assistants schedule meetings, take notes, and retrieve coffee, but they can also act as a quasi-concierge, sending fruit baskets to top clients and buying gifts for partners. In an effort to unearth the highly specific material needs of powerful people, we sat down with "Clara," who was the assistant to a Chinese beer heiress turned education-tech CEO for two and a half years. We spoke with her about the luxury-car Lego sets her boss would skip work to build, Frette slippers she'd toss after a month, and a rickety Harvard rocking chair that belied her real education.
Status Symbols
For Clara's first two weeks on the job, she shadowed the CEO's previous assistant while her boss was on a silent retreat in upstate New York. After six months, Clara moved two floors below her boss's Boston apartment because she was expected to be available at all hours. "If she needed me to walk her dog at ten at night because she didn't want to, I did," she says. "If she wanted dumplings at two in the morning, I went and got them."
Her main responsibilities included managing her boss's calendar, taking meeting notes, and helping with personal tasks, but Clara soon learned that another significant part of the role was buying objects to convey her boss's wealth. "She wanted people to see her and be like, 'Oh, that's a woman with a lot of money,'" Clara says. "One time, she asked me if she needed to give me a raise because I was drinking Poland Spring." While the CEO paraded her affluence in front of co-workers, investors, and friends with Ivy League gear and rows and rows of rare whiskey, Clara calls her posturing more of a "self-serving ego thing. If it was for anyone else, it would have turned off when people left, but it was just who she was."
Around 3 p.m. every day, Clara's boss would drink whiskey with her colleagues, because "she said it let them get a buzz on and got their brains going." The CEO likes Johnnie Walker Blue Label because it's the brand's most expensive blend, and she would keep at least 100 bottles at all times at home and in the office. Once the scotch had been drunk, Clara would line up the empty $200 bottles on the window sills as a show of her boss's financial success. (Clara says some employees, mainly those in more junior or mid-level roles, found this amount of drinking in the workplace odd.) Every few months, Clara would drive to a liquor store on the border of New Hampshire, where alcohol isn't taxed, to buy at least 20 bottles that would cost a couple thousand dollars total.
Photo-Illustration: retailer
"I think in her brain it was like she built the car, she owned the car," Clara says of the CEO's obsession with Lego's luxury-automobile sets. "But, of course, it was fake." Every time a new set dropped, she'd immediately text the link to Clara to buy it before it sold out. Clara estimates that each kit cost a couple hundred dollars, but she says "it got to the point where it was like the credit card goes in, and I didn't even look at the number." The CEO and her fiancé would then assemble the sets "like there was no tomorrow. She would cancel work because they were putting together Legos." Once complete, the cars would go on side tables and bathroom shelves at home, and on her desk at the office. Clara calls her former boss "a big car lady," so she says the Legos were probably a way for her to show off her luxury-car knowledge when guests and colleagues asked about them, as they often did.
The CEO claimed she went to Harvard and displayed a collection of university memorabilia at home and in the office, such as coffee-table books, flags, and this rocking chair engraved with the school shield that Clara bought for her boss's living room. It was "so rickety," Clara says, but her boss never sat in it. Later, after putting in her notice, Clara was sorting through emails and files ("my personal life was integrated with hers," she says) when she noticed that there was no mention of Harvard in any of the CEO's personal documents. Clara then realized that she hadn't seen a physical degree either, which made her question her boss's attendance. "All I had to do was call Harvard and ask if this person graduated this year. When they said 'No,' it was a little obvious," she says. "It was just how she built who she was. She'd go around saying, 'I did this. I did this.' When really, she didn't. It was very Anna Delvey."
Travel Necessities
Another part of Clara's job was booking personal and business trips, packing, and traveling with her boss to keep her company and make sure passports and luggage were in order. The CEO would frequently escape Boston in the winter in favor of destinations such as Miami, San Diego, San Francisco, Hawaii, and San Antonio. Clara also traveled with her boss internationally to the education-tech company's office in China.
Ahead of every trip, Clara would pack dozens of sheet masks from brands like La Mer and Dr. Jart. "We would do one in the morning, at lunch, and before dinner together," she says. "It was our time to talk through things and have each other's full attention." Before a two-week-long stay in China, Clara tried to order more than 100 sheet masks from Sephora but couldn't complete the purchase; she then received an email from the retailer flagging her as a reseller. This had happened before when Clara bought eye creams and moisturizers in bulk for the CEO, but even after Clara explained the situation, the company stopped responding and blocked her from logging in. She simply created a new account and ordered the masks.
Whenever they traveled domestically, Clara would purchase the board game Sequence at a Target or CVS closest to their hotel. It served as an ego boost for the CEO — because she played so often, "she could beat anyone at it, and she liked winning," Clara says, noting they'd play up to four times a day on leisurely beach trips. "Sometimes I'd have to be like, 'I cannot play this game one more time.'" After each stay, they'd leave the game in the hotel room instead of packing it for the next trip because the CEO wasn't keen on reusing things, Clara says.
Personal Items
Clara would receive photo texts — usually around 2 to 4 a.m., when the CEO claimed she did her best work — of items her boss wanted, and it was Clara's job to find and order them (even if there weren't any links or additional info included). Many of these asks would relate to her boss's interests, like fitness and Formula 1, while others would support what Clara calls her "clean freak" tendencies.
After a period during which she tested many different workouts, an OrangeTheory class sparked the CEO's interest in rowing, so she requested that Clara buy a machine for her home. Clara assembled the equipment — a "very tedious project" that took her about four hours, she says. Clara never saw her boss use it and even occasionally checked the miles on the rower's tracker, which remained at zero. "It was gorgeous, so it kind of became like artwork in the living room," she says.
The CEO is a Formula 1 fan and often attended Grand Prix races, where she insisted on sitting in boxes and seats with the numbers three, five, or eight in them, as she considers them lucky. For the one race Clara and her boss attended together, she says it was a hassle to get on the phone with Formula 1's VIP services to explain her highly specific request, but she was able to secure the seats. Clara and the CEO went to the practice and qualifying sessions on Friday and Saturday; by Sunday, the CEO was irritated by the loud noises, and Clara went to the Grand Prix alone.
Outside shoes weren't allowed in the CEO's apartment, Clara says, so she wore house slippers at all times. She preferred Frette's thick-soled velvet slippers over flimsier brands and requested a new pair every month — after a month, she considered the shoes too dirty to wear on a daily basis. Once a new pair arrived, Clara would move the "old" ones in a bucket in the entryway for guests. The bucket held about 50 pairs, and every four months, the CEO had Clara sift through and throw out any with slightly scuffed soles. "They weren't super worn in," she says. "It was a lot of waste."
Want to be featured in Assistant Files? If you've been an assistant in the past three years and want to tell us about your boss's shopping habits (anonymously or not), email strategist@nymag.com with "Assistant Files" in the subject line.
The Strategist is designed to surface the most useful, expert recommendations for things to buy across the vast e-commerce landscape. Some of our latest conquests include the best acne treatments, rolling luggage, pillows for side sleepers, natural anxiety remedies, and bath towels. We update links when possible, but note that deals can expire and all prices are subject to change.