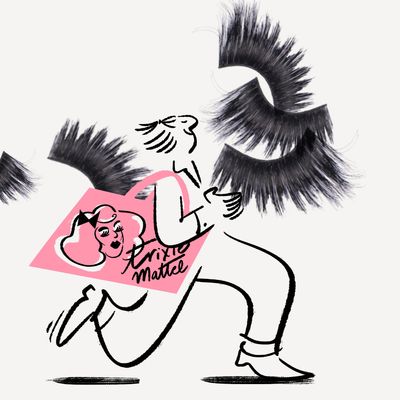 Assistant is a bit of a catchall term. Sure, assistants schedule meetings, take notes, and retrieve coffee, but they can also act as a quasi-concierge, sending fruit baskets to top clients and buying gifts for partners. In an effort to unearth the highly specific material needs of powerful people, we sat down with Brandon Lim, who works as a personal assistant to Trixie Mattel, one of the most recognizable drag queens in the world. We spoke to Lim about the fake eyelashes he orders in bulk, the green juice he rations, and the adhesives that keep "drag calamities" at bay.
Cosmetics
Lim has been working with Mattel full-time for three years now but has known her since she was an up-and-coming queen in their shared hometown of Milwaukee. Today, the Drag Race All-Stars winner judges TV competition shows, tours with multiple productions, and hosts a weekly YouTube series, which means Lim's job has become increasingly about facilitating consistency and smoothness. "I go into work thinking, What would I most want in this situation? I try to get all those little bumps and scrapes out of the way, so it's like invisible tailoring," he says. This includes helping Mattel maintain the illusion of "Barbie-like perfection" at all times with her hair and makeup, which Lim does by buying multiples of trusted products so that, while she's on tour, she can "put on a show for people and then pack it up in a way so that she can do it again the next day."
Mattel's signature eye look includes roughly 12 pairs of false eyelashes that she cuts into partials and then stacks for an ultra-feathery look. Though Lim says Mattel isn't brand loyal when it comes to her lashes, she tends to opt for the drag-industry-standard 301s, which are very full, curly, and black.
Once, while on tour in London, Lim packed Mattel's eyelashes in the wrong pocket in her bag. When Mattel couldn't find them, she sent Lim to search for replacements for that night's show. In the meantime, Mattel and another drag queen cut the paper sleeve their hotel-room key came in and colored it with Sharpie to fashion backup lashes. Lim didn't manage to make it back in time, so Mattel wore the paper lashes onstage, and no one in the audience was the wiser. "That really left an impression," Lim says, "because as Trixie told me, when the drag happens, if there's any missing piece of the puzzle — be it the blush, liquid liner, whatever — that takes away from the whole fantasy."
Kryolan Spirit Gum helps Mattel's wigs stay put, and the bonding glue is used for her lashes. (It's not eye-safe, so don't try this at home — Mattel gets away with it because her look is so oversize that she places her lashes in the crease and well below her lower lash line.) "Adhesive keeps things literally in place," Lim says. "If a wig or a lash starts to fall off, it has to be addressed immediately." So on days that Mattel is in drag, Lim keeps an emergency kit stocked with adhesives, pins, and other essentials to address what he calls "drag calamities."
Beverages
"A Jimmy John's vegetarian sub is going to be the same in Poughkeepsie as it is in Burbank," Lim says. "Trixie wants no surprises, and especially no tummy ones onstage." That's why Lim says Mattel sticks with tried-and-true snacks and drinks while she's touring — and because it's also one area she can exercise control over when her schedule consists of bouncing from venue to venue every night. "We're not asking for all-white rooms with all-white roses," Lim says, but he is particular about making sure Mattel has the exact items she wants because "close is only good in horseshoes and hand grenades."
Mattel's Red Bull preferences are — in order — yellow, classic, and sugar-free, Lim says. For a while, Mattel often drank Red Bull on UNHhhh, her web series with fellow drag queen Katya Zamolodchikova. Because of that, Red Bull started sending Mattel cases of its product, to the point where Lim says "it was getting a bit overwhelming." Now, Lim says Mattel buys her own Red Bull, which she drinks through a reusable metal straw. It's also on her rider, because Lim says "energy is definitely crucial" for the queen's lengthy preshow meet-and-greets with fans.
Another must-have on Mattel's "pretty scant" rider is green juice, which Lim says his boss drinks daily. While Lim says he'll sometimes run out and grab Mattel a green juice when they're touring, this is the brand she requests when someone else is shopping for her. If Mattel and Lim are traveling somewhere Green Machine might not be available, Lim will even pack "a little ration" and carry it from hotel room to hotel room. "There have been nights in another country when I've been out and had to look for something similar, and everything has spirulina in it or something wild," he says.
Lim says Mattel has been drinking tea regularly since before they even met as a holdover from her musical-theater background. According to her opera teachers, coffee dries the vocal cords, "whereas tea makes them softer, looser, and hydrated," Lim says. "I don't know how it works, but I know that Trixie heard that in her performance training and it really stuck with her." Today, she likes to start the day with a cup of caffeinated tea, then opt for decaf pre-show.
Technology
Though Lim says he's "a Flintstone in a Jetsons world," he's picked up a few bits of gear for Mattel over the years, especially for her YouTube channel, where she posts everything from makeup tutorials to videos on cooking 30-year-old cookie mix in an Easy Bake oven. More recently, Mattel has also gotten into DJ-ing to add another skill to her drag toolbelt.
Lim says he's had to purchase numerous hard drives to support Mattel's DJ-ing, including these, which she uses to store her mixes. "These little mushroom drives are a bit of fun escapism, even just behind the scenes," Lim says. "People recognize her form as that of a doll from their childhoods, but she's so bawdy and whip-smart. Like these drives, she's a combination of cute packaging and a strong product. It's all part and parcel of the same thing."
Last year, Mattel partnered with Duncan Hines on a video that challenged three L.A. bakers to make life-size cakes in the drag queen's likeness. One contestant wanted to use banana-flavored cotton candy for Mattel's blonde hair, so Lim was tasked with buying this machine. "It was wild," Lim says. "We gave all the bakers the same picture, and then they all came with their different interpretations and it went off really well. Trixie was surprised, too, and that's the big thing. So many cool and wonderful things happen when I'm working with her, but to truly surprise or truly tickle, I like that."
The Strategist is designed to surface the most useful, expert recommendations for things to buy across the vast e-commerce landscape. Some of our latest conquests include the best acne treatments, rolling luggage, pillows for side sleepers, natural anxiety remedies, and bath towels. We update links when possible, but note that deals can expire and all prices are subject to change.