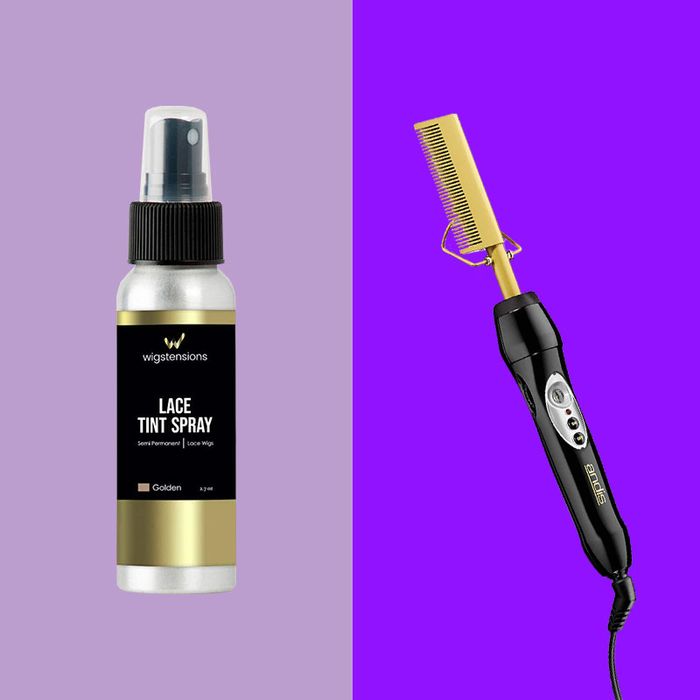 If you're anything like me, you've whiled away many, many hours of the pandemic watching 60-second TikToks of lace-front wig installations. (And the 231.9M views suggest I'm not alone.) It's satisfying to watch a wig become part of another person's head in under a minute, and when it's over, you can't help but think, I could totally do that. "Wigs are super-popular right now because they're really easy to do," promises Nicole Fulton, co-founder of wig brand the Hair Closet. "It's a great option for doing your hair in a complete look without too much work, and you really can do it at home." With that in mind, we asked Fulton and three other experts for tips on how to complete this process. The first step, of course, is to buy the wig — which we covered here — but once you have your unit in hand, here are all the products (and some helpful advice) that you'll need to successfully install it.
Prep the wig
Bleaching the knots
When you get your wig, it's likely that the knots on the lace where the hair is connected will be black – which can make it obvious that the lace of the wig is not your own scalp – so the first thing many people do is bleach these knots. "When you're bleaching it, you're making it almost see through so you don't see the little bitty knots," says A'lea Malcolm-Young, who reviews wigs on TikTok for her more than 400,000 followers. "That way it looks like it's coming straight from your head." To do this, Malcolm-Young says she mixes BW bleaching powder and 30-volume developer into a thick paste, "because you don't want it to seep through your wig," and then turns her wig inside out and applies it with a brush. YouTuber Mikaela White, also known as Pisces Finest, uses a similar process and says to "leave it on for about 20 minutes, rinse it off, and then wash it off using a purple shampoo, which basically tones the knots so that they're not orange and actually turn into a blonde color." She likes using the Shimmer Lights shampoo.
Shampooing the wig
White also likes to shampoo and style the wig, which can only be done if you are using a human hair wig that comes unstyled. "I like to wash my wigs with baby shampoo," she says. "It's really the easiest, and it gets all the grease out." She occasionally uses dishwashing liquid, but the key, she says, is to use something with as few chemicals as possible. She also recommends washing the hair every so often to keep it clean and healthy.
Customizing the lace
Now that you have bleached the knots, you can customize the lace to your skin tone. Some people use makeup for this step, but "I would recommend lace sprays more than makeup because makeup tends to get really cakey and is just a whole mess," says Malcolm-Young. She likes this Wigstensions spray because it comes in different colors for different shades of skin. "When you turn it inside out, spray the Wigstensions spray and then hit it with a blow dryer to seal the color in there," she adds.
Kadeisha Placide, manager and lead stylist at Brooklyn salon Classic Beauty Studio, says they use this lace tint at the salon for a realistic finish. While Wigstensions only comes in three colors, Ebin comes in six different shades.
Plucking the wig
Plucking the hairline of the wig is essential to getting a natural-looking hairline and can be done with regular ol' tweezers. Everyone we spoke to said this step is tedious but really important. "You want to remove some strands of hair so that you break up any line of demarcation across the front," says Fulton. "You don't want anything to have a harsh line across the front of your hair." Place the wig on a wig head with t-pins and then move along the hairline plucking one to two strands at a time. "When you're plucking your wig, make sure that you don't stay in one section and take your time," says Malcolm-Young, warning that people tend to overpluck in certain areas. "What I do is alternate my hand across the wig, making sure that I'm plucking from different sections every single time I pull."
Install the wig
Securing your hair
Once your wig is prepped, it's time to start the install process. First, secure your own freshly washed hair. You can do this by "braiding, twisting, or ponytailing your natural hair," explains Fulton, and then putting on a wig cap. Most of our experts say a regular elastic wig cap is perfectly fine, but Fulton recommends getting a wig cap that matches your skin tone, or adding makeup or lace tint so that "underneath your wig will look like your scalp, which is always the goal – you don't want your wig to look like a wig, you want it to look natural," she adds. She likes these (which are, in full disclosure, from her own shop) because "they're almost translucent once they stretch over the head, and they don't have too much tension." She notes that stocking caps and both latex and vinyl wig caps are other options. No matter what you choose, when putting it on, the cap should cover all of your hair, and Fulton recommends the four finger rule for how far down the wig cap should go. "You want to place your pinky finger at the top of your eyebrow, and then count four fingers up," she says. "Where your pointer finger or your index finger stops, that's where your wig cap is."
Cleaning the skin