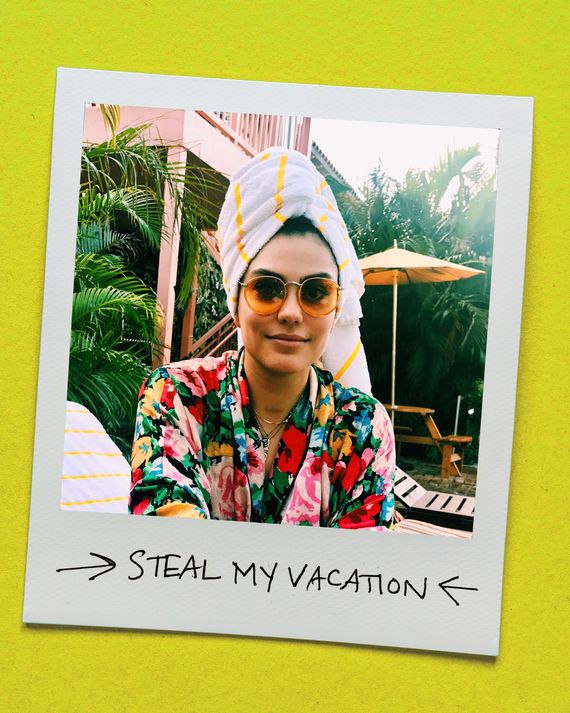 Photo-Illustration: The Strategist; Photo: Courtesy
Everyone knows that person who spends weeks sniffing around travel blogs, going deep into Tripadvisor rabbit holes, collecting Google docs from friends of friends, and creating A Beautiful Mind–style spreadsheets to come up with the best vacations/itineraries possible. In this recurring series, we find those people who've done all the work for you and have them walk us through a particularly wonderful, especially well-thought-out vacation they took that you can actually steal.
Emily Elyse Miller first started going to Miami for work, which meant that her trips revolved almost exclusively around food. In recent years, the cookbook author and founder of vegan-cereal brand OffLimits has visited Miami five times, guided not just by her professional contacts, but by friends who live locally and have roughly zero interest in the scene associated with the beachfront. As such, Miller's trips now find her sticking to the mainland, where she's discovered a less publicized, equally alluring side of the city. (If you're itching for a night out on Miami Beach, the only place to do it, Miller says, is Mac's Club Deuce, a beloved-by-locals spot with a "ridiculously old-school" atmosphere.)
In December, Miller returned to Miami for Art Basel, where she was promoting OffLimits with various pop-ups, tastings, and NFT cereal toys. With the memory of her last visit still fresh, she's condensed her favorite cocktails, meals, shops, and galleries into a perfect long weekend on Miami's mainland, featuring her favorite galleries, farmers' market sugarcane juice, and vinyl bar.
4 p.m.: Time your arrival for the Airbnb check-in
Getting to Miami from New York is so quick and easy, I try to work around hotel or Airbnb check-in times. (I hate having to deal with my suitcase.) There are some cool hotels on the mainland side, like Life House in Little Havana, but when I'm in Miami, I want it to feel like Miami, so I recommend an Airbnb or a rental on VRBO in the Design District, Midtown, or MiMo neighborhoods. I love looking for back houses, like this one, which has this great Art Deco detail with French doors in the back that open up to an outdoor space. It's right outside the Design District and super-accessible to everything. Easy to get in, easy to get out and pop around the city.
6 p.m.: Order a martini and off-menu Korean fried chicken
The first thing I do is drop my stuff off and go find something good to eat. What I did on this trip, and will absolutely do again, is go straight to Cote (3900 NE Second Ave.), the Korean steakhouse. Which, yes, they also have one in New York, but the one in Miami is really small and cozy; they translated it well. It's almost impossible to get a reservation, but you can walk in and grab a spot at the bar, which is standing-only. Grab a martini and these little Korean fried chicken pieces, which aren't on the menu. If I'm ever dining alone, I love to shoot my shot at sitting at bars, and then I can do dine-arounds more easily, grabbing one drink and one plate at different places in a night.
11 a.m.: Pick up coffee and observe influencers
Miami's days start a little later than what I'm used to in New York. Everyone in Miami is super-fit, so it's not like they're sleeping in; they're just working out, and then everyone has breakfast a little later. So there's not a ton of great morning-coffee spots when I'm staying in the Design District, but OTL (160 NE 40th St.) is a terrific and rare one over there, and it opens at 9 a.m. A friend of mine has a coffee shop nearby in the MIA Market (140 NE 39th St.) called Sabal, and that's terrific too, but it doesn't open until 11 a.m. The Design District is a great place to just find a spot and post up and people-watch. Especially on the weekends, there's so much going on — tons of photo shoots, influencers influencing.
12:30 p.m.: Get a fancy sushi lunch (or a quick sushi lunch)
Itamae (140 NE 39th St.) is a Japanese Peruvian spot from some very well-respected Miami restaurateurs. It fuses really interesting flavors and traditions, always offering up some great maki and ceviche. The menu is always changing, but everything is really good. I love to get a nice glass of natural wine and enjoy sort of a nicer lunch when there's time. But if I want something quick and still delicious, my Design District lunch hack is Sushi Yasu Tanaka. It's a super-unassuming sushi counter that's also in the Miami food market, and it's super-good and affordable for the quality.
2 p.m.: Hit the galleries 
It's easy to get by in Miami with rideshares and Citi Bikes, but I prefer walking when I can. Especially in the Design District, everything is so close, so it's easy to explore. I always wander over to Surface Area (151 NE 41st St., Suite 119), a gallery from Surface Magazine, which I really love (and not only because I have OffLimits boxes there) because they've done such a good job with it. The space is always changing, from featuring either Basquiat pieces to the KAWS x Estudio Campana couch.
5 p.m.: Eat dinner at an open-fire steakhouse
After the Design District, I'd head back to the Airbnb to just chill out and do my thing, and then take a car over to Little River, which is a neighborhood slightly north. It's not super-walkable — it sort of reminds me of Bushwick in Brooklyn — but there are a few places close to each other all worth visiting. My first stop here was Primary. (7410 NW Miami Ct.), this large concrete contemporary gallery owned by Miami artist Typoe. He shows his own stuff there but also curates work from a bunch of other artists who make bright, sculptural pieces and playful cartoonified art. Right across the street is my favorite restaurant in Miami, Lot 6 (7357 NW Miami Ct.). It's also known as Sunny's, but most locals call it Lot 6. It's from the team at Jaguar Sun, which is a very sexy, dark spot with a lot of pasta, and it's great, but Sunny's–slash–Lot 6 is this incredible outdoor steakhouse with an open-fire kitchen, and it all sits under this massive, super-old tree. You've got to make a reservation. Book it early, well before your trip, and make sure you go later, around 8 or 9 p.m. It's super-fun for a date or with a group of friends. Their Fino Martini, a passionfruit martini, is an amazing cocktail. I dream about it.
10 p.m.: Listen to jazz at a plant nursery–slash–cocktail bar
Around the corner is a plant nursery during the day, and it turns into a bar at night. I only recently learned what it's called: Center for Subtropical Affairs (7145 NW 1st Ct.). They have a little stage and bar set up, and they host all different types of music nights and party nights, a lot of Latin music and jazz. It's worth checking out their website to get a sense of when they're hosting something, but it's open to anyone — you just want to make sure you're visiting on a night when they're open.
10 a.m.: Get a New York–caliber bagel
Everyone in Miami goes to El Bagel (6910 Biscayne Blvd.) in MiMo, and I say this as someone who lives in New York: It's super-good. They have this bagel sandwich called the King Guava, and it's cream cheese, guava jam, a fried egg, and shoestring French fries. It's on another level. I pick up that bagel, grab a nice coffee from Panther Coffee (6407 Biscayne Blvd.), a local chain with locations across the city (and coffee that I prefer to what you can get at El Bagel), and then walk over to Legion Park to eat and enjoy the views, because it's right on the water. It's a pretty small market, but Legion in general is a very nice, beautiful, mossy Miami park. On Saturdays only, they have a farmers' market in the park, and you can get just about any kind of tropical fruits or groceries you could want. There's one vendor, this sugarcane-juice guy — he's got raw sugarcane and extracts juice from it, which is something I'd only ever seen otherwise in South Asia.
2 p.m.: Skip the wait and order a grab-and-go Cubano
Enriqueta's Sandwich Shop (186 NE 29th St.) is normally the perfect place to stop if you're on your way to the beach with friends, but it's worthy of a stop anytime. It's got old-school lunch-counter vibes. There's typically a wait to eat inside, because that's what the tourists want to do, so I always order from the window and drink a colada while my friends and I wait for our food. You can get a Cubano of Media Noche sandwich, plus they have what I think are the best croquetas ever. So you're eating super-good food, hanging out outside, chilling with all these locals. It's just got a good energy to it. You can get whatever kind of coffee you could want, and you'll need energy after eating a brick of a sandwich.
3 p.m.: Brave the crowds and bop around Wynwood
From Enriqueta's, it's easy to get to Wynwood and make an afternoon and evening of the neighborhood, which has gotten as busy and popular as Williamsburg, but times 500. It's really nuts on the weekends with bars and things to do, so make sure you have a plan for your day and know that calling a car to get there and back might not be the easiest thing to do. But there are spots that make it worth it. There's a streetwear store called Unknwn (261 NW 26th St.); I think LeBron James is a co-owner. But it's a very vibe-y shop, and it has this very beautifully painted basketball court next to the shop. Then, I always get ice cream at Salt & Straw (246 NW 25th St.). I really love them because they spend so much time researching where they're opening stores, and they create a menu that is very local. So there are a few flavors special to Miami that you can't get anywhere else, like Wynwood Brewing Mango Habanero IPA Sorbet and Panther Coffee Chocolate Tres Leches. But they also make amazing olive oil ice cream.
7 p.m.: Eat pizza, drink natural wine on a patio, head to a vinyl bar
On this most recent trip, I ate dinner at Old Greg's Pizza (3620 NE Second Ave.), which literally just opened officially. They started by making pizza out of their house during the pandemic, and it just spread word of mouth. So I had a square pie there at their new spot, and it was really good. After that, there's an amazing natural-wine bar called Lagniappe House (3425 NE Second Ave.). They have a huge backyard area and have live music, and it's also like a grab-and-go bottle shop. And from there, the only sort of scene-y place I like — I guess it's a club? — but it's a sort of speakeasy place called Dante's Hi-Fi (519 NW 26th St.). It recently opened, and it's a super-small listening bar where they only play vinyl, and it's just the perfect atmosphere. I went multiple times on my last trip. It's super-fun; you'll be there late.
11:30 a.m.: Pick up a highly coveted sandwich before leaving town
Boia De (5205 NE Second Ave.) is an amazing restaurant in the Buena Vista neighborhood, sort of rustic and Italian-y, but also they do whatever they want, that sort of thing. There's not much around it, and it's in this shopping center, but it's on the top restaurants lists in Miami, super-hard to get a reservation. But the secret is that on Sundays, they offer these amazing sandwiches, and once they're sold out, they're sold out, so get there when they open. It started with a fried chicken sandwich, and now they've expanded to offer things like mortadella sandwiches and sweet pea sandwiches, and they're good, so good. So get there when they open, get one, and then get on with your day.
Emily's
Miami
packing
list
Sunscreen
Vacation sunscreen is a must-pack for me; it's the best. It's a Miami-based brand, and the scent is like Miami in a bottle. Whenever I use it, it's impossible to not dream of the beach.
On-the-go snack
Togarashi Crunch is from West Bourne, so I always have a snack on the go. It's what I always wished Chex Mix would be. It's packed with an array of crunchy bits that are perfectly salty and features much better ingredients and fully compostable packaging.
Skateboard
My Andrew skateboard, which is a local Miami brand, is a great way to get around if you're going a short distance but don't want to deal with getting a car.
Plane socks
I know OffLimits is a cereal brand, but I always bring my OffLimits Zombie socks for the plane.
Note: Scroll down through the "Latest Toys" until you see the Zombie Sock, then enter its code (displayed next to its price) using the buttons on the right-hand side of the screen to add the socks to your cart.
The Strategist is designed to surface the most useful, expert recommendations for things to buy across the vast e-commerce landscape. Some of our latest conquests include the best acne treatments, rolling luggage, pillows for side sleepers, natural anxiety remedies, and bath towels. We update links when possible, but note that deals can expire and all prices are subject to change.