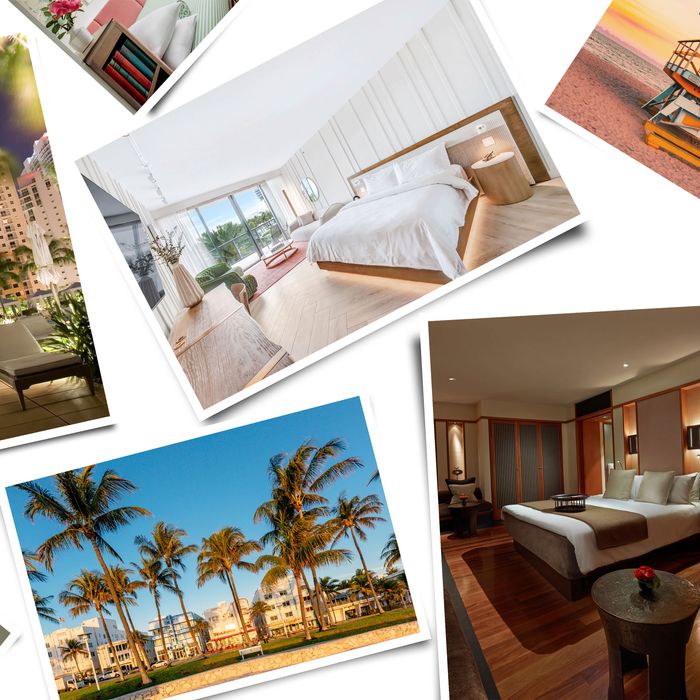 Photo-Illustration: The Stratgeist; Photos: Courtesy of the hotels; Getty Images
There are, as of late, some new reasons one might visit Miami. You may be attending a crypto conference, or considering one of the city's many new tech gigs. Or visiting friends that relocated permanently during the pandemic — along with the New York restaurant outposts that followed them. And then there are all the usual reasons: year-round sunny weather, the beach, Art Basel, spring break, parties, unapologetic luxury.
While global tourism suffered during the pandemic, this flurry of activity and renewed attention has seen Miami "transformed from a long-weekend or escape-the-snow destination to a year-round hub for singles, families, groups, couples, and anyone who wants to travel without facing testing requirements (to enter or to leave)," says Henley Vazquez, founder of the startup Fora Travel. It's also created a perfect storm for wacky hotel rates. While there used to be a lot of promotions for weekday or summertime trips, traveler demand as of late has made it trickier to apply traditional seasonal pricing structures. "The former low season," — i.e. summer — "can now be on par with everything else," Vazquez says. If you're looking to get a good deal at some of the luxury resorts, she recommends checking dates in September when hurricane season impacts prices the most, or booking a longer stay, as many hotels are still offering promotions for travelers with the flexibility for an extended vacation.
To find out where to stay, regardless of occasion, season, or duration, we surveyed 20 stylish and well-traveled restaurateurs, photographers, designers, and publicists who helped us make sense of Miami's bottomless hospitality scene, from the new Pharrell-backed South Beach property to a cozy Parisian-feeling Little Havana hotel. And to try and offer a consistent sense of pricing, we looked at weekday rates for early February, when it's still Miami's high season, but Spring Break hasn't yet descended onto South Florida.
The
best
splurge-y
hotels
in
Miami
The
best
more-affordable
hotels
in
Miami
Photo: Christine Gatti/B) 2020 Christine Gatti
One of the newest hotels on Miami Beach is a Pharrell project; the musician opened it in May 2021 with Miami nightclub owner David Grutman. So far, it's been a major draw for aesthetes. "They quite literally left no photo op unturned or unexplored," Kenworthy says of the interiors by Ken Fulk. "Every corner is like, surprise! Here's another wallpaper, sconce, piece of art, or fixture more beautiful than the last," noting especially the homage to Miami's Art Deco heritage. Since opening, the hotel has hosted a ton of buzzy parties, so if you want to avoid that, Kenworthy recommends booking earlier in the week when things are quieter. She stayed here a couple of times over the summer when she spent nearly every weekend in Miami. "I love losing myself in the hotel and exploring its nooks and crannies," she adds. "But it's easier to do that if they're not hosting an epic party."
Casa Faena is probably best known for the $15 million gold-coated mammoth sculpture that Damien Hirst unveiled there in 2016, and that kind of outlandishness seems to exist almost everywhere else at the hotel. "Staying here will immediately make you feel like a big-timer," says Brandon Berkson, founder of concierge service Hotels Above Par. "It envelops you in the grandeur and glamor of 1950s Miami Beach." That energy extends to on-site locales like the Saxony Bar, where you can't wear flats or sandals. "This is a place where you have to leave your leggings at home and show up like an adult again," says Vazquez. All that said, we're including the Faena in the more-affordable section because its rooms frequently go for under $300 a night, dropping as low as $150 a night during the summertime low season.
Kenworthy says that getting away from the beach to stay at a neighborhood like Little Havana gives travelers a broader perspective on Miami, noting its proximity to incredible restaurants like Sanguich de Miami, Cubaocho, and La Colada Gourmet. She also loves how the rooms have been outfitted (with a Smeg fridge, Le Labo toiletries, Marshall speakers) to make you feel like you're home. "The Queen rooms are definitely on the smaller side and cozy, but I think I had one of my best night's sleep ever on that mattress," she says. Joseph agrees: "​​It's not central to South Beach, but this property has the feel of a private members' club on a smaller, more intimate scale."