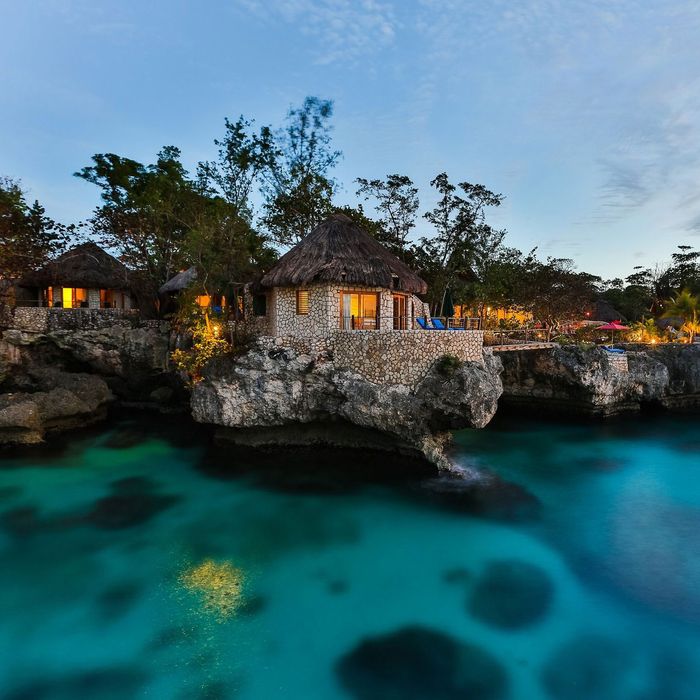 The Rockhouse Hotel in Jamaica is the most recommended property on this list.
Photo: Lin and Jirsa Photography
As travel restrictions lift and vaccination rates rise, many people are starting to get the itch to take a proper vacation. But COVID has not disappeared, nor will it any time soon, which means most folks are looking to travel as safely as possible. Board-certified physician Dr. Stacy De-Lin, a family-medicine specialist based in New York City, reminds us that "the best way to travel safely is to get vaccinated." Still, even those who are vaccinated might understandably want to take more precautions. Renting a private home, of course, is a great way to get away while minimizing the number of people you may see — but, as De-Lin notes, many hotels have also taken measures to be just as safe. "COVID is mainly transmitted in indoor areas with poor ventilation, and many hotels have done a great job of providing services that eliminate the need to stand in crowded spaces," she explains. Services she says to look for include "digital-key entry as well as contactless check-in, check-out, and payment options." If you're checking in to a hotel, De-Lin says that other ways to minimize your exposure to COVID (or any other viruses) include "choosing a first-floor room to avoid the use of elevators" and "opting for room service, picking up local takeout, packing food with you, or choosing outdoor dining when it's available."
While countless hotels promise some version of these safety measures, we at the Strategist wanted to dig a little deeper to find ones that go above and beyond to make guests feel secure — and, more importantly, have fun on their vacations. So, like we do when we want to find the best gifts or products for working from home, we polled some of the most interesting (and responsible) travelers we know about hotels they went to over the last year that took precautions to make them feel safe enough to fully enjoy the experience. Our thinking is that if people felt secure at a hotel in the worst of times, that hotel probably has a solid handle on safety precautions now, even if some may have changed as COVID restrictions have loosened. Below, some 17 cool people share the 17 COVID-safe hotels they'd recommend (based on their stays) in the United States, Mexico, and the Caribbean, which we've organized by location. Where applicable, each section begins with any hotels that came up more than once — like the cliffside Jamaican retreat we heard about from three different people — and if you know the region you want to travel to, simply click on the links in the previous sentence to jump straight to those hotels. In terms of cost, they range from a no-frills desert inn in California where rooms start at $135 per night to a swanky (several-thousand-dollar-a-night) Wyoming ranch that would most definitely be a splurge — but, on average, the hotels on this list cost between $300 and $500 a night. Again: The folks we talked to visited these hotels at different times over the last year, so if you want to confirm a specific precaution mentioned is still in place, we'd suggest contacting a hotel directly before you make any bookings.
Best COVID-safe hotels in the United States
The Roundtree, Amagansett, New York
Marram, Montauk, New York
The Auberge Mayflower Inn and Spa, Washington, Connecticut
The William Vale, Brooklyn, New York
The Maker, Hudson, New York
The Loews Miami Beach, Miami, Florida
KAYAK Miami Beach, Miami, Florida