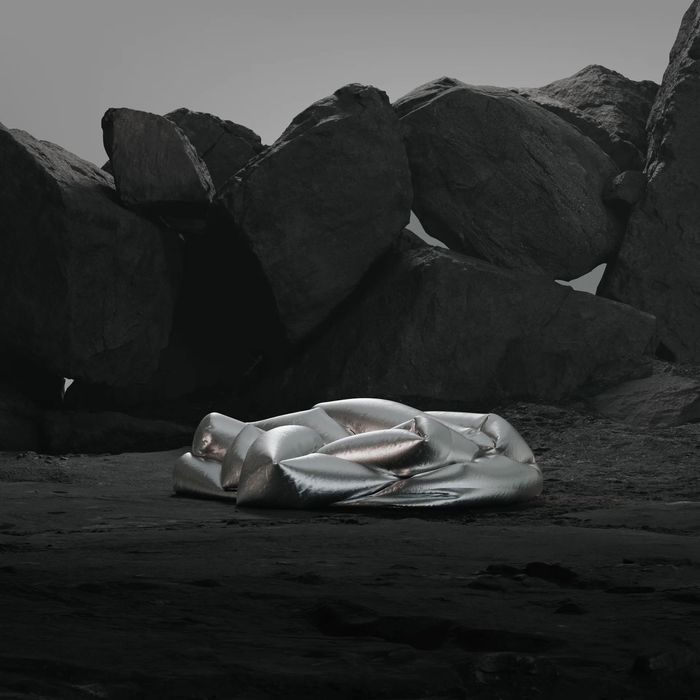 An NFT of Andrés Reisinger's Complicated Sofa first sold for $5,000 — then resold for $17,650.
Photo: Courtesy Andres Reisinger
Last month, online marketplace NiftyGateway held an auction called "The Shipping," where 10 pieces of virtual furniture by graphic designer Andrés Reisinger were sold as NFTs (or blockchain-encrypted non-fungible tokens) — the first of their kind. They brought in $450,000 in 10 minutes. Reisinger is now turning renderings of certain cyber pieces, like his Hortensia chair, into physical objects. Meanwhile, other makers, including Instagram designer Nicholas Baker and 3-D artist Alexis Christodoulou, are releasing their own NFT furniture. But, at its core, furniture is made for human bodies. So what, exactly, do you do with a couch you can't sit on?
Like art, limited-edition sneakers, or rare records, you can collect NFT furniture.
Reisinger says his NFTs are both collectible and conceptual art, like a "very scarce Pokémon card" that's also a landscape for our dreams. An NFT couch could center a collection of non-fungible works by artists both crypto — a collage by Beeple, a cube by Pak — and conventional: Damien Hirst, Takashi Murakami, and Simon Denny are all minting them. Or musical: Kings of Leon recently released the first NFT album; Reisinger himself also released a collaborative album with indietronica producer RAC. On the questionable-commodity end, you might add Jack Dorsey's first tweet, a video of Kate Moss driving, a virtual hoodie by Overpriced (it's $25,000), and whatever digital celebrity collectible you might buy on Autograph, Tom Brady's just-announced NFT platform. In practice, if your Complicated Sofa is being flipped — some pieces, auctioned a month ago for $4,500, are already on the secondary market for $1 million — it's also currency, the most collectible commodity of all.
Or you can display it in the metaverse…
The animated NFT, essentially a high-end GIF, of your Complicated Sofa can be dropped into any virtual shared space, like CryptoVoxels, Decentraland, or Minecraft. Its attendant 3-D model can be explored using augmented-reality devices like Facebook's Oculus Quest headset or gaming platforms like Unreal Engine. It can be broadcast through video games like the retro-looking WorldWideWebb3, which this month will launch NFTs of its own, including a programmable billboard where players will be able to upload any other NFTs they collect. With the right connections, you could exhibit it in a virtual museum, like the Museum of Crypto Art, the Museum of Contemporary Digital Art, or the B.20 Museum. Or show it in one of the NFT art marketplaces' own metaverse galleries, many of which are located in the Gangnam District of Cryptovoxels, a virtual Chelsea. You could also display it at one of the burgeoning crypto-art fairs, like Meta_VS, which for some reason looks like Wynwood Walls by Mario Bros. (Most of these platforms have a blocky, nostalgic Nintendo feel, as if the best way to display the most up-to-date medium is in a close-cropped fever dream from the '90s.) If you're acquiring a lot of NFT furniture, you could (more easily) buy some open-world land and build your own crypto-home — or hire a self-described virtual estate architect like Ogar; a digital designer, like Krista Kim and Matteo Sanz Pedemonte (who recently sold their Mars House, the first NFT home, for $512,000, and are already in a legal dispute over it); or a traditional designer, like Kelly Wearstler, to do it for you. It's TBD what construction-cost overruns are like in the metaverse.
… Or on Twitter …
New NFT use cases are proliferating rapidly. But according to Elliot Safra, an early crypto-art adopter currently leading a Christie's course on NFTs and the art world, the most effective and far-reaching digital flex right now remains making your Complicated Sofa your Twitter avatar, posting it on your Instagram, or showcasing it on your collector's page on a digital marketplace like NiftyGateway or SuperRare. "The technology is still very early days; NFTs don't really look that good in many spaces yet, and interaction is as yet highly limited, with basically no augmented-reality capacities," Safra says. "We're essentially building the foundations for what's to come."
… Or even in a digital frame.
As middle grounds between the virtual and the physical, digital frames are, according to both Reisinger and Safra, an acceptable way to show off your NFT furniture … for now.  Qonos and Blackdove make sleek ones, with museum-quality HD displays and, for those who don't yet have their own collection, access to a gallery of thousands of browsable NFTs — like a non-fungible Netflix. If you've blown your budget on the NFT itself, Infinite Objects offers a far-more-affordable custom framing service for what it calls "video prints," starting at $79.
Photo: Courtesy of Blackdove
Like any furniture, you could always resell it.
While Reisinger's "The Shipping" collection hammered between $2,500 and $67,000, many of those works are already back on NiftyGateway for up to $4.5 million. (At the time of publication, none of them have resold in that range.) This is, traditionally, what's called a bubble. But Reisinger points out the skyrocketing prices also reflect a pent-up demand for artists who've been honing their crafts for 15 years: Until NFTs came along, the art and the market existed, but the ability to monetize it didn't. And the NFTs being minted today may have escalating value beyond their artistic worth, as cultural artifacts like digital Lascaux caves. So it's possible your OG NFT might be worth a quarter million today, but much more in five years. Still, between February and March, the average NFT price dropped 70 percent, an inevitable result of market oversaturation and a pyramid-style scheme that rewards early investors. Analysts predict a stabilization and eventual rebound, especially if the crypto-art and traditional-art markets overlap. Of course, art — or even furniture — as currency is not new. NFTs have simply made that manipulation both explicit and viral. Which really just means, as with all art: Don't buy it as an investment. Buy it because you love it.
But if you really like a piece of NFT furniture, you might consider waiting to buy it IRL.
After a yearlong process of manufacturing trial and error, Reisinger's Hortensia chair was made flesh. It has been featured in Architectural Digest, purchased by the Design Museum of Ghent, and will soon be available worldwide. Similarly, five of the pieces in "The Shipping" will have limited-edition physical counterparts, including the Complicated Sofa, which is already available on 1stDibs. While Reisinger is the first designer to turn digital renderings into NFTs and then turn those NFTs into real furniture, now that makers like Baker and Christodoulou have followed suit with their own NFT designs, it may only be a matter of time before those become real objects, too.
The Strategist is designed to surface the most useful, expert recommendations for things to buy across the vast e-commerce landscape. Some of our latest conquests include the best acne treatments, rolling luggage, pillows for side sleepers, natural anxiety remedies, and bath towels. We update links when possible, but note that deals can expire and all prices are subject to change.