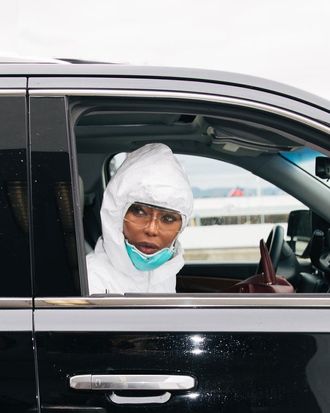 I haven't been on a plane in 472 days, but when I can finally buckle into that window seat on an even-numbered aisle in the front third of the aircraft, I'll be ready. Well, as ready as someone who insists on sitting in a window seat on an even-numbered aisle in the front third of an aircraft can be.
As a neurotic, I worry about everything — especially things I cannot control. I am paranoid and ritualistic and struggle to keep my OCD brain from running hell circles through the million ways I could die every time I leave the house. And that's in pre-COVID times.
Being so in my own head can make my work as a professional travel writer challenging. Before the pandemic, I was on the road six months a year, reporting from dozens of countries. I must act calm, collected, and extroverted when parachuting into unfamiliar situations, even if I'm spinning out on the inside. The isolation of the past 14 months has exacerbated my neuroses, but I have learned over the years that the more I plan ahead — particularly with packing — the less I freak out when it comes time to go.
I'm now fully vaccinated and am already dreaming of the places I want to visit next: the Faroe Islands, Yakushima and Okinawa, the Republic of Georgia, Iran. My packing list will include a new immunization-card-holder and AirTags on every bag, but I've got a few standbys that keep me feeling grounded as well. Here, what I won't leave home without.
A face shield
Of course I am that person. In addition to carrying a bottle of hand sanitizer, scouring every surface with hand wipes or travel-size disinfectant spray, and wearing a KN95 mask, I am not above donning a COVID face shield. The ZShield wrap, which a colleague at Condé Nast Traveler raved about after a 16-hour flight to Hong Kong, is unique because it's worn from the neck up, as opposed to the forehead down. The design offers better visibility, causes fewer headaches over an extended period of time, and makes it (slightly) easier to sleep on a plane. Whatever weird looks I may get, it's not as weird as Naomi Campbell's hazmat suit.
Paper soap
In this era of rampant disease, I would never risk a restroom running out of hand soap. Instead, I throw a wee packet of portable soap leaves in my purse, lather up with whatever water I can find, and shake 'em dry, trying my darndest not to touch any gunky door handles or knobs on the way out. Some soap sheets smell overwhelmingly floral or perfumy; these just smell straight-up clean. Plus, I like that the brightly colored cases can be easily spotted in the bowels of my carry-on.
A clean key
Speaking of gunky handles and knobs, so-called clean keys are great for opening doors, pushing elevator buttons, and dialing numbers on ATM keypads or touchscreens. Most hook-and-stylus models are made with naturally antimicrobial copper alloy; this one is unique because it comes with its own containment case, key ring, and retractable carabiner.
Plane snacks
I don't like eating airline food in ordinary times (who does?), let alone in a pandemic. That's why I always pack my own snacks: dried fruit, nuts, and these highly poppable almond-butter bombs from Alter Eco. Enrobed in rich dark chocolate from Ecuador, the mini keto balls pack a wallop of flavor while checking off a litany of neurotic boxes: organic, fair trade, non-GMO, gluten free, heirloom cacao, made without soy lecithin or refined sugars, and wrapped up in a plant-based compostable wrapper.
A reusable straw
Though I can resist eating on a flight, I can't go without water. My solution: carry a reusable straw and covertly slip it beneath my mask to take a sip. This pretty purple stainless-steel straw is durable and easy to clean, but more important, it's engraved with my astrological sign. Sagittarius is the traveler of the zodiac, and I like the subtle reminder that no matter how anxious I may feel in the moment, the payoff of seeing the world is always worth it.
A serious pen
Global Entry has many perks, but it doesn't save me the headache of filling out passenger declaration forms in other countries. I have no intention of sharing grubby communal pens at Passport Control, so I bring my own — specifically a shiny Fisher Space Pen recommended to me by a well-traveled pal who works for the State Department. Not only do these pens last forever, but they can write in zero gravity, upside down, underwater, and in extreme temperatures. In other words, it's guaranteed to work in every worst-case scenario my mind could invent.
A mobile pharmacy
My doc gives me Valium for anxiety and azithromycin for traveler's diarrhea. I fill in the rest of the medicine cabinet with Band-Aids and blister pads; travel-size packets of antihistamines, ibuprofen, and acetaminophen; and chewable meclizine tablets, which I take regularly to combat crippling vertigo. Bonus: Meclizine is also good for heading off bouts of motion sickness, be it on a cruise ship or road trip.
Packing cubes
The first time I used packing cubes was on a yearlong backpacking trip through Asia and Australia; I have been a devout worshipper ever since. They help me organize all my junk before a trip (underwear and bras go here, would-be leaky toiletries go there) and reorganize it along the way (dirty laundry in this, clean clothing in that). Eagle Creek's cubes are made from water-resistant nylon, so I can separate a still-damp swimsuit from my dry clothing without worrying that it'll make everything in my bag stink vaguely like a locker room. But they're also monster-truck tough. My cubes have toured dozens of countries with me and never split a seam or broken a zipper.
Zippable cubes, like these new ones with collapsible dividers from Away, are also good for quarantining hiking boots and sneakers — though in a pinch, I've also used a free hotel shower cap to keep muddy treads from mucking up my other gear. Bottom line: They're a germophobe's dream.
Adapters, chargers, and portable battery packs