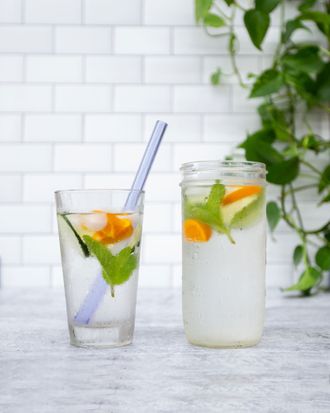 As more and more states, cities, and coffee shops begin to phase out single-use plastic straws, you may have resigned yourself to a life of sipping iced-coffee strawless, or worse, watched as a free cardboard straw melted into your drink. For those who rely on the convenience of a slender tube to sip their drink of choice, a simple and affordable way to have your (functional) straw and drink from it too is to keep a reusable one in your bag or pocket.
To find reusable straws that work well (and even look nice), we asked six sustainability-minded experts — including writers, environmental activists, eco-designers, and zero-waste-lifestyle enthusiasts — for their favorites. But to ensure you have plenty of options to choose from, we also culled our archives for a few Strategist-approved options, too. The experts overwhelmingly concurred when it came to their favorite reusable straw — a model made from both silicone and stainless steel — so we gave that straw the title of "best overall" and a similar, slightly cheaper style the title of "best less expensive" reusable straw. From there, we arranged their other suggestions by material, since choosing the right reusable straw may come down to how it feels in your mouth.
Best overall reusable straw
Four of the people we talked to recommend FinalStraw's hybrid silicone-and-stainless-steel straws, which are collapsible, making them even easier to keep on hand. Deborah Shepherd, a digital-content creator who focuses on ethical fashion, admits it took her a while "to jump on the reusable-straw train," but now she "swears by" FinalStraw. "They thought of everything: It can fit on my car keys (inside its case), it's easy to clean (with boiling water or some good soap), and most importantly, the silicone is very comfortable to drink from." Isaias Hernandez, an environmental educator who lives a zero-waste lifestyle, agrees, noting that while most metal straws come wrapped in plastic ("which defeats the whole purpose of sustainability"), Final Straw has plastic-free packaging. Leah Thomas, an environmental activist and eco-communicator, calls FinalStraw one of her "favorite brands" because the straws are "collapsable and easy to carry around." That collapsible nature takes the form of a body made of stainless steel pieces on top of a silicone center tube, which is what allows it to fold up. The straws come in silver or a holographic silver — which Maya Penn, a sustainability expert, eco-designer, TED speaker, and author, calls "neat-looking" — and each includes a carrying case you can get in one of six colors, including purple, gray, black, teal, coral, and blue.
Best (less-expensive) hybrid silicone–stainless steel reusable straw
Penn is also a big fan of these Klean Kanteen straws. Like the FinalStraw, they combine stainless steel (their bodies) with food-grade silicone (their removable tips to drink from), though these are not collapsable. Still, they are "a great blend of flexibility and durability," according to her.
Best
silicone
reusable
straws
Photo: retailer
Reusable straws made entirely from silicone have the added benefit of being even more maneuverable, like these "super-flexible" silicone straws that Penn told us about. Unlike stainless-steel straws, with silicone, you also don't have to worry about accidentally bumping your teeth, she says. Plus, Penn points out silicone straws are an especially great alternative for people with disabilities who can't use stainless steel but still want to avoid disposable plastic. The straws come with a small aluminum carrying case and are dishwasher-safe and BPA-free.
Former Strategist writer Lauren Levy tipped us off to this silicone straw a couple of years ago. "It's thin enough to fit through the slit in a hot coffee cup, flexible enough to fold up into any bag and carry around, and dishwasher-safe (although it also comes with a pipe cleaner to scrub out the insides)," she wrote. "It comes in two sizes (seven and ten inches), which can reach the top of just about any cup, but Koffie users have been known to cut them with scissors so that they'll fit comfortably in wine glasses, too." Even though silicone is "durable and lasts forever," if you ever decide to part ways with a Koffie straw, you can simply burn it and the straw will turn into 100-percent biodegradable ash.
Best
stainless-steel
reusable
straws
Some people prefer stainless steel straws because they are generally the longest-lasting and most durable option. Strategist contributor Bethany Blakeman tipped us off to these stainless-steel straws that she found while perusing Amazon. "The four-pack comes with two straight and two curved straws as well as a brush for cleaning. I gave one to my coffee buddy — who agrees that the straw is magnificent," she wrote. They don't come with a case, so she says to keep them in a pencil pouch to prevent them from getting dirty in a tote bag.
Photo: retailer
When it comes to reusable straws, digital-media strategist Kristy Drutman (who dedicates much of her work to environmental issues) loves this "affordable and easy-to-clean" stainless-steel set, which includes one straight straw, one bent straw, one straw cleaner, and an organza carrying pouch. "Stay Blooming is owned and run by a woman of color, so the straw you sip from is also supporting a brown entrepreneur," Drutman adds.
For a more colorful stainless-steel option, Drutman also suggests this "fun" set from Off the Grid With a Kid (we interviewed the brand's founder, Bionca Smith, while putting together this gift guide for van lifers). The set comes with seven multicolor straws, one cleaning brush, and a drawstring bag to carry them in. "This is a Black-owned business that promotes products that are kid-friendly, eco-friendly, and great for on-the-go travel," Drutman notes.
Best
bamboo
and
grass
reusable
straws
Photo: retailer
A couple people recommended reusable straws made with natural, plant-based materials like bamboo and grass, telling us that while those materials tend to deteriorate more quickly than silicone or stainless steel, they are generally biodegradable. Business strategist Sara Weinreb, who also writes about sustainability and wellness, pointed us to the bamboo straws from Buluh Straws, telling us she prefers them to stainless-steel ones because "they don't transfer cold." Each straw comes from a single stem of bamboo and contains no ink or dyes.
Drutman is a fan of these reusable straws made from grass because, like bamboo, "they are biodegradable" but also because they come in packaging that "completely removes plastic from the equation." A 100-pack costs ten dollars, which works out to just ten cents a straw.
Best
glass
reusable
straws
Photo: retailer
If your primary concern is a reusable straw that looks cool, one made of glass may be your best bet, since they often come in more-vibrant colors or patterns. Weinreb loves these wide glass straws from women-owned company Simply Straws (which she says are especially great for sipping smoothies). They are available in both straight and bent styles and come in eight "delightful" colors, including cobalt blue, lavender, and lime green. "You can even choose to have the straw personalized," she adds. While they won't work on the go (you can't toss glass into your bag), they will look great sticking out of a small cup on your kitchen counter.