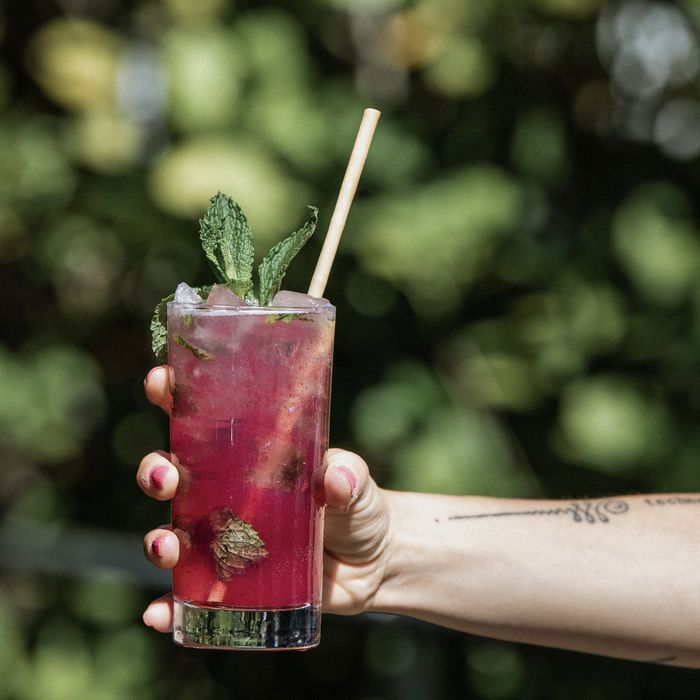 Reusable straws had a moment several years ago, when it seemed like everyone was talking about them and encouraging their use. While the fervor has calmed down a bit — and they're really just one way of many ways to be more sustainably minded — reusable straws are just as useful as ever (and just as good for the planet). With many states, cities, and coffee shops no longer offering single-use plastic straws, you never want to find yourself in a position of sipping iced coffee strawless or watching as a free paper straw melts into your drink.
To find reusable straws that work well (and even look nice), we asked ten sustainability-minded cool people — including writers, environmental activists, eco-designers, and zero-waste-lifestyle enthusiasts — about their favorites. And to ensure you have plenty of options to choose from, we also culled our archives for a few Strategist-approved options, too. The experts overwhelmingly concurred when it came to their favorite reusable straw — a model made from both silicone and stainless steel — so we designated that straw the "best overall" and followed it with two other mixed-material straws we heard about. From there, we sorted the others on our list by material — silicone, stainless steel, bamboo, grass, and glass — since choosing the right one may come down to how it feels in your mouth.
Best overall reusable straw
Four of the people we talked to recommend FinalStraw's hybrid silicone-and-stainless-steel straws. They're collapsible, making them particularly easy to keep on hand. Deborah Shepherd, a digital-content creator who focuses on ethical fashion, admits it took her a while "to jump on the reusable-straw train," but now she "swears by" FinalStraw. "They thought of everything: It can fit on my car keys (inside its case), it's easy to clean (with boiling water or some good soap), and most importantly, the silicone is very comfortable to drink from," she says. Isaias Hernandez, an environmental educator who lives a zero-waste lifestyle, agrees, noting that while most metal straws come wrapped in plastic ("which defeats the whole purpose of sustainability"), Final Straw has plastic-free packaging. You can get them in silver or a holographic silver — which Maya Penn, a sustainability expert, eco-designer, TED speaker, and author, calls "neat-looking" — and each includes a carrying case in one of six colors: purple, gray, black, teal, coral, and blue.
Best (less-expensive) reusable straw
Also a hybrid of silicone and stainless steel, this straw comes recommended by former presidential and New York City mayoral candidate Andrew Yang, who told us it is "the best" his family has found after going "through a number of reusable straws." The straw comes from OXO Good Grips, a kitchenware brand we hear about over and over again for its well-designed, durable products. While they don't collapse, the straws have stainless-steel bodies and more comfortable silicone tips to sip from. Yang says they're "extendable, easy to clean, and have just enough color that the kids find them interesting enough to use." Each set of two comes with a cleaning brush and a carrying case.
Best (even-less-expensive) reusable straw
Two people told us they are big fans of these Klean Kanteen straws. Like the OXO straw, they combine stainless steel (their bodies) with food-grade silicone (their removable tips to drink from). Even though they're not collapsible, they are "a great blend of flexibility and durability," according to Penn. Our other fan is Kathryn Kellogg, the founder of Going Zero Waste, who says the straw's slightly larger opening and silicone tip are "comfortable and encourage me to drink more water."
Best silicone reusable straws
Photo: retailer
Reusable straws made entirely from silicone have the added benefit of being even more maneuverable, like these "super-flexible" silicone straws that Penn told us about. You also don't have to worry about bumping your teeth, and, as Penn points out, silicone is an especially great alternative for people with disabilities who can't use stainless steel but still want to avoid disposable plastic. The straws come with a small aluminum carrying case and are dishwasher-safe and BPA-free.
This wider reusable silicone straw is perfect for bubble tea, according to Strategist writer Dominique Pariso, who appreciates how its width allows her to "suck up every tapioca ball at the bottom of my glass" when she makes the drink at home. The carrying case it comes with, she adds, is "superconvenient on the days I decide to spring for professionally made bubble tea."