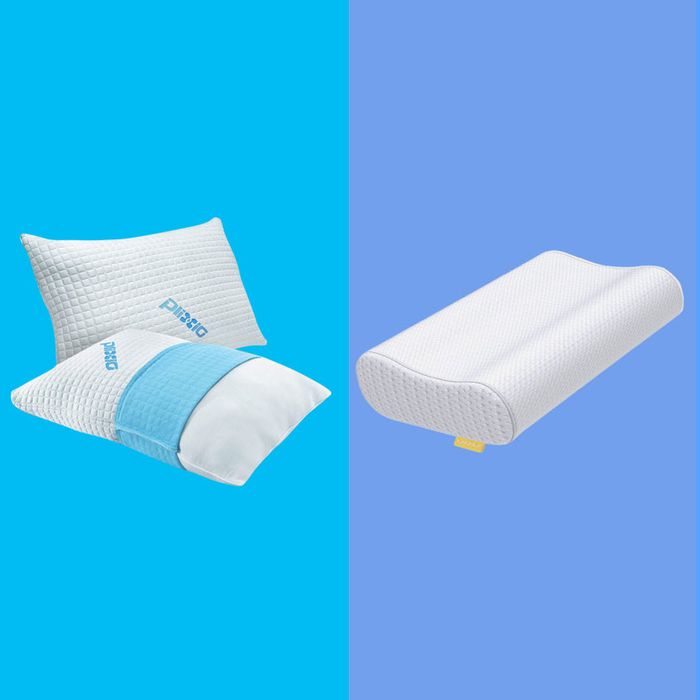 Photo-Illustration: The Strategist. Photos: Retailers
When it comes to getting a good night's sleep, finding the right pillow may be more important than finding the right mattress. If you're always searching for the cool spot, consider a bamboo pillow; the material is breathable and durable and keeps air circulating through it all night long. Below, we've investigated thousands of reviews — just as we did when we wrote about the best pregnancy pillows, pillows for side sleepers, and pillows for neck pain — to find the best bamboo pillows on Amazon.
Related Articles: Best Cooling Pillows | When Should You Replace Your Pillows?
Best-rated bamboo pillow
With nearly 40,000 five-star reviews (and a shout-out from a former Strategist editor), this Coop Home Goods bamboo pillow has been roundly praised for its cool breathability, easy adjustability, and excellent support. "This is by far the best pillow I've bought in years," says one reviewer who had found it difficult to find the right pillow to alleviate their neck pain. "With this pillow, so far I have slept through the night. Coop's is about as perfect of a pillow as one can buy, especially if you have neck and back problems." They add that they are a "head sweater" and that this pillow helps make their night sweats more "bearable": "No longer is my sleep disrupted because of a pillow being soaked." Since this pillow is filled with shredded memory foam, it's easy to remove or insert as much filling as you like to adjust the pillow to your ideal height. "It's very nice and soft and conforming but without your head sinking below sea level to get that feel. Your head stays up, and with the way you can adjust this pillow, you can have basically any height you want," writes another reviewer. "The best way to explain it is like an adjustable cloud." And if it ever starts to get a bit compacted, "just throw the pillow on the fluff cycle in the dryer for ten-to-20 minutes with a dryer sheet," advises a third reviewer. "Bam, back to new condition."
Best-rated (less expensive) bamboo pillow
With over 11,000 five-star ratings and priced at less than $40 for a pack of two, these Plixio bamboo pillows are both high quality and wallet friendly. "I was tired of buying cheap Walmart pillows that would go flat in about a month," writes one budget-conscious reviewer who decided to try these similarly priced ones. "I was amazed by how comfortable they were and how quickly I go to sleep now. I actually wake up now feeling rested, and I have noticed a great reduction in my tossing and turning throughout the night." Another reviewer who experienced "the best sleep I ever had" on these pillows reported that they "actually slept through the night without waking up due to an aching neck and shoulders or having the back of my head be all sweaty … There were none of the usual effects I have in the morning, like a gross sweat spot under my head." And another reviewer in their 60s declares they have "never had a better set of pillows in my life!" They especially love that these are "cool pillows and not hot like so many types of pillows are": "As a very hot-natured person, a pillow that traps heat can keep me awake all night. These pillows manage to dissipate the heat."
Best contoured bamboo pillow
Over 600 five-star reviewers rave about how comfortable this Uttu contoured pillow is. "It's soft but not so soft that your head sinks down to the bed," one happy reviewer reports. "With just three nights of using it, I can already feel a huge difference in my neck, and I'm no longer waking up with a stiff neck." Another reviewer who broke their neck ten years ago has had "a very hard time finding a comfortable pillow that doesn't make my head ache and trigger migraines." But after spending only "a minute on this pillow, it was a clear winner," they say. The "squishiness is just right," the "contour is perfectly shaped for my head/neck," and the "bamboo-poly cover is a nice thickness and stretchy, so it fits nicely." Plus, the bamboo material "is very breathable" and "doesn't hold heat as much as other memory-foam materials," writes another shopper who lives in a warm climate. This reviewer switches between sleeping on their side, back, and stomach, and they say "this pillow is comfortable for all those positions."
Best bamboo bolster pillow
Another from Coop Home Goods, this half-moon bolster allowed relief-seeking reviewers to finally fall asleep in a comfortable position. "I have IT-band syndrome, piriformis syndrome, and bursitis, so being able to find a comfortable position is crucial to my ability to sleep," writes one. "This solves my problem. It's sturdy enough to provide the support I need and small enough to be able to move easily." It's so effective, in fact, that another reviewer insists it "transformed my life": "I've had severe lower-back pain. I couldn't get comfortable, and when I did finally fall asleep, my lower-back pain would wake me up if I moved an inch." From the first night they used this bolster pillow, however, they "slept soundly and wake up pain free … I don't move all night long." The pillow is also suitable for placing "behind your back for lumbar support when sitting on the couch as well as a head/neck pillow when curling up to watch a movie," says another reviewer who ordered one specifically to use as a throw pillow on the sofa. They report that the pillow "fluffed up in a couple of hours" and that its firmness factor is "just right."
Best bamboo gel pillow
Gel memory foam and an airy bamboo cover combine to make these Zen Bamboo pillows extra cooling and comfortable. "I thought I'd never find the perfect pillow for me … until I discovered these!" begins one enthusiastic reviewer. "This pillow had a firmness yet a softness that I can't really describe … I've never slept as soundly and as comfortably as I have with these pillows. They are miraculous." Another reviewer agrees that there's something ineffably special about these Zen Bamboo pillows: "From the moment you rip open the vacuum bag on these luscious, cloudlike pillows, you'll know there's something different. The soft bamboo cover and springy filling will have you wondering what kind of voodoo has been done to these." They love the way the bamboo keeps the pillows "cool to the touch" and how the sensation "lasts through the night." A third reviewer also mentioned their just-right Goldilocks quality, saying they're "soft (not too firm) yet hold their shape … These pillows are very heavy and thick, but they still form to your neck exactly how it's needed."
Best bamboo body pillow
"If you're looking for one incredible body pillow to blow your socks off, look no further … this is the one!!" writes one zealous reviewer who can't "say enough great things about this pillow." They struggle with fibromyalgia and autoimmune disease, "both of which cause massive widespread constant pain," they report, but after just one night with this pillow, they determined that it provided "great support, stability, and comfort. I felt better when waking up and sitting up and slept better having used it." Another self-proclaimed "body-pillow addict" who has used body pillows "for over 15 years to get everything to align as best as possible" swears this pillow is "the most durable and comfortable I have ever had." They have used theirs for years, and it has yet to "turn into a 'flattie.'" A third reviewer says the bamboo cover is one of the best things about this pillow since it "really does let air flow through fairly well." This person is "sensitive to heat" when sleeping, but they have "yet to wake up sweating and overheated in six weeks with this pillow. Those six weeks also happened to be during the hottest part of summer."
Best bamboo cushion
This Cylen bamboo cushion could be used as a pillow, but many reviewers attest that it does its job wonderfully in providing back and rear support as a seat cushion. One reviewer who is a "very heavy computer user" and "typically spends eight-to-12 hours a day on the computer for work" found themselves with "debilitating lower-back and leg pain." When they bought this pad, however, the pain magically melted away: "I feel like this item has worked tremendously well for me and given me relief to become more active and healthy." Another reviewer, who says they "fractured the tip of my spine," implores potential customers to "throw away those cheap pillows and buy this one." They say it's "extremely well made, has a soft cover with a nonslip bottom along with a little carrying handle, … and it allowed me to sit with little or no pain." The bamboo cover keeps this pillow "cool and airy," according to a third reviewer, so their "bottom never sweats." They bring the cushion to work every day, and even after a year of use, "it hasn't lost its shape!"
The Strategist is designed to surface the most useful, expert recommendations for things to buy across the vast e-commerce landscape. Some of our latest conquests include the best acne treatments, rolling luggage, pillows for side sleepers, natural anxiety remedies, and bath towels. We update links when possible, but note that deals can expire and all prices are subject to change.
Every editorial product is independently selected. If you buy something through our links, New York may earn an affiliate commission.