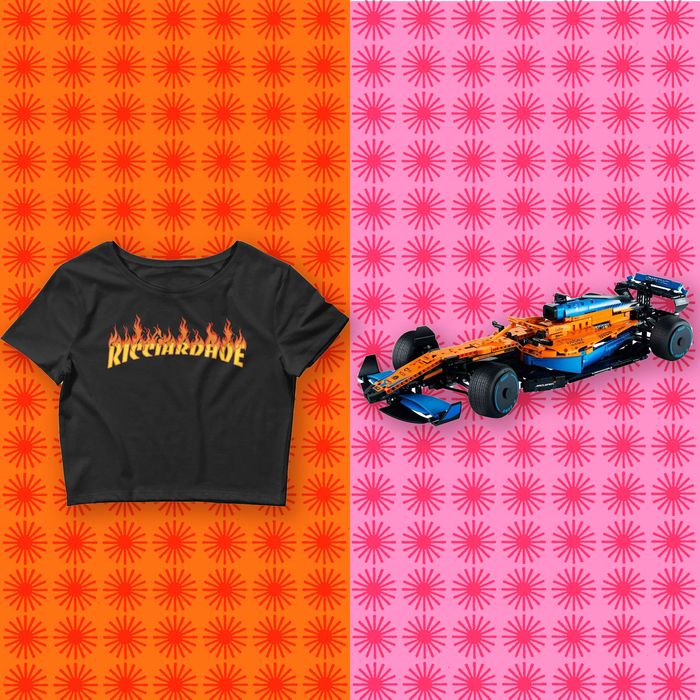 Photo-Illustration: The Strategist; Photos: Retailers
If the name Max Verstappen means nothing to you, buying Formula 1 merch for a fan who has strong opinions about his 2021 Abu Dhabi win may feel a little intimidating. When shopping for someone who has any understanding of the preceding sentence — for what it's worth, Verstappen is the current world champion, and Abu Dhabi was an infamously messy Grand Prix — "the biggest thing is to make sure the gift is in fact Formula 1 related and not related to IndyCar or NASCAR," advises Lily Herman, who writes the Formula 1 culture newsletter Engine Failure. "I know more than a few friends who were awkwardly gifted things from the entirely wrong motorsport series." Never fear: The gift recommendations below were vetted by Formula 1 experts and megafans, including podcast hosts, journalists, and meme accounts. You'll find specific merch suggestions for popular teams and drivers alongside general gift ideas that would suit anyone who loves Formula 1 — from those who got addicted to the Drive to Survive drama during the pandemic to lifelong auto-racing obsessives. For more gift ideas for different kinds of people in your life, from gamers to hikers to knitters, find all of our curated picks here.
Fashion and merch
If you know your friend or family member's preferred team or driver, a piece of official merchandise makes for a foolproof gift. "F1 caps are a great idea," according to Chloe, who runs the Twitter account F1 Reaction Pictures (and requested we use her first name only). "Most fans have caps to show who their favorite team or driver is, either to wear at a race or to hang on the wall in their bedroom." Luke Smith, the Formula 1 reporter for Autosport, agrees: "If you know who your friend supports, then you can't really go wrong in terms of just looking for a Daniel Ricciardo cap or something like that." Just "double-check that you've got the right driver" when buying merch this specific, suggests Izzie Ramirez, deputy editor at Vox's Future Perfect and a "chronic Formula 1 tweeter." "If someone gifted me a Max Verstappen shirt, I would be furious."
Many drivers also sell their own merchandise, typically featuring more creative, streetwear-inspired designs than you'll see on the official Formula 1 website. "Daniel Ricciardo, Lewis Hamilton, Sebastian Vettel, and Sergio Pérez all have really strong merch options from their own direct stores," says Ramirez. "They're fashionable statement pieces, and Lewis Hamilton in particular has done some really cool collabs." Although these designs make for more of a luxury gift, it's worth spending a few extra dollars if your fan is truly devoted.
Sebastian Vettel ("one of the most decorated Formula 1 drivers in the sport's history," Herman explains) released a line of socially conscious merch to commemorate his retirement at the end of the 2022 season. "If you know someone who was a Seb fan, this is a nice gift," Herman says.
Bootleg T-shirts are enormously popular among Formula 1 fans. Herman wore this one — which references a much-memed radio conversation between Lewis Hamilton and his race engineer from back in 2020 — to the 2022 Canadian Grand Prix and "got quite a few compliments."
Daniel Ricciardo won't be on the grid (i.e., the current lineup of drivers on the Formula 1 circuit) in 2023, but many remain loyal to the honey badger, as he is sometimes known. "If you still proudly call yourself a Ricciardhoe, the Two Girls 1 Formula merch line is great," says Herman. Ramirez and her boyfriend also own and love their matching "Ricciardhoe" tees.
Sunday Fangirls is another merch line catering to female Formula 1 fans. "I own both a hat and a T-shirt from this collection and love both," says Herman. "I appreciate the idea of being a proud fangirl of something."
Williams, Ramirez bluntly admits, "is the worst team on the grid at the moment, in terms of numbers." However, "their merch really slaps." She particularly likes this official team bolo tie, which would make an on-theme gift for any fan attending Austin's Grand Prix next year.
Brian Muller and Matt Elisofon, hosts of the Red Flags podcast, were reluctant to recommend any specific team merch — with the exception of this in-joke T-shirt featuring Haas boss Guenther Steiner. "If you have a friend who's into Drive to Survive, they'll probably like Guenther Steiner," says Elisofon.
Muller was once amused to receive one of these gag-gift candles that "smells like" Pierre Gasly, and the same Etsy store offers numerous other driver-scent options.
If you don't know someone's favorite driver or team, this cute pair of socks is a no-brainer Formula 1 gift. "'Box box box' is a phrase all of the teams say when they want their drivers to come to the pits," Herman explains. "So it's universal."
Prada-loving Alfa Romeo driver Zhou Guanyu has recently helped popularize these rubber sandals, which happen to resemble car tires. Ramirez has been eyeing a pair on the RealReal and says a fashion-forward Formula 1 fan would certainly appreciate receiving a pair as a present.
Toys and collectibles
On the nerdier side of things, "you can get some really good models of Formula 1 cars in a range of sizes and budgets," says Smith. "If there's a driver who has done particularly well, that's a good memento to have of that season — I was given a model of Lewis Hamilton's car when he took the record for most Formula 1 wins last year, which was really cool."
Smith also pointed us to F1 Authentics, which repurposes Formula 1 car parts into furniture and other keepsakes — like this side table made from one of Lewis Hamilton's brake discs. "If you've got the budget and if they're that kind of fan, it will blow their mind," he says.
Chloe, the TG1F podcast hosts, Smith, and Ramirez all independently recommended Lego's Formula 1 race-car kits as gifts for precocious children and tinkering adults alike.
For a cheaper stocking stuffer, Strategist editor and Formula 1 fan Maxine Builder suggests this kit, which she received for a recent birthday. "It rules," she says. "I had been looking at the McLaren one, but I didn't want to pay $200 for it." The finished car is now sitting on her entry table, and not only does it "look really cute but it actually wheels around."
Books, prints, and media
"Any fan would be thrilled" to receive a stack of RACEWKNDs, TG1F hosts Kate Lizotte and Nicole Sievers say. The quarterly magazine celebrates the "circuits, cities, and culture" of Formula 1, and a few issues will "look sophisticated on a coffee table or lined up on a shelf," adds Herman.
"There's a lot of great Formula 1 and motorsport books out there," say Sari and Yaya, who run F1 Struggle Tweets (and also go by first name only). They both love this one, which tells the true David-and-Goliath story of a Jewish-led French racing team triumphing over Germany in the 1938 Grand Prix.
This book, recommended by Herman, recounts the bizarre grift of a fake British energy-drink brand that managed to become a major Formula 1 team's sponsor. She says it's "brilliantly written" and will provide new information about the Rich Energy saga to even the most knowledgeable fan.
For kids of Formula 1–loving parents, Herman, Lizotte, and Sievers like the Red Racer series. Printed in English and Spanish and designed to engage kids of all genders, these books are "the perfect way to teach little ones about Formula 1," say the Two Girls hosts.
Fashion designer and Formula 1 enthusiast Sandy Liang suggests gifting Top Gear DVDs — for her and many others, the iconic British television series was an entryway to the sport. "A full set is something I personally would want to own," she says.
"A cool poster of cars fits in anywhere," Smith says. "One of my favorite things is old posters of historic races." In his office, he proudly hangs a Le Mans 1961 print that a friend got him.
Herman, meanwhile, owns this mid-century-style Monte Carlo print. "Monaco is usually a pretty boring race nowadays, but it's considered the most iconic track on the calendar," she explains. "If you're unsure which circuits your friends like, they'll at least appreciate a nice art piece of Monaco."
For art prints depicting more contemporary races and drivers, French illustrator Souria Draws is a favorite of Sari and Yaya.
Subscriptions and experiences
Beyond actual race tickets, a go-kart voucher is "the best experiential gift you could give someone who's into Formula 1," according to the Red Flags hosts. "Both of our girlfriends took us karting for Valentine's Day. It's so much fun because you really do feel like you're racing — you can even track your times."
Several of our Formula 1 fans also recommended giving a Formula 1 TV Pro subscription. "If someone's a Drive to Survive fan but hasn't been able to watch the races because they don't have cable, having a subscription service is a huge thing," Ramirez says. The service offers additional perks beyond just watching the races at your own convenience, Muller explains: "You can watch the driver's POVs and get the stats if you're a real nerd — you can get into the weeds."
A cameo from McLaren CEO Zak Brown is just $250, and the Red Flags hosts say it's money well spent.
Race-day essentials
Several of our experts said putting together a race-day care package would make for a thoughtful Formula 1 fan gift. "If you know they're going to a race for the first time, something really cool would be a little survival kit," says Smith. He especially recommends a poncho because you never know when it's going to rain, and many circuits don't allow the use of umbrellas. He also suggests adding a pair of earplugs "because even if you love the sound of the cars, if you're up close it can start to hurt."
And because they'll be spending a fair amount of time on their butt, Herman suggests buying the racegoing Formula 1 fan in your life a stadium-seat cushion to make those bleachers a little more comfortable.
If you know someone heading to Austin for the Grand Prix next year, Ramirez advises that they're probably there to see Mexican Red Bull driver Sergio "Checo" Pérez. "I would consider Austin to be a home race for Checo," she says. "The sheer amount of Checo fans, it's insane." She suggests you help them support the cause in the most dramatic way possible: "Get the Checo fan in your life a giant-ass Mexican flag. And I mean huge."
Muller and Elisofon recommend this LGBTQ twist on the classic checkered race flag, made by Flags for Good. "They make left-leaning flags, and part of what you pay for the flag goes to a relevant charity," Muller explains.
If your Formula 1 fan is streaming races more often than watching them in person, you can still help them out with this essential piece of survival gear. "Being an American fan is no joke since the bulk of qualifying sessions and races take place in the early-morning hours," explains Herman. "So you've got to be up bright and early most of the year." She says an alarm clock would likely be appreciated by anyone keeping to such a crazy schedule, and this inexpensive pick has been one of our favorite stylish yet functional alarm clocks for a few years now.
The Strategist is designed to surface the most useful, expert recommendations for things to buy across the vast e-commerce landscape. Some of our latest conquests include the best acne treatments, rolling luggage, pillows for side sleepers, natural anxiety remedies, and bath towels. We update links when possible, but note that deals can expire and all prices are subject to change.