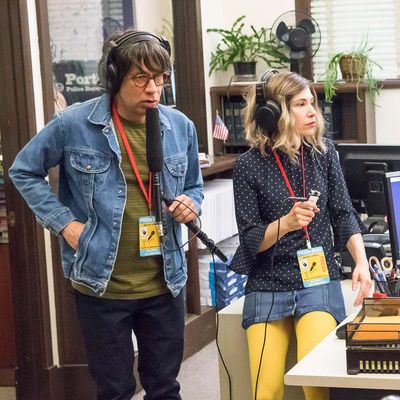 Some people spent the quarantine baking sourdough, needlepointing pillows, and planting victory gardens, while others, apparently, started podcasts. Shortly after the pandemic hit, Spotify reported a surge in podcast uploads; their catalog swelled to a million shows, up from 700,000 in March, with no signs of slowing down.
Starting a podcast has never been easier — not only can you do it from the comfort of your home but you also don't need much more than an iPhone. Still, some basic equipment can make a noticeable difference in the sound quality (especially if you live in a city, where construction sounds, taxi honks, and, lately, fireworks abound). To find out what's really worth investing in, we asked a handful of podcast hosts, podcast producers, and sound engineers about the podcast gear they use to record.
Headphones
The Sennheiser PC 8 USB is a particularly budget-friendly option, because it combines both a mic and headphones. Marcus Hahm, co-creator and audio engineer of culture podcast $6.99 Per Pound, says the hosts and guests all use this Sennheiser model "to achieve consistent sound across the board." He adds that it has "a decent frequency response, considering the price point." He also likes that the design is simple and lightweight, making it easy to sanitize and cost-effective to ship and rotate among guests.
Arielle Duhaime-Ross, host of Vox Media's tech podcast Reset, says when she's working from home, "I'm partial to open-backed headphones," which allow some sound to pass through the back of their ear cups, while closed-back headphones do not. "My favorite pair at the moment are the Grado Labs SR225," she says. "They're expensive, but the lower-tier headphones from Grado are very good too."
"If you're new to open-backed headphones, I'd start with the Grado SR60e," Duhaime-Ross recommends.
Microphones
Producer Jordan Rothlein calls this mic a "great option for the kind of temporary, acoustically imperfect home setups where we're all making podcasts right now." He recently worked on a project with a podcast host who had zero technical experience, and the Audio-Technica AT2020 saved the day. "We needed to send her a 'studio in the box' which she'd be able to set up by herself in her home office," explains Rothlein. He says this mic was the "linchpin" of the gear they sent. "It's super-forgiving in terms of placement and proximity, so we could get a good tone without having to micromanage the position," he added. At this price, he says "it's punching way above its weight in terms of sound."
According to James Ellis, partner and head of the AV squad at brand consultancy Public Announcement, the Shure SM57 is "the most classic American dynamic cardioid workhorse of a microphone, ever." (Dynamic mics tend to be better for louder noises, like rock and roll, as compared to condenser mics, which work for more sensitive sounds, but either can be used for podcasting.) He says the SM57 offers "superior rejection" of background noise but still recommends pairing it with a Cloudlifter CL-1 — a mic preamplifier, which will amplify your voice — and Shure's official A81WS — a foam cover that'll reduce breath sounds. Together, he says, they're "radio-ready without breaking the bank."
Emma Gray, a co-host of HuffPost's The Bachelor podcast Here to Make Friends, was one of many podcasters who recommended the Yeti X mic. "This thing makes me feel like I'm back in the studio. When I hear my voice filtered through it, I don't want to swear off ever listening to myself again." she says. "The sound quality is great, and it's fairly easy to set up and adjust, even if you aren't a wildly tech-savvy podcaster."
Gray uses the Yeti X to record "for extra-great sound quality" while simultaneously talking to her guests on Zoom for natural interactions you'd get in a studio. "My podcast is super-conversational, so we were worried about losing that easy banter and flow without seeing each other's faces," she explains. Zoom, she says, helps with establishing a rapport.
Hardware
Duhaime-Ross says she "can't do much without" her trusty 13-inch Macbook Pro. Good editing software is a "key part of our editing process," she says, and you need a reliable computer for that.
Audio interface, a little piece of hardware that essentially turns your computer into a recording studio, is a staple among musicians — but a lot of podcasters swear by them, too. "My favorite home-studio setup includes a one- or two-channel audio interface," says producer Chad Michael Snavely. "I like this budget-friendly USB one from Focusrite and this pro-level Thunderbolt one from Universal Audio."
While by no means required, a headphone amp will take your sound quality up a notch. "This is a luxury item," says Duhaime-Ross. "No one actually needs this thing. But it sure does make stuff sound good!" While most quality headphones are more than sufficient, this little amp can be plugged directly into your laptop or phone, effectively turning it into a "high-fidelity" music player.
Software
Hahm endorses Zencastr, which offers "double-ended, studio-quality recordings and was specifically built for remote podcast taping" he says. It's a simple Chrome or Firefox web browser-based application with no installation needed. An invite link to record is sent to all talent, and each track is individually recorded and automatically uploaded to the cloud for easy file management, "freeing us from being at the mercy of our guests' tech-savvy," says Halm.
Squadcast is another popular choice for recording remote interviews (or for backup audio recording). "It lets you record separate channels in .wav format so the audio from each interviewee doesn't end up being mixed in with everyone else," says Duhaime-Ross. She says it's not perfect — you can't use it on Safari or mobile devices, and it doesn't seem to work well for people who own PCs, but she's found it to be useful nonetheless.
Just because your guest doesn't have a home-studio setup doesn't mean you still can't capture clear audio. Snavely recommends making sure they're recording in a "quiet, nonreflective space (no: kitchens; yes: closets) and make sure they're wearing headphones or earbuds (preferably wired ones, not bluetooth ones like AirPods)." But if your recordings still aren't as clean or free of noise as you'd like, Snavely uses the "awesome" bundle of tools included in iZotope's RX software.
Accessories
Another way to improve your recordings is to invest in a pop blocker, which basically reduces breathing sounds and plosives (hard consonant sounds from letters like P or B). Dana Schwartz, host of history podcast Noble Blood, swears by this nylon pop blocker, but if you're feeling particularly scrappy, a sock will do. "The best pro tip is that I have to put a sock over my Yeti mic to make sure the levels don't peak too high," says Molly Lambert, co-host of pop culture podcast Night Call. "It looks like a microphone condom, but we're all wearing masks these days, right?"
Rather than jamming your headphones into a drawer, Duhaime-Ross recommends this gadget. "I bought this headphone stand that I stuck to the underside of the top level of my desk," she says. "Works well; hasn't fallen yet!"
You can only podcast from your closet for so long. "A decent chair and table that allows your microphone to stay at the right level so that you don't cut in and out" is a must, Gray says. "I use my tiny West Elm dining table and ghost chair — I work out of a 430-square-foot Brooklyn apartment."
Duhaime-Ross says she podcasts from a "terrible" chair that's "super-uncomfortable," but "it's the only thing that fits in my tiny NYC bedroom closet." This lumbar pillow makes working for hours a little less painful, she says.
A proper workstation — if you have the space to spare — will keep you organized and your kitchen table clear. "I didn't own a desk before the pandemic hit," says Duhaime-Ross. Before long, she caved and bought this, which "was the best one I could find that wasn't too expensive." Plus, "it's ergonomic enough and small enough to fit in my apartment," she adds.
The Strategist is designed to surface the most useful, expert recommendations for things to buy across the vast e-commerce landscape. Some of our latest conquests include the best acne treatments, rolling luggage, pillows for side sleepers, natural anxiety remedies, and bath towels. We update links when possible, but note that deals can expire and all prices are subject to change.