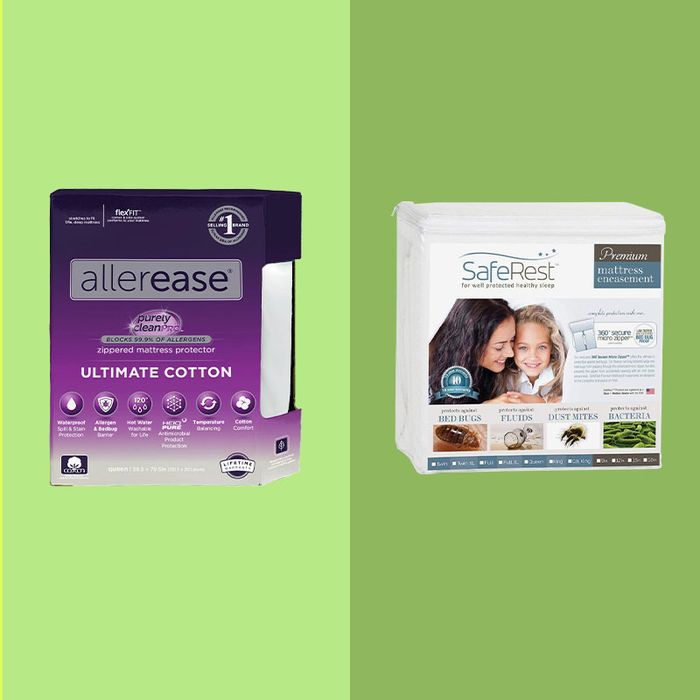 Photo-Illustration: The Strategist; Photos: Retailers
Bedbugs are every city dweller's worst nightmare. And while it's possible to deal with an infestation once you get one, it's definitely best to invest in prevention and early detection before those little bloodsucking insects ruin your furniture and life. One of those precautions is to get an encasement-style mattress cover, which professionals say can be a helpful tool for protecting your bed from the creepy-crawlies. But contrary to popular belief, mattress covers do not prevent a bedbug infestation, according to Timothy Wong, the technical director of New York City–based, ecofriendly pest-management company M&M Pest Control. Instead, Wong says that mattress covers help with early detection, because they provide a smooth, clean, white surface that makes it easy to spot any visual evidence of bedbugs. In the event of an infestation, a mattress cover will also help preserve the integrity of your precious mattress, making it less likely you'll have to throw it away, says Richard Kane, the founder of Bed Bug Pest Prep NYC. I spoke with expert exterminators as well as professional sleep consultants, who recommended their favorite bedbug mattress covers, along with additional encasements made for box springs and pillows. Just remember, "the battle of bedbugs is more psychological than anything else," says Kane. "Getting rid of them isn't that hard" when you stay calm and follow the experts' advice.
NYC Bed Bug Inspections owner John H. Brickman says that in order to safeguard yourself as much as possible against bedbugs, you want to "make sure your mattress encasement covers everything," including any mattress toppers. You also want to make sure you put the zipper at the foot of the bed, away from your head, because that's where our bodies release the most bedbug-attracting carbon dioxide, he adds. We looked for mattress protectors that snugly protect all six sides of the bed (fully encasing it, rather than just covering it on top), with as little baggy fabric as possible, mainly because any excess will increase friction and noise when you sleep, but also because you don't want to crate extra crevices in which bugs can hide. We also looked for mattress-protector brands that offer a wide range of lengths, widths, and heights, so you can figure out the very best fit for your particular bed.
Bedbug mattress covers are generally made from cotton, polyester, or vinyl, all of which will keep bedbugs out of your mattress, Wong says. But the experts we spoke to suggested sticking with polyester or cotton, noting that the latter is generally the softest and most breathable material. "Vinyl covers aren't breathable and rip very easily because they have no stretch," Matthew Moers, co-owner of EZ Pest Exterminating, says. But while cotton is more breathable and less noisy, helping avoid that nasty hospital-bed feeling, polyester is more durable and can feel just as nice. The fabric you choose is up to you, but when it comes to box-spring covers, Kane does suggest going for polyester, because he says the material is stretchy and less likely to tear. Whichever fabric they're constructed from, we looked for mattress protectors that are thick and durable, as well as waterproof, so that they serve the secondary function of protecting your mattress against sweat, bed-wetting, and spills. "If you're going to protect your mattress, it may as well not be just from bedbugs," points out Vanesa Levine, chief marketing officer at the extermination company Bed Bug 911, which also develops its own bedbug-prevention and -treatment products. We also looked for mattress covers that are hypoallergenic and machine washable.
According to Wong, what separates quality mattress encasements from inferior ones is the zipper. The best bedbug covers should prevent bedbugs from crawling through the zipper's teeth, as well as have reinforcement around the small gap where the zipper opens and closes. We also looked for durable seams (especially those with workmanship guarantees of at least five years) that will prevent critters from burrowing inside covers at their weakest points.
When you are inspecting those areas for bugs, there are two pieces of evidence to look for, according to Brickman: any live insects or "black spotting from fecal matter." And if you do find evidence of bugs in your sheets or on top of your mattress protector, we have both good and bad news. "Chances are, the bugs aren't inside of your mattress, because it's protected," says Levine. "But you most likely have bedbugs elsewhere in the house." So while it's likely you can salvage your expensive bedding, it's definitely time to call an exterminator.
Best overall bedbug mattress cover


Mattress fit: 6- to 18-inch mattress depths | Fabric: Waterproof cotton | Zipper and seams: Zipper guard
Wong notes that while buying a bedbug mattress cover is mostly a matter of personal preference and budget, he always recommends SafeRest's mattress covers to his clients, due to their breathable material, washability, and well-designed zipper guard. SafeRest's covers are also completely waterproof, hypoallergenic, and machine washable, he adds. To get the most out of your investment, Wong also suggests buying encasements that protect against both bedbugs and dust mites, like this one promises to. With two waterproofing layers — a moisture-wicking cotton followed by an additional membrane barrier — the SafeRest encasement is available in an unusually extensive range of mattress sizes and depths.
Best less-expensive bedbug mattress cover
Mattress fit: 6- to 18-inch mattress depths | Fabric: Waterproof cotton | Zipper and seams: Zipper guard
For a less-expensive alternative, Brickman recommends Linenspa's mattress cover, which is made from waterproof, machine-washable polyester. (Wong says that polyester can "give a similar feel to cotton, but is generally cheaper in cost.") "I always recommend Linenspa; it's cheap, and it's great quality," Brickman told us. Although constructed from polyester, the brand promises this cover isn't too noisy, due to its slimline profile that ensures minimal extra fabric swishing around as you sleep. While this cheaper protector doesn't include any extra innovations like a reinforced zipper, the workmanship is solid, with the brand providing a ten-year guarantee as long as you follow the relatively easy care instructions. Like SafeRest's covers, Linenspa's encasements also protect mattresses from dust mites and allergens as well as bedbugs.
Best bedbug mattress cover for allergies
Mattress fit: 6- to 13-inch mattress depth | Fabric: Medical-grade, waterproof polyester | Zipper and seams: Zipper guard, 10-year guarantee
Speaking of allergens: Here's a lab-tested mattress protector explicitly designed for those of us who suffer in every season. Constructed from machine-washable, waterproof polyester fabric that meets the same standards used to make surgical gowns, this encasement is also certified as asthma and allergy friendly by the Asthma and Allergy Foundation of America. And as for its bedbug protection, that's pretty good too: The zipper features extra "bug lock" reinforcement to help prevent bedbugs penetrating the encasement's most vulnerable point, and the workmanship is guaranteed for ten years. The case is available in extra 13-inch-depth options for queen and king sizes.
Best bedbug mattress cover for light sleepers
Mattress fit: Up to 14-inch mattress depth | Fabric: Waterproof cotton | Zipper and seams: Zipper guard
Adult sleep consultant Kelly Murray says that this protector is her "number one recommendation" not just for bedbug prevention, but simply a comfortable night's rest. As well as bedbugs, it also happens to fight mold, mildew, pollen, and dust mites. "To top it all off, it's breathable," she explains. That's because the protector is woven from cotton, a natural material that won't make any disruptive swishy noises and encourages thermoregulation: "It allows for breathability, and because of the weave and hypoallergenic finish, it protects against allergens and bedbugs."
Best bedbug mattress protector for hot sleepers
Mattress fit: Up to 20-inch mattress depth | Fabric: Cotton terry | Zipper and seams: Sealed zipper, 10-year guarantee
Made from waterproof 100 percent cotton terry, this mattress protector has a slightly higher pile than the others recommended here. Sleep coach Seth Davis, the founder of Sleepably, says that the plush fabric makes for a mattress encasement that's "quieter and more breathable" with a better ability to wick moisture away from sweaty bodies. It will benefit hot sleepers, alongside a good set of cooling sheets. When Davis evaluates mattress products, he goes by a strict set of criteria, weighing up "whether they introduce potential sleep disruptors such as noise, elevated body temperature, uncomfortable texture, or poor fit on the bed." Being "both comfortable and nondisruptive," he says, this protector is "a winner in my book."
Best bamboo cotton mattress protector


Mattress fit: 9- to 12-inch mattress depth | Fabric: Waterproof bamboo and polyester | Zipper and seams: Lifetime warranty
Murray also told us that other natural fibers like bamboo (as well as "wool mulberry silk and kapok") are an excellent choice when it comes to any form of mattress product. As she points out, "You spend a third of your life sleeping, so you want to make sure that time is spent in high-quality materials." If you're looking to expand your horizons beyond cotton and polyester, we found this unique breathable bamboo-based protector that'll also encourage thermoregulation as you try and get some rest. It also features a lifetime warranty and 360-degree zipper that makes the protector easy to install and remove. (When trying out new sleep fabrics, Murray recommends choosing those that can be returned within a certain trial period — Slumberfy offers a 30-day option.)
Best bedbug mattress cover for cribs
Mattress fit: Crib and porta-crib sizing | Fabric: Waterproof polyester | Zipper and seams: Tight, waterproof zipper
Designed to fit crib mattresses up to seven inches deep and porta crib mattresses up to four inches deep, here's a bedbug encasement especially designed for newborns and toddlers that fits the criteria our experts recommend. It's quiet, plush to the touch, yet constructed from durable polyester. And because we're talking babies and all of the fluids that come with them, the encasement features a tight, waterproof zipper that the brand says will keep your baby's crib mattress nice and dry, whatever happens. It's also easy to wipe down and machine washable.
Best bedbug box-spring cover
Mattress fit: 6- to 12-inch box-spring depth | Fabric: Waterproof polyester | Zipper and seams: 10-year guarantee
"If you're going to cover your mattress, you're going to want to cover your box spring as well," says Kane. Brickman agrees: "Bedbugs love box springs," he says, because they tend to have more hollow spaces in between layers of wood and padding, which provide perfect living and breeding conditions. His pick is Linenspa's polyester box-spring cover, which protects against dust mites, allergens, and liquids, as well as bedbugs. But he adds that, in a perfect world, he would have his clients get rid of their box springs altogether, and instead put their mattress on a metal platform bed frame like this one from AmazonBasics, because the metal material is less bedbug-friendly than a wooden frame (or box spring). If clients must use a box spring, he will advise them to cover it with an encasement and still consider using a metal bed frame beneath.
Best bedbug pillow cover
Fit: 21 x 31 inches | Fabric: Cotton | Zipper and seams: Auto-lock zipper
If you want to be extra-vigilant, the pros say that investing in covers for your pillows is also a good idea. Pillow covers are designed to do the same thing as mattress or box-spring encasements, explains Brickman. "They eliminate hiding spots on the pillow and make it easier for you to visually inspect for bugs on your own." He likes Allersoft's cotton pillow covers, which protect against bedbugs, dust mites, and allergens. The zipper "auto-locks," so you don't have to worry about accidentally leaving an opening for bugs to crawl through. Though not fully waterproof, they'll definitely help protect against sweat and drool — and crucially, the breathable, sheetlike cotton means they won't feel crinkly against your face. Speaking of sheets: When taking bedbug precautions, Brickman also suggests keeping bright white sheets on your bed, since darker colors make it very difficult to visually inspect for evidence on your own. "Because bedbugs breed so rapidly, being proactive is key," he concludes.
Some Strategist-approved products for preventing and eliminating bedbugs
Our experts
• John H. Brickman, owner, NYC Bed Bug Inspections
• Seth Davis, sleep coach and founder, Sleepably
• Richard Kane, founder, Bed Bug Pest Prep NYC
• Vanesa Levine, chief marketing officer at Bed Bug 911 and Hygea Natural
• Matthew Moers, co-owner, EZ Pest Exterminating
• Kelly Murray, sleep coach and founder, Kelly Murray Adult Sleep Coaching
• Timothy Wong, technical director, M&M Pest Control
Additional reporting by Dominique Pariso
The Strategist is designed to surface the most useful, expert recommendations for things to buy across the vast e-commerce landscape. Some of our latest conquests include the best acne treatments, rolling luggage, pillows for side sleepers, natural anxiety remedies, and bath towels. We update links when possible, but note that deals can expire and all prices are subject to change.