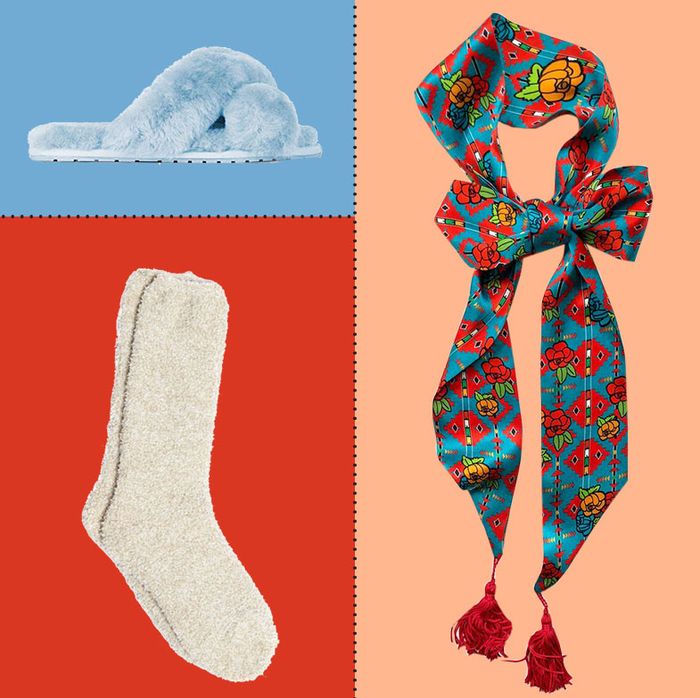 Photo: Courtesy of the retailer.
It's not an incontrovertible fact, merely an observation, but a good number of moms tend to love and appreciate soft things. Whether it's a fuzzy throw tossed over the arm of a couch, a cozy pair of slippers, something silky, or virtually anything cashmere or linen (just ask Eileen Fisher), your mom has likely ogled it at Neiman Marcus (or TJ Maxx). In the spirit of finding the best soft things to get mom this Mother's Day, we polled a dozen tasteful moms on their favorites, including soft things they have received themselves, things they would like to receive this year, and gifts that have been hits with their own mothers and mom-friends.
Soft pajamas and robes
Moms who love to lounge might enjoy a swingy pajama set or cool-to-the-touch robe. "I like to have comfy PJs that I can change into the instant I walk into the apartment after work," says Amanda Freeman, the founder and CEO of fitness brands SLT and Stretch*d. She lives in this short pajama set from Strat-favorite brand Eberjey, because she finds that they're comfy and practical for getting down on the floor to play with her young kids. "I'll even be seen in my lobby in them, which is where I end up pre-bedtime to appease my kids' desire to run around outside the apartment. "
For new mothers, Katerina Schneider, the founder of multivitamin company Ritual, flagged this decadent cashmere onesie as one of her favorite multifunctional pieces. "Although it's not technically pajamas, I treat them as such because who doesn't love something you can wear to the office, play with your toddler in, and then also pass out in?" It works well for expecting mothers, too, since it has enough stretch to accommodate a growing belly.
And if your mother has a refined taste for silk, Andy Spade's sleepwear line Sleepy Jones might be to her liking: It's a Strategist favorite (and coveted by celebrities like Karlie Kloss). Here's a silk pajama shirt to help her feel fancy while she's reading the paper or watching TV on weekends — it's even airy enough to wear in the summer.
In our investigation of the best bathrobes, California-based home and bedding brand Coyuchi came up as one of the best options for robes made with organic materials. Kelly Love, the co-founder of organic cleaning brand Branch Basics, suggested their Catalina linen robe as a luxurious, terry-lined thing to give to a fellow mom (she recently gave one to a close friend).
Traditional fluffy robes are nice, but not for everyone. Complice PR founder Jessica Wells explains that while she's into the idea of a plush robe, "It's just too hot in warmer months." As a mother of two girls, she says, "All I want is a flattering robe that fits comfortably and feels luxe." This robe from Soma fit the bill for her, which she credits to the soft rayon fabric and the pockets for storing things when she's on the go — "a huge bonus."
If your mom has luxury tastes, she might enjoy something bespoke. Communications consultant Lisa Wells says her ultimate wish is for her kids to gift her a handmade silk robe from Paul Stuart. "They have a tailor shop on 45th and Madison Ave. in NYC — one of the last remaining of its kind, where they make these gorgeous silk robes for women and men." She considers a robe like this a lavish gift that can be worn enough to have sentimental value, and "might even become an heirloom if it's taken care of."
Soft basics
The mom who doesn't like to be spoiled might just want an update of the basics she wears every day: this is the opportunity to introduce her to a brand she might not know already (or to replenish her favorites). Charlotte Hale — the CEO and founder of sustainable clothing brand Plum Pretty Sugar — says her mother-in-law likes to cater to her love for Vince, the brand that makes "the most beautiful T-shirts." These are her go-to tees for layering, because they're "soft, wash well, and go with everything!"
And you really can't go wrong with anything linen from Eileen Fisher, who basically led the movement of moms wearing linen from head to toe. Here's an unfussy top to wear around the house in the summer that isn't terribly expensive.
A mom who's a frequent flier (or just likes cozy things) might love a cashmere sweatpant. We'd suggest these tapered Everlane sweatpants, which came recommended by Denise Lee, the founder of activewear brand Alala in our roundup of the best travel pants. Cashmere is luxuriously soft, of course, but Lee notes that it also "regulates temperature well, when dealing with the unpredictable air-conditioning on airplanes."
We own and love a few pairs of Athleta tights because they tend to be the softest, smoothest things to wear for a workout (or while out and about). Their line of tights in the Powervita compression fabric feels especially buttery-soft and delightful on your skin — it's something to look into if your mom's a fitness fanatic.
Soft things for the home