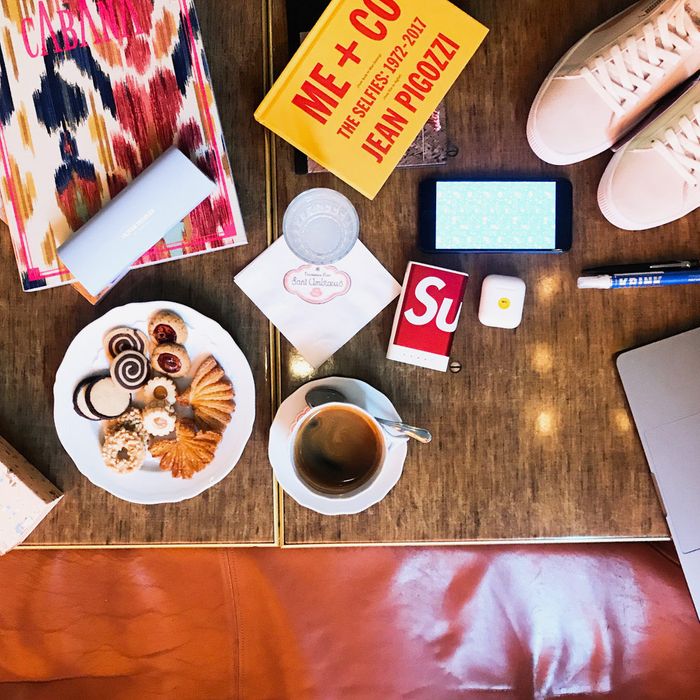 Photo: Sant Ambroeus Hospitality Group
How someone organizes their desk can tell you a lot about how they get work done. That's why we're stepping into the offices of enviably creative (and productive) people to look at what's on their desks — pens and notebooks and gadgets, but also décor and tchotchkes. Today, we've asked Alireza Niroomand, creative director and brand ambassador of Sant Ambroeus Hospitality Group, to show and tell.
I have a dedicated space at our corporate office, but really, I don't think it's me, so I don't have my things there. My routine is that every morning, I go to Sant Ambroeus Soho, because I live in Soho. I start my days there with an espresso, with cookies. The coffee cups are special, right? I like them a lot, and actually, I think coffee tastes completely different depending on the china you choose. Those are from Rosenthal, they're called Maria Theresia. If you take coffee in this, versus a thick coffee cup, you will have a completely different experience.
I follow Hypebeast because I'm not that young anymore, and in order to stay relevant, I have to be in touch with what's happening, and they're a good indicator of what the youth today like. Cabana is another one of my favorite magazines, so I always get inspiration from those. I still like to go to my local vendor, I'm old-school. And I like to go through it before I buy it. We're always looking for new things in our restaurants, just visually, colorwise. [I read these magazines] to see what's out there, because everything goes so fast nowadays that you cannot do it on your own. Instagram is also another way of getting inspiration, but I like to mix both. Touching something, feeling it, it's completely different, I think.
Jean Pigozzi is a socialite photographer. I got this book in Paris before [French department store] Colette closed. It's selfies from the 1970s. He was always taking selfies with his camera, so there's really amazing pictures in that book. Selfies before selfies existed, you know what I mean?
Krink is another one that's special to me. When I want to scribble, I have it on me. I grew up in Paris, and I was exposed a lot to graffiti. I wasn't a bad boy, so I was doing it in notebooks, rather than on walls because I didn't want to get in trouble. But I grew up with that culture … That Krink that you see, it's a custom one we made. We did a residency in Paris, back in September, at Colette, and Craig [Costello, the founder of Krink], and I made this custom Krink, which matched the blue of Colette. When we did our residency in Paris, I re-created the wall of plates from Sant Ambroeus Soho, but it was a surprise for Sarah [Andelman, co-founder and creative director of Colette], and I asked 24 artists to make a custom plate for her using the same blue. I'm jealous of that collection, actually. KAWS, Tom Sachs, even Pharrell did one.
I use the Moleskine just because I grew up used to it, I think. I scribble ideas, menu items that I like in the restaurants that I've been to, things like that. I doodle a lot. I love writing, and I love scribbling.