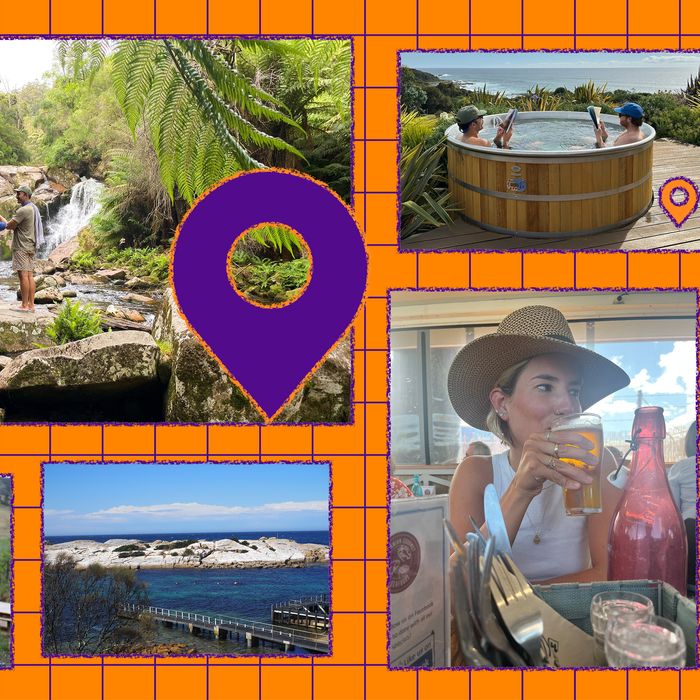 Photo-Illustration: The Strategist; Photos: Rebecca Johnson
Everyone knows that person who spends weeks sniffing around travel blogs, going deep into Tripadvisor rabbit holes, collecting Google docs from friends of friends, and creating A Beautiful Mind–style spreadsheets to come up with the best vacations and itineraries possible. In this recurring series, we find those people who've done all the work for you and have them walk us through a particularly wonderful, especially well-thought-out vacation they took that you can actually steal.
After the backbreaking marathon of opening Moonflower — a charming, intimate West Village wine bar — with her husband, Rowen McDermott, Rebecca Johnson spent months dreaming of a getaway. Working on the July debut of the bar plus managing their Jersey City restaurant, Frankie, the couple had a wildly demanding 2022 that afforded them very few moments to catch their breath. (Oh, they also got married in October.) But a window to take an extended break and the chance to escape New York's winter chills finally surfaced in February, and to take advantage, they opted to spend a few weeks in Australia, McDermott's home country. They've been there many times, but for this trip, which they took with Johnson's sister, Sarah Grace, and friend Sammy, catching up with friends and family in Sydney was paired with a weeklong jaunt on the island of Tasmania, where tranquil, nearly empty landscapes allowed them more relaxation than they've had access to in over a year. "Pristine beaches, energizing hikes, fresh seafood, and the most adorable animals everywhere you go," Johnson raves. "How can you not fall in love with Tasmania?"
2:30 p.m. Land in Hobart; pick up the rental car
We arrived in Hobart via a seamless two-and-a-half-hour flight from Sydney, where we just spent a week. We immediately snaked our way around the airport for the Sixt rental company stall to pick up our Mercedes GLC. With four of us spending a week traveling around Tasmania together, a more spacious SUV was exactly what we needed.
3:30 p.m. Tuck into a seafood tower for lunch
Not far outside the airport terminals, we made a beeline for Tasmanian Gourmet Seafoods (50 Loop Rd., Cambridge), a very casual spot for fresh and simply prepared seafood. We wanted to start our adventures right — and we probably wouldn't trust airport seafood anywhere other than Tasmania — so we splurged on a seafood tower stacked with oysters, shrimp, lobsters, and clams. And a few sips of beer to take the edge off the flight.
4:30 p.m. Pick up home provisions during a four-hour drive
The journey to our Airbnb took nearly four hours, so we decided to stock up on groceries and wine at Hill Street Grocer (70 Arthur St., West Hobart) and Hop Vine & Still bottle shop (158 Murray St.). We planned on cooking at home some of the nights, so a case of Australian wines was definitely needed. The drive up northeast Tasmania features a lot of rustic two-lane country roads passing each other. You're in and out of super-scenic patches that switch between gum-tree forests and coastal vistas. All in all, a very beautiful drive.
8:30 p.m. Settle into the Airbnb
We booked this unit — a luxurious three-bedroom house overlooking the water — for two reasons: the stunning views and the bathtub. But it also speaks to a lot of what we like: uncluttered but well-designed interiors and plenty of outdoor spaces where you can appreciate the nature that surrounds the three-hectare property. Also, we were their first guests ever!
One of the charms of Tasmania is that many places close pretty early, and on this part of the island, you're not gonna get very many late-night restaurants or bars. So we made a quick dinner and relaxed in the hot tub.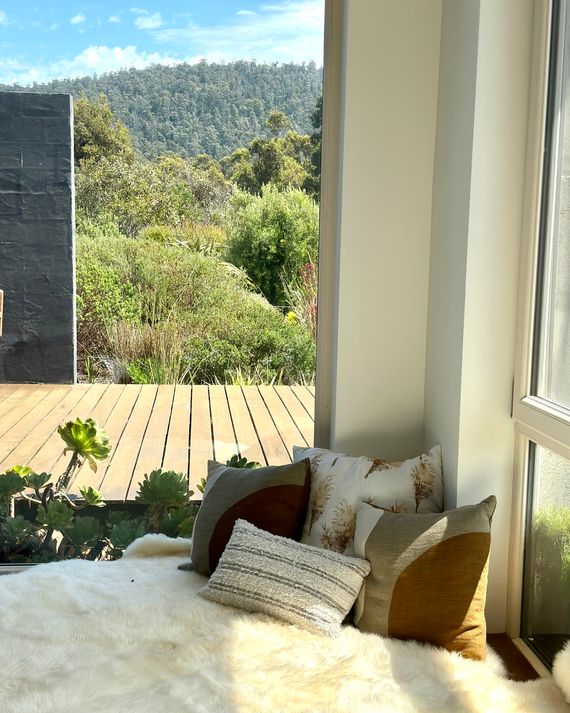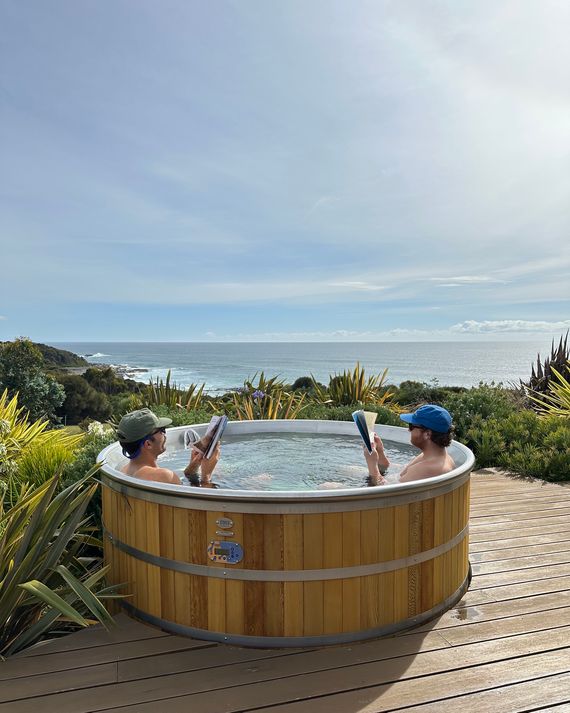 8 a.m. Stretch, then eat scallop pies for breakfast
While Sarah Grace and I were doing outdoor yoga on a deck overlooking the water, Rowen and Sammy drove to St Helens Books (15 Pendrigh Pl., St. Helens) to pick up some scallop pies for breakfast. These are famous in Tasmania. They're essentially meat pies but with scallops instead. We enjoyed a morning soak in the tub before striking out for a day of soft adventure.
11 a.m. Shop for vintage, then swim with a platypus
Our main activity for the day was to hike around Halls Falls (near Pyengana), the trailhead for which is about an hour's drive from the house. Along the way, we stopped in to the Shop in the Bush, an antiques store on the highway. We ended up stocking up on old editions of Australian magazines that Rowen's mom wrote for in the 1980s (she used to be a journalist). And because I couldn't resist, I picked up a pair of Tasmanian-devil oven mitts.
The hike to the falls was an easy, cruise-y 30-minute trail that would serve as a good introduction to potentially more challenging terrain. But we really chose to walk this particular area because we wanted to see platypuses in the wild. And we did! Almost as soon as we slipped into the water, we saw one gently swimming away, right by our feet. The excitement almost made me forget that there might be snakes in there too.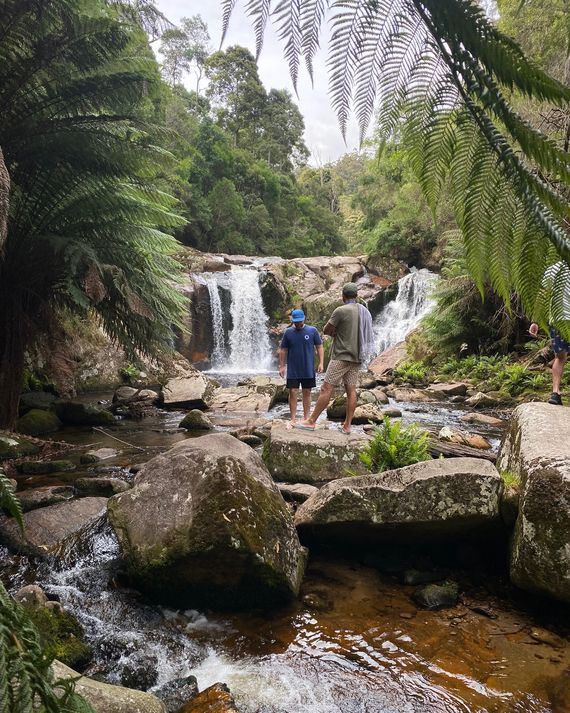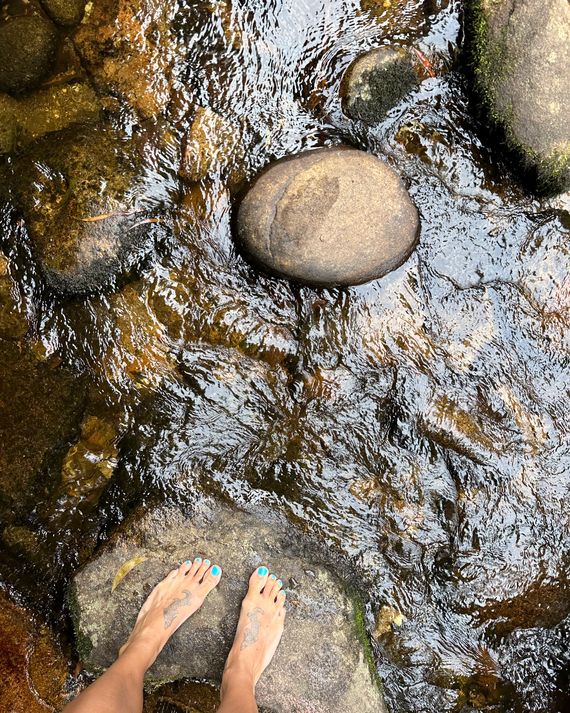 6 p.m. Sip beers and shoot some pool before dinner
Before returning to the Airbnb, we tossed back a couple of beers while playing pool at the Surfside Beaumaris (269 Tasman Hwy., Beaumaris), a hip hotel-bar-restaurant set up right on the beach. It's actually known for juicy American-style burgers, but we didn't want to spoil our appetite, so we decided to just snack on French fries.
Afterward, we made a detour to the East Coast Village Providore (55/59 Cecilia St., St. Helens), a gourmet grocer, to pick up seafood, oysters, and veggies for grilling at the house. We were eating super-healthy whenever we were cooking for ourselves. Everything is so gorgeous and fresh, so you don't really need to do much. Plus maybe too many bottles of white wine from Adelaide Hills' Ochota Barrels — they're one of our favorite winemakers.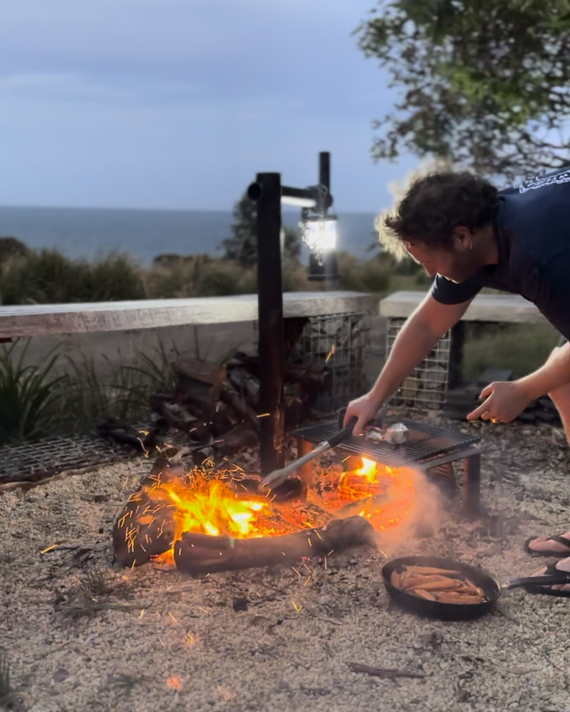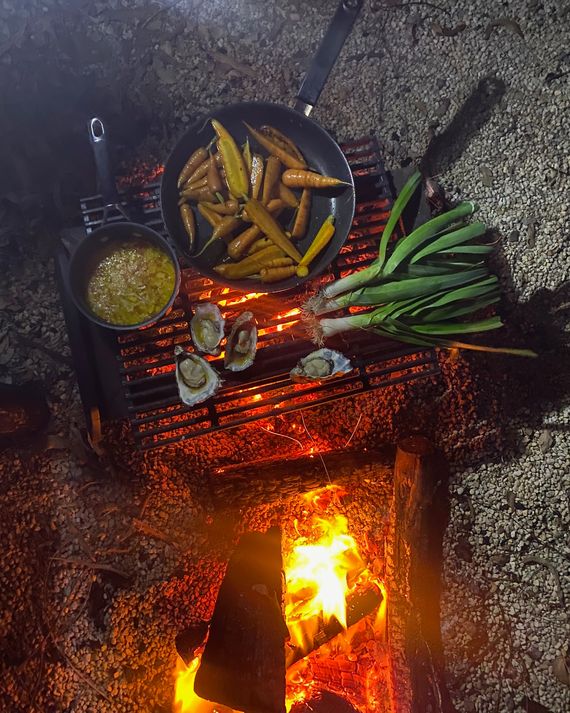 1 p.m. Slurp on more oysters
After a relaxing start to the day where we tried to do some DIY workouts and ate more scallop pies, we finally left the house for the hour-long drive south to Wineglass Bay, within Freycinet National Park. It's a truly stunning region full of rugged coastlines and hinterlands; the vibes were classic Aussie outback.
We stopped at another oyster shack called Freycinet Marine Farm (1784 Coles Bay Rd., Coles Bay). We knew we were gonna pass somewhere to eat during the drive, and we decided that if we found a seafood shack, we would just turn in. There are a lot of great oyster spots in this part of the island, where they're farming oysters in open water. And so the oysters have this super-pure, clean (we hate to use that word) flavor. But we also had salmon sashimi and ceviche because Tasmanian salmon is a thing.
2:30 p.m. Hike down a thousand steps
Unlike yesterday's easy, breezy meander, the hike at Wineglass Bay was a little tougher. I don't think we adequately prepared because we had one bottle of water between the four of us. You could hike up to the lookout, where you get unbelievable views of Wineglass Bay and then head back, but to get down to the actual beach, you have to walk down a thousand stairs, and at that point, we had no water left. And the stairs down, at least to me, were super-steep. But it was worth it.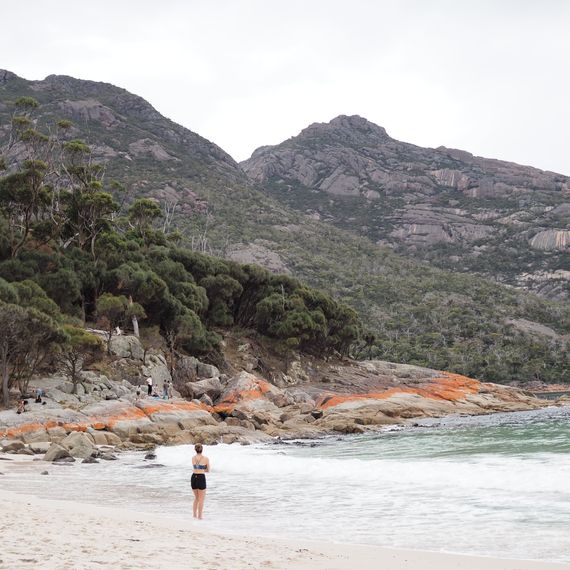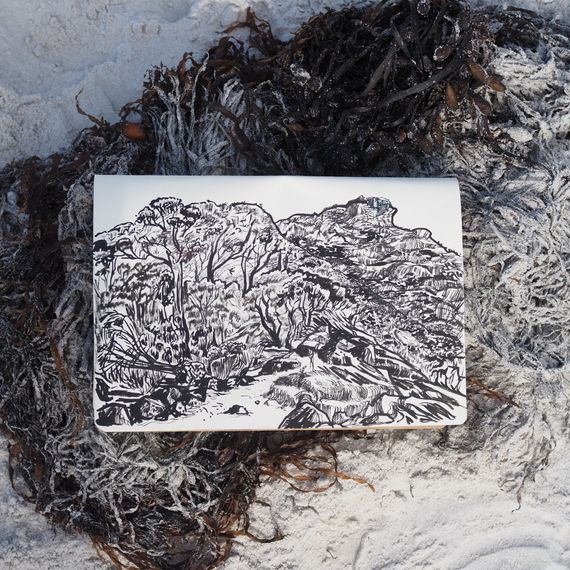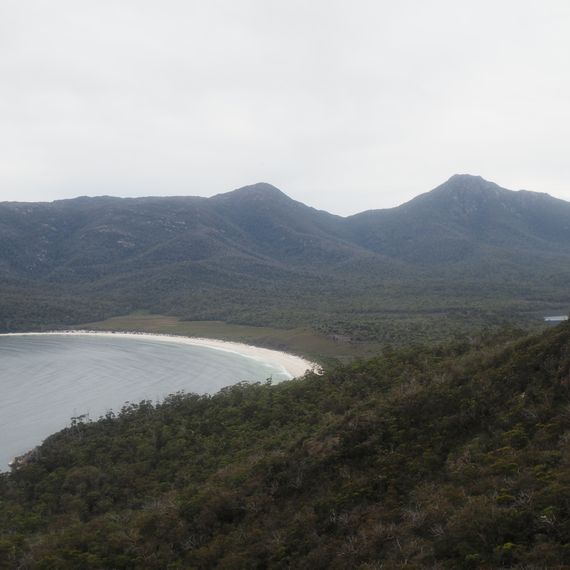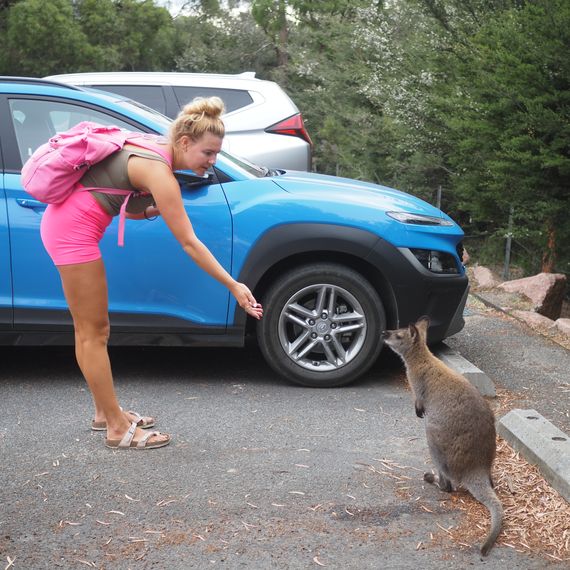 The beach itself was pristine with really fine sand. And it felt like we were the only people there. And yeah, the water was cold, but after that grueling hike, it was a refreshing dip. It's a very tranquil bay — there's no surf or anything. I drew and painted for a little bit and then it was time to tackle the thousand steps again for the 75-minute hike back to the parking lot, where we were greeted by some cute wallabies.
6:30 p.m. Have a predinner dinner
We definitely built up an appetite, so we stopped at Iluka Tavern (31 Esplanade, Coles Bay) for a helping of salt-and-pepper squid, beers, and more oysters. It has a casual pub ambience, and there's a general store attached; we stocked up on some more groceries to take back to the Airbnb.
8:30 p.m. Fry up local fish 
Our dinner-dinner at the house was the lightly tempura'd gummy shark that we picked up at the tavern. It's a local white fish great for frying. Then, in a fit of spontaneity, we gave Sammy a tattoo.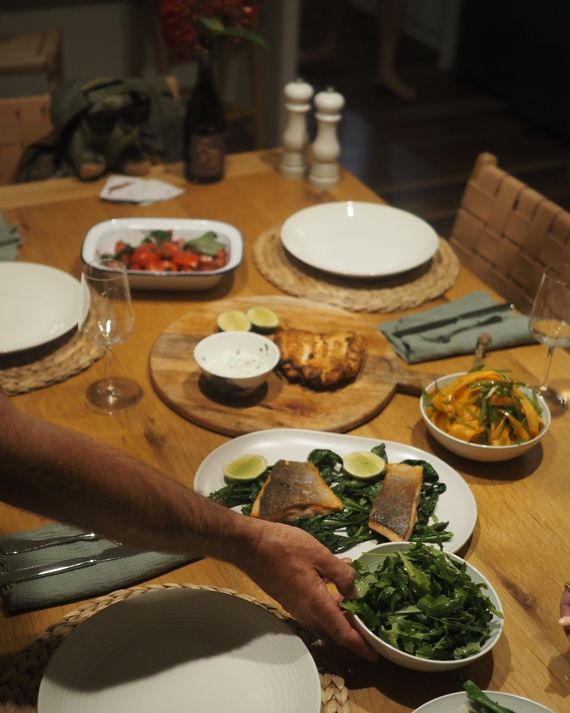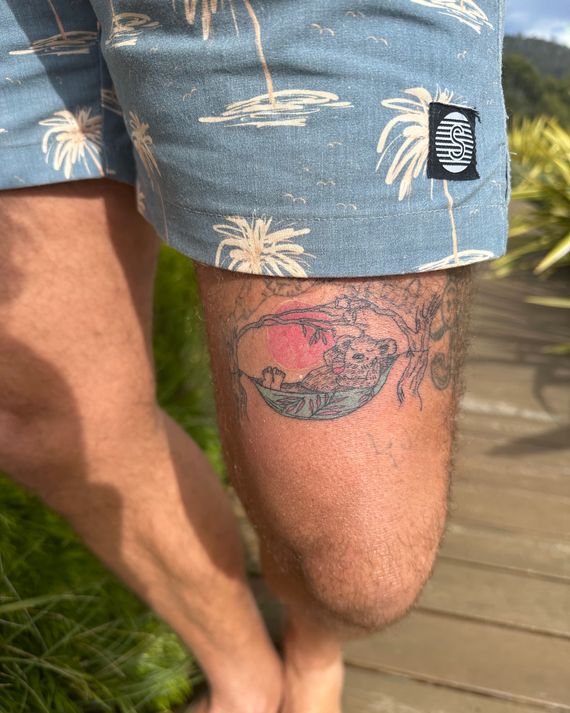 1 p.m. Hang at the beach and order lobster rolls
After a late-ish checkout, we loaded up the car for the drive to Hobart. But we weren't planning on making a straight go at it. About 40 minutes into the drive, we stopped at the beaches in Bicheno, a relaxed seaside town where people go diving and surfing. The water was crystal clear. We spent about an hour on the sand taking advantage of a pretty quiet day — I don't remember seeing anyone else there.
We heard that Bicheno's the Lobster Shack (40 Waubs Esplanade, Bicheno) has Tasmania's best lobster roll, so that was a no-brainer. And they were pretty amazing; I could have eaten a dozen of them while staring out at the sea.
6:30 p.m. Settle into Hobart and meet friends
We met up with our friends Dave and Lize in Hobart, so we decided on a three-bedroom Airbnb to accommodate our larger group. It's a beautiful, centrally located home with tons of relaxing amenities like a backyard with a charming tree house, and, perhaps best of all, one of the bathrooms has a built-in sauna.
Walking around Hobart, you're gonna find things that you may not have seen since the 1990s. Not to be dismissive, but it really is like hopping into the past: There's a cat café right across the street from a Dungeons & Dragons store and a place that just sells drums.
8 p.m. Order lamb for dinner
Dinner was at this awesome publike restaurant called Tom McHugo's. One of the best meals in Australia, we would say. The menu is inventive with a lot of global influences — there's that rustic pub fare but more herbaceous and more spice than you would expect. There was also a really nice Australian-natural-wine selection. We finally stepped away from the seafood and had a bright Thai-inspired salad, curried-lamb pie, and a really beautiful lamb shank. We were hoping to do a nightcap somewhere else in the city after, but you're in Tasmania; everything closes early.
9:30 a.m. Pick up breakfast (and vintage clothes) at the market
It's Saturday, so we decided to peruse as much as we could of the 300-stall-strong Salamanca Market (Salamanca Pl.), a weekly outdoor market that runs across several city blocks in the heart of Hobart. It's apparently Tasmania's most popular tourist attraction, too. Like any other market of this type, vendors obviously run the gamut, from actual produce purveyors to prepared foods to clothing.
During our destinationless meander, we picked up all sorts of snacks: barbecue-mushroom skewers, bacon-and-egg sandwiches, and more scallops pies. Then we spent a bit of extra time at the Emma Hope Retro and Vintage stall. We were hoping to find something '80s-inspired to wear to a themed sports party that we've been invited to for later in the afternoon. The best we could do was a bright-pink mambo button-up shirt for Rowen.
12 p.m. Watch tennis; drink wine
A wine importer from the city put us in touch with Peter Dredge, the owner of Meadowbank (652 Meadowbank Rd., Meadowbank), which we were hoping to visit during the trip. Lucky for us, it turned out Peter was hosting his annual tennis tournament on the property over the weekend, so we all drove an hour northwest of the city to join. It was incredibly fun — everyone was so gracious, especially when they learned that some of us traveled all the way from the American East Coast. The tennis was very casual, too — anyone could have signed up to compete regardless of skill level. There were, of course, lots of delicious wines (like their 2022 sparkling and fumé blanc) and addictive snacks from a restaurant in Hobart called Willing Bros.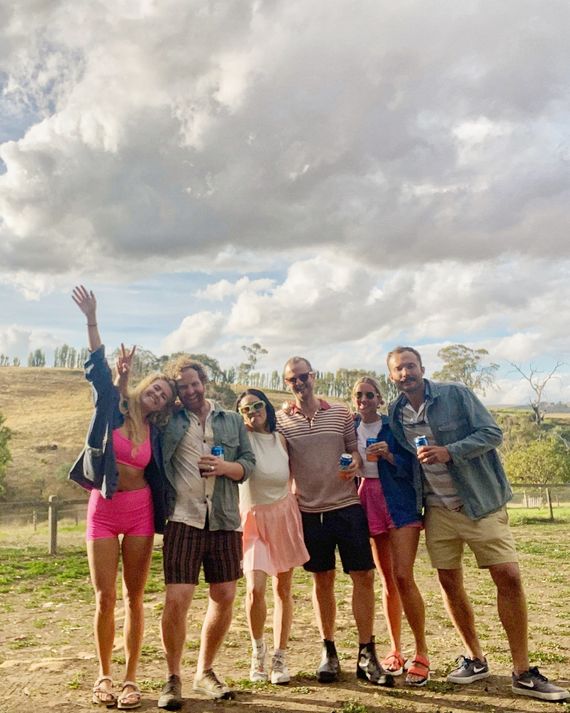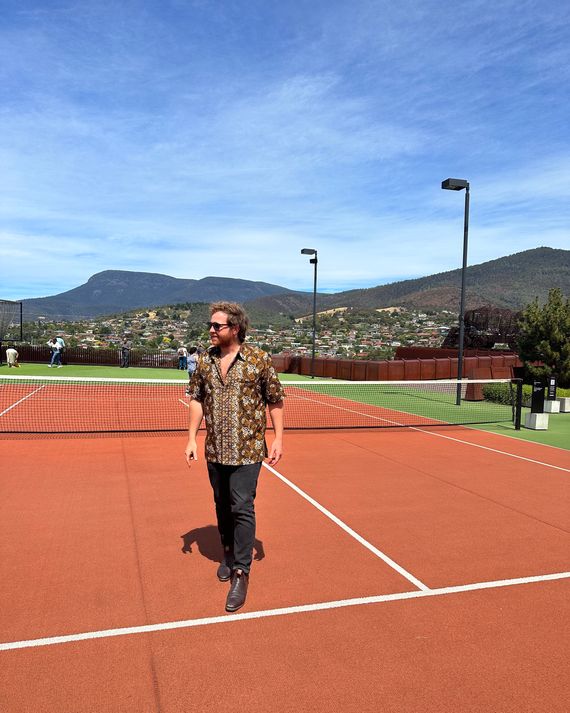 8 p.m. Head to a second winery
Lize was our designated driver. After a full day of drinking, we decided that we haven't yet had enough. We headed to L'appel, another winery located on the way back to Hobart. The owner and winemaker, Bart, is a good friend of Lize's, and when we rolled up, there was a nice group hanging out outside, sharing wine, cheese, and a spread of snacks while a DJ manned a deck in the kitchen. There was an artist (Fabien Fery) drawing portraits of other guests — I joined in. That was a great way of making new friends.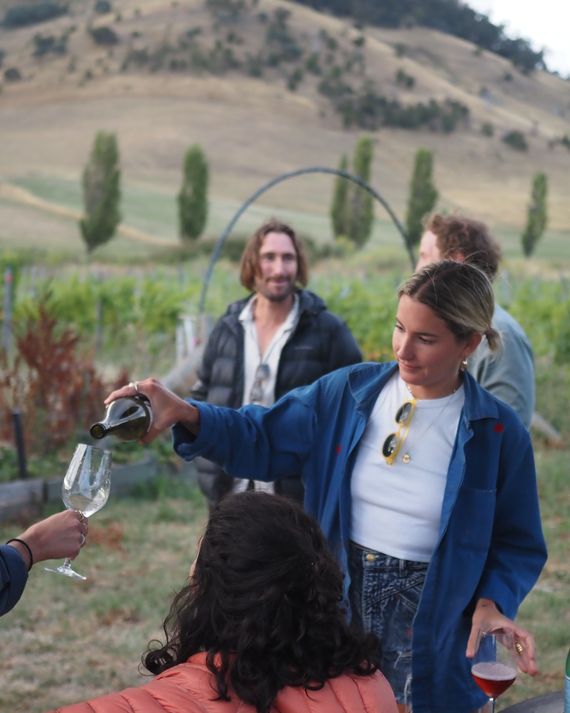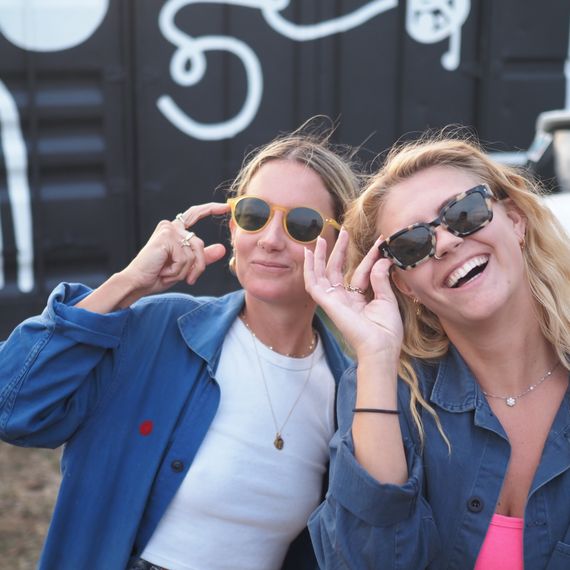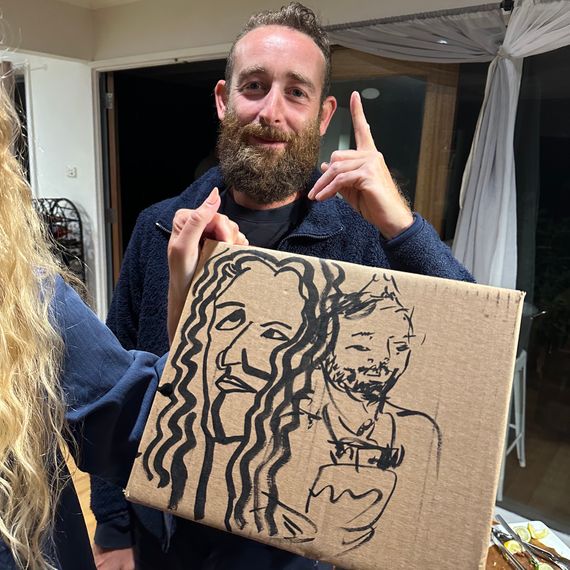 2 a.m. Load up on carbs back at the Airbnb
The best thing about traveling with chefs is that there's someone there to prepare a hearty midnight snack when everything in Hobart has shuttered for the night. Our friend Dave has cooked at various restaurants in Sydney, and tonight he saved us all by whipping up a massive pot of pasta.
11 a.m. Order coffee and Bloody Marys near the wharf
Considering the long, wine-fueled day we just had, it might have been a bit too ambitious to agree to meet up with Peter, who goes by the nickname Dr. Edge, this morning. But there we were, having Bloody Marys and coffee at Bright Eyes (Stall 21, Brooke Street Pier), an espresso bar tucked inside an all-glass building by the wharf. It was nice to connect over a more casual setting where he wasn't hosting a party–slash–sports event. But he also helped us plan our visit to MONA later that afternoon, including calling in our lunch reservation.
12:15 p.m. Take a camo-colored ferry to a museum
From the pier, we took the 25-minute sail to the MONA museum (655 Main Rd., Berriedale) aboard this camo-patterned ferry, which I understand sounds a little warlike, but they actually look funny and whimsical rather than violent. And the ferry's unexpected artsiness works in setting up your expectations for the museum, because that place is kind of wild. You look like you're in the middle of nowhere, but the museum has really made this part of the island a real must-do destination.
The museum owner — who lives in an apartment above it like that guy's from Glass Onion — made all his money from online gambling. The rotating collection displayed in the underground galleries is super-eccentric, from bright-red marshmallow-looking hot rods to site-specific installations from Tomás Saraceno, who framed dried flora foraged nearby. We explored the grounds, which were busy with food trucks and random activities, including a trampoline that we all took turns jumping on.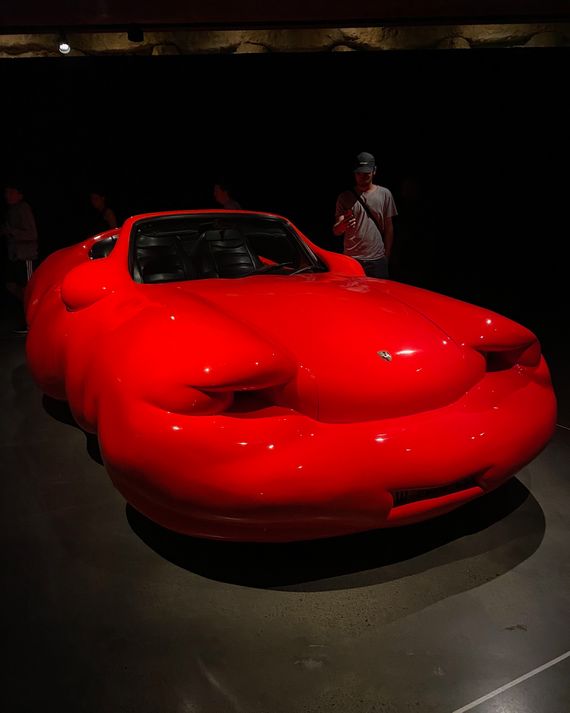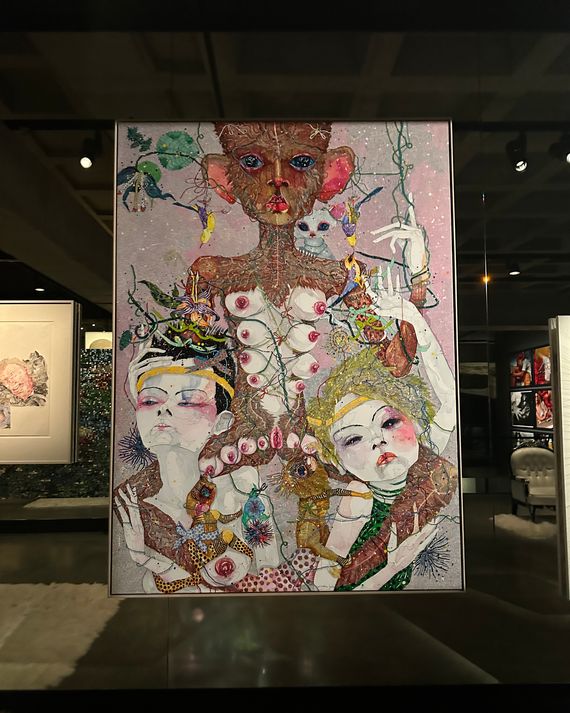 We weren't originally going to eat at MONA, but Peter made us a reservation at the Source. And we're so glad he did because the food was tasty and unexpected. Obviously, we had more oysters, but we also tried wallaby tataki, which has a really strong, gamy flavor. Plus the décor was striking. They were serving food out of penis-shaped ceramics. And the table was double-tiered glass, and between each panel, there were all sorts of crystals. I would definitely go back again, but not hung-over, because it was a lot to take in.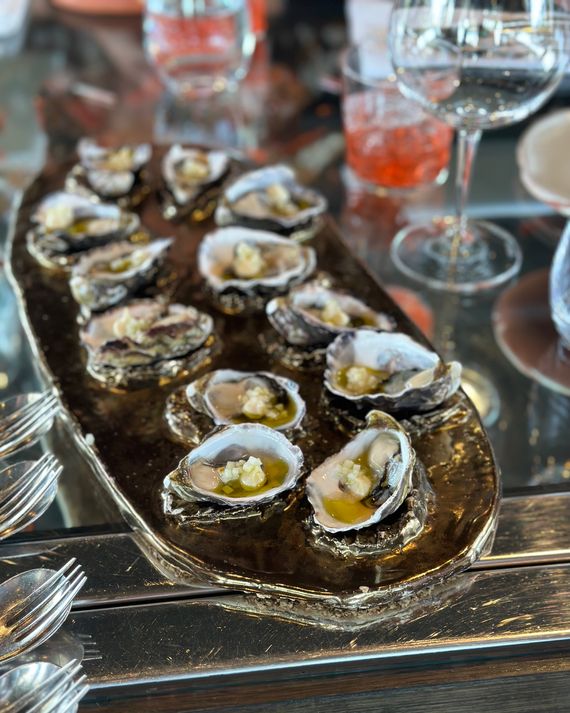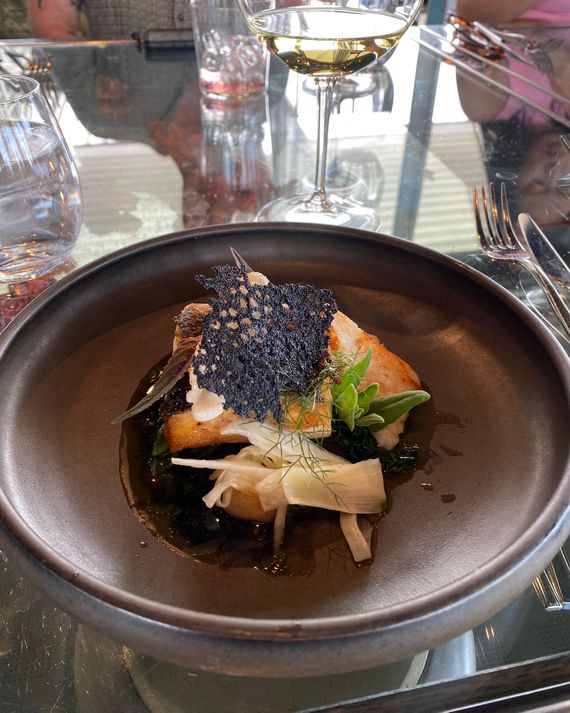 4:30 p.m. Have a farewell pint in one of Oz's oldest pubs
After taking the ferry back to town, we decided to have an easy final night. So we popped into Hope and Anchor Tavern (65 Macquarie St., Hobart), which claims to be Australia's oldest continuously licensed pub. It did look very antique in there: taxidermy, swords, and guns on the wall; lots of old-timey wood furniture; and a life-size sculpture of a mermaid. We didn't realize they were hosting a get-together for old crewmates — a reunion of sorts for these guys who all worked on the same ship. So we had a couple of early-evening beers, and that felt like as good a send-off as any.
Johnson's
Tasmania
Packing
List
When traveling (and in general), I always obsess over skin care, focusing on clean and natural products. This oil-based cleanser is the best — nourishes and keeps skin hydrated without stripping it.
Under the Aussie sun, tinted sunscreen is a must and the only makeup needed.
An awesome carry-on bag that keeps dresses and nicer garments from getting damaged.
Rowen and I fought over who was going to wear this shirt daily. Perfect for when evening temperatures drop and you want to throw something over your swimsuit and shorts.
The Strategist is designed to surface the most useful, expert recommendations for things to buy across the vast e-commerce landscape. Some of our latest conquests include the best acne treatments, rolling luggage, pillows for side sleepers, natural anxiety remedies, and bath towels. We update links when possible, but note that deals can expire and all prices are subject to change.