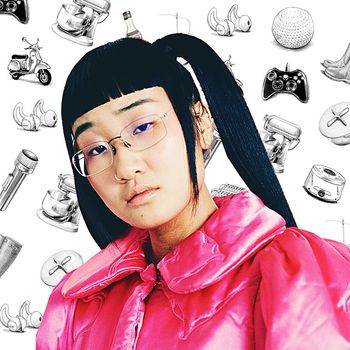 Photo-Illustration: The Strategist; Photo: Dasom Han; Illustration: Joe McKendry
If you're like us, you've probably wondered what famous people add to their carts. Not the JAR brooch and Louis XV chair but the hair spray and the electric toothbrush. We asked musician Yaeji — who just finished her first sold-out North American tour and will be going on tour in Europe this fall — about the camcorder she takes everywhere, the minty Japanese eye drops, and the five-year journal she writes in every day. 
My mom gave this to me. She said the difference between this and other more commonly found heat pads is that this is a near-infrared treatment, and it has red, LED-looking fixtures on the pad. It not only feels warm, it can actually help speed up recovery. Maybe don't take my word — I think it's probably a "consult your doctor" kind of thing — but from personal experience, when my lower back is hurting a little or I have cramps before my period, I'll just sleep with it by my stomach or my lower back, and then I'll feel better. One time, my dog, Jiji, felt muscle soreness from running too much. I put it under her butt when she was sleeping, and then she was totally fine after her nap, so there's that.
On tour, I use earbuds when I'm about to fall asleep, which I know isn't great, but I do it anyway. But when I use my wireless ones, oftentimes I'll lose them, because I'll fall asleep and not know where they are the next morning. Cabled earbuds prevents that from happening, so that's the main reason I have these. The sound is definitely not as good. I have in-ears that are molded to my ears that I use for performances. That's technically a cabled earbud, but it hurts to have it on for an extended period of time, so I end up just buying the Apple ones.
I really got back into camcorders maybe two or three years ago. It first happened when I was visiting home in Korea. I found this one on a used market app. I just fell in love with it and realized, "Oh, it's perfect for my vlogs on YouTube and Patreon," because it has a really nostalgic feeling, from having seen footage of that quality growing up. Also, it's just low-res in a way where it doesn't reveal too much detail. There's just something super-charming about how it takes natural light and makes things blow out a little bit. I think it feels magical. I've just been carrying this around everywhere, documenting almost every single day of the tour. The specific model that I have is really easy because it came out at a time where SD cards became a thing. It also charges through a micro USB, which is pretty ubiquitous now. It's the perfect model to use for convenience.
I've had my Nintendo 3DS XL for a while. I probably bought it when it first came out. Now I have the Switch, but they're very different. I think the 3DS is the last of the Nintendo line that still feels a bit old school, from the graphics and the sound and all of that. Recently, Nintendo discontinued the online store, and you can't actually buy any games on it anymore, unless you buy a cartridge used. I think there's something romantic about that. I'm really into old objects from childhood, and I hold onto a lot of things that have memories. The one I have is yellow, and it's some Pokémon edition because it has Pikachu on it.
I have four to six journals in general, but the 5-Year is my main thing I use from the Hobonichi brand. I chose this one because it's really lightweight for something that contains five years. This is my second year using it, so now I've gotten to the fun part where I can compare what I did the same day last year. Even if it's just one word or one sentence, it's so insightful and just really powerful to see the passage of time on each page, and there's something so charming about it. This year, my goal is to fill in every single page if I can. Definitely out of all the five-year journals out there, I recommend Hobonichi because of the Tomoe River paper, which is really special and superthin and smooth.
I randomly discovered this one year while I was preparing for another tour. I thought, hey, I need more things to protect my throat. Since then it's been a really important thing for me to have at all times because it has echinacea in it and a bunch of other things like propolis and goldenseal, which I think helps with preventing getting sick. It's a power combo of ingredients. When you spray it on your throat, it's definitely a very intense flavor. It doesn't sting, but you'll feel it in your throat. I often find that it rinses everything out. If I feel I'm about to get sick, it'll also just take care of it. When my throat is fatigued from singing or being in a dusty area, it'll also take care of that as well as allergies.
I have two foam rollers, but the one that I actually prefer the most is the longer one. I have a lot of neck and shoulder tightness. I'll roll out if I can at the end of each day, just along my back, and do the thing where you let your arms flop, with the roller under your shoulder and you let your arms fall. The same with my hips and my legs. My foam-roll routine ranges from as short as 5 to as long as 30 minutes, I would say. I'm always doing something that either feels relieving and good or slightly painful — but in a good way.
These are revolutionary, but I think they can be hit or miss. The first time I tried them was in Japan, where they have literally over ten kinds of Rohtos. Each one indicates how minty it is. The first time, I went with the lowest one, and I remember it was so minty that I couldn't open my eyes for a second. I was like, "What is this?" But I have dry eyes because I stare at the screen for too long, so I need a good eye drop. Something about the minty-ness is so fresh and it feels very hydrating. So now I'm up to level-three minty-ness. I use the lycee, which has a floral scent, but I don't care too much about the scent. I know all of them are definitely minty or menthol-y. If I'm working at the computer all day, I'll use it every couple hours.
Woofa is a character I made for this song called "Waking Up Down." I really wanted to animate a video for it, and Woofa became the main character. Since then, I've designed a plushy that is manufactured in Korea at this really small factory that's just two ladies who make it by hand. I designed a smaller version too, which just came out a couple of weeks ago. It's 15 centimeters, so it's not quite a huggable size, but it's nice because it fits in most bags. There's a culture in Korea now that is really cute, where people bring around tiny plushies in their handbags and then take pictures of their food or wherever they're at with the plushy. It's a culture that arose from adults trying to reconnect with their inner child, I think. It's very much relatable for me with this album. So, I thought of making Woofa small so that people can bring him around anywhere. It's available at Ji-Mart, which is a store I run, but it's not quite Yaeji merch.
The Strategist is designed to surface the most useful, expert recommendations for things to buy across the vast e-commerce landscape. Some of our latest conquests include the best acne treatments, rolling luggage, pillows for side sleepers, natural anxiety remedies, and bath towels. We update links when possible, but note that deals can expire and all prices are subject to change.