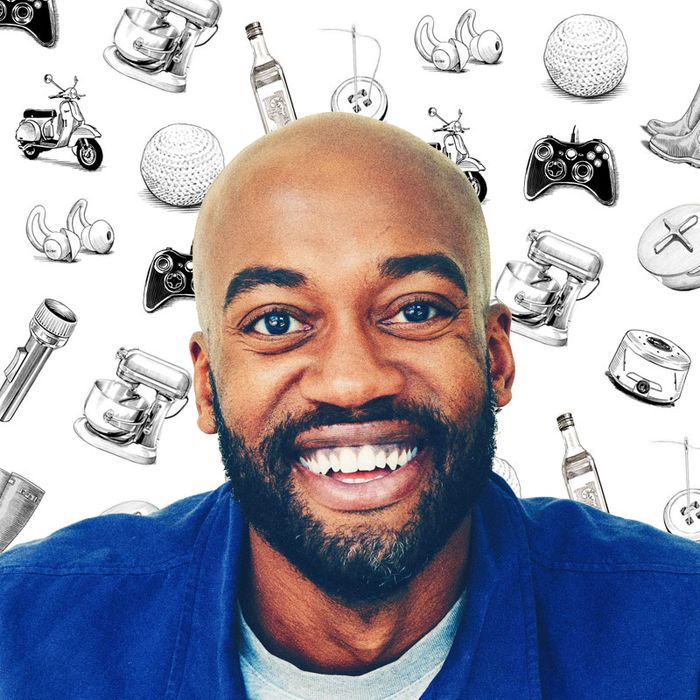 Photo-Illustration: The Strategist; Photo: Stephanie Noritz
If you're like us, you've probably wondered what famous people add to their carts. Not the JAR brooch and Louis XV chair but the hair spray and the electric toothbrush. We asked Sam Sanders — whose new culture podcast with Vulture, Into It!, launched July 28 — about the black jeans he's worn for over a decade, the face primer he puts on before Zoom calls, and the ice cream that's always in his freezer.
I got this tumbler as a gift a few months ago, and at first I was like, Oh, water bottle, wow, interesting gift, but it's kind of changed my life. It has two lids: The top lid has a small mouth, great for sipping, and then if you take that top lid off, there's a big opening where you can put ice cubes or, like, guzzle it out of the fucking bottle if you want. Some days I like to have my big ice cubes in there, and this one is big enough to accommodate that. Sometimes I take it on my evening walk with the dogs. I can fit two Modelos in there, and it's a nice little sip and walk. Also, it's indestructible. I swear it is made out of the same stuff as Wolverine's claws.
They're probably the most versatile thing that I own. I've been a Birkenstock fan for years, and I love my classic Birks, but these waterproof ones just take it up a notch. They work on the beach, they work on a walk or hike or hang times. They can get dirty and you just rinse them off. They're very lightweight. And they have that same classic Birkenstock look, so you can dress them up and it makes sense. Years ago, I was in Mexico City and we took a day trip to see one of the big pyramids outside of the city that you can climb over the top of, and I was just wearing my Birks. We get to the pyramid and I'm like, Oh, I gotta climb this pyramid in my Birkenstocks now. And my friends are over there like, You were sure dumb about that. You didn't plan ahead. But it was fine. I literally climbed a pyramid in my Birkenstocks. This is my third pair — they last me at least a year.
I never considered myself as someone who would wear any kind of makeup on a regular basis. But when I started to cover politics, I had to do some on-camera stuff, like Facebook Lives and videos. I'm bald, and my skin tone is just the right shade to where, on many days, if I'm not doing something with it, my forehead shines like a fucking lighthouse. Folks would give me any number of recommendations about a matte base foundation to take that shine off. Over the years, I've found that my favorite one is the Smashbox. There are other variants and all kinds of primers, but this one feels the cleanest and the smoothest. I'm too cheap and uncoordinated to wear makeup every day, but if I've got to be on a really important Zoom call, or if I'm going to dinner with friends who I know will want to take a group picture, I'll just slap on some of that matte really quick before. I have it on me all the time. There's one in my car, there's one in my house. I just have it ready because you never know.
The reason it's the priciest item on this list is because it was a gift. Sam is not spending that much money on anything coffee-related. I got it as a Christmas gift from my boyfriend. For many, many years, I would do a Chemex pour over. I had the gooseneck kettle with a thermometer on the kettle to see when the water was just right, and I would grind the beans myself and let the grinds bloom and then do that annoying-ass pour like the baristas do where it's side to side, slow and swaying. My coffee process in the mornings was probably 20 minutes. And for a long time, I said, Oh, my coffee process is my morning meditation, and I thought I loved that. But then I got this fucking automatic Chemex that you just pour the water in and it does it for you. It's just better. I grind the beans, put them in the filter, put the water in and hit the button. That's probably two minutes, and then I come back in ten minutes and I've got coffee. It's an automatic drip, but it's automatically dripping out of several spigots in different intervals, so it gets a nice water dispensation on all the grinds in an orderly fashion. It's really professional grade.
For years, I had workout sunglasses and fancy sunglasses, and I was always spending double to have the right sunglasses for the activity. I run a lot, and I'm a crazy-ass wildebeest of a runner, so when I'm running, I drop my sunglasses a lot. So I needed sunglasses that could survive sweat and sun and just falling over and hitting the ground all the time. But then when I'm going out being fancy and cute, I want, like, '60s aviators. And what I've discovered with these Goodr glasses — especially these orange ones with the police-officer lenses where you can't see through the sunglasses — is that they are sturdy as fuck, but they're also cute enough to dress up and wear to do nice things. This is the first pair of sunglasses I've found where I can do physical activity in them like running, and I can look good in them as well when I'm just out in the world trying to look cute. And they're cheap.
It's just fun and festive and makes me feel like I'm keeping up with the youth, the Gen Z. They love the crossbodies, and I do too. This is just big enough for me to have my wallet, my phone charger, some gum, my chapstick, my matte, some sunglasses — all of that fits in there. I take it to the store, on errands. Men have always had so many pockets in our pants, we think that's the only way to live. Wallet goes in this pocket, phone goes in that pocket, keys go in this pocket. And like, you're fucking up your joints by sitting on all that stuff all the time. For years, I would always keep my phone in one pocket and my wallet in one back pocket, and I would just sit on them. That's not good for your back. That's not good for your hips. That's not good for your butt. With this, everything goes in there. It fits ergonomically on my body, and it's cute. I get compliments on this thing — I never got compliments on my cell phone and thick-ass wallet poking in my back pocket.
[Editor's note: Sam's preferred Stellar Blue color is sold out and expected back in stock in mid-August. The hip pack is currently available in Borealis Green and Coriander Brown, though, and other colors are also available at REI.]
I've found that a good pair of black jeans that fits you well will work with just about any other piece of clothing in your wardrobe, and will work in almost any setting. So for years now, I've primarily just worn black jeans. I'm that guy who will buy one pair of black jeans, never wash them, wear them every day until they fall apart. If they get a little stinky, I put them in the freezer or spray them down with white vinegar. If I need to spot clean them, I will, but I don't wash my jeans. And the pair of black jeans that really worked best for me are these 511 slim fit. They work with fancy shoes, they work with sandals, they work with T-shirts or tank tops, they work with button-ups. And they fit right: I don't ever want jeans cinching my ankle. I want them to feel fitted through the leg, but I still want to be able to slip my hand where the pant ends and have some give and room. These are just long enough to where I can do a little mini roll on the bottom twice and it's very, like, summer, carefree, look at me, I'm a cool girl. I've been wearing these for at least ten years and gone through at least 15 pairs, if not more.
I am one of those people where, on a crazy, hectic work day or life day, I'll either forget to eat or not have enough time to get myself a meal. A high-protein Ensure will tide you over for several hours. It's kind of good for you as well. I used to think that Ensure was just for old people because it was kind of marketed to old people. But many, many years ago, a relative of mine was in the hospital. She had a stroke, and she was recovering. She wasn't eating and they were like, Well, she can drink Ensure until she's ready to eat. She didn't want to drink her Ensures, so she just told me to drink them to fool the doctors. I was like, I can't do that, Aunt Alta. But I did have two sips of her Ensure, and I was like, This shit is good. So now it's my secret life hack. In a rush, on the go, grab an Ensure. I like all the flavors — vanilla, strawberry, chocolate. They taste so much better than most protein shakes, and they have as much protein as a protein shake.
I grew up as a proud Texan raised on Blue Bell Ice Cream. For those who know, Blue Bell is a Texas institution. I thought forever that there was no dessert flavor better than a classic Blue Bell homemade vanilla bowl. No, Jeni's Brown Butter Almond Brittle will change your motherfucking life. It's one of those foods where, when you take the first bite, you can't help but make noise. You're just like, Oh. Oh, my God. I still do that. I'll still open a pint of Jeni's — and I've known this flavor now for years — but I'll take that first bite and I'll feel the fullness of that flavor. Before I know it, I'm just going, Oh. Oh, my God. It's so good. I'm alarmed that a thing I can buy at a grocery store tastes that good. I hope it always stays this way. I hope they don't change the business model and have a different recipe. Don't change it. Jeni, if you're hearing me, don't fuck with success. Don't do it.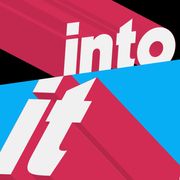 Into It
Subscribe on:
The Strategist is designed to surface the most useful, expert recommendations for things to buy across the vast e-commerce landscape. Some of our latest conquests include the best acne treatments, rolling luggage, pillows for side sleepers, natural anxiety remedies, and bath towels. We update links when possible, but note that deals can expire and all prices are subject to change.