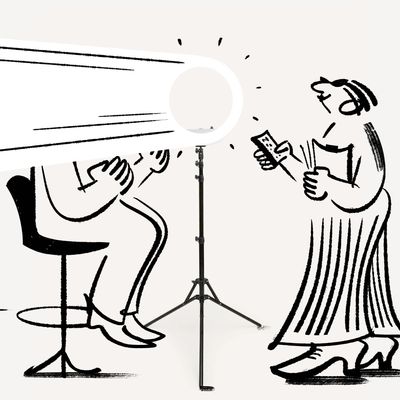 Assistant is a bit of a catchall term. Sure, assistants schedule meetings, take notes, and retrieve coffee, but they can also act as a quasi-concierge, sending fruit baskets to top clients and buying gifts for partners. In an effort to unearth the highly specific material needs of powerful people, we sat down with "Stephanie," who previously worked as the personal assistant to a famous Gen-Z TikTok and YouTube star. We spoke to her about extra-bright ring lights, classroom-size whiteboards, and a mechanical bull she rented for birthday parties.
Work Essentials
Stephanie became her boss's first-ever personal assistant in the summer of 2020 amidst the content-creator-house craze in Los Angeles, during which groups of young TikTokers rented mansions together for content-generating purposes. Because Stephanie began her role at the height of this movement, she says she was "essentially part of the brotherhood." The job entailed managing every step of the influencer's workflow, from coming up with video ideas to transporting props such as a Polaris ATV on a 12-foot trailer. "Producing content was always the most fun and stressful piece of what I did," she says.
Stephanie's boss kept these ring lights scattered throughout the collab house because he liked the size and brightness of the LED compared to other models from the brand. They were used as production lights, she says, adding that this model was durable and easy to transport. During daytime shoots when the LED wasn't needed — "Natural light was definitely preferred for creators," Stephanie says — her boss would keep his phone in the expandable tripod with the light off as he recorded in selfie mode.
To monitor deadlines and think through brand strategy, Stephanie says four or five classroom-size whiteboards were placed around the house. One in the living room became a message board for guests, while others were kept in designated work areas and near Stephanie's desk. Her board contained the week's running to-do list, key upcoming dates, and possible content concepts. "There were very few moments when there was structure to the actual work environment because, as you can imagine, it's not a professional environment — you're in a house with people who are creating content," she says. "For me, whiteboards were great because we could all try to keep track of what was going on."
A "game changer" is what Stephanie calls this adapter, which her boss liked because it charges three times faster than the standard five-watt block. "They were plugged into almost every single outlet in every room of the house," she says. "I just remember Sharpie-ing mine to have my name on it in case I found it in someone's room." Stephanie always had at least one charger on her at all times and kept multiple in her boss's car.
Stephanie says many L.A. content creators, including her boss, were obsessed with the West Hollywood restaurant Saddle Ranch, specifically its mechanical bull. Because of COVID-19 restrictions at the time, guests weren't allowed to ride it, so her boss would request that she rent one to re-create the experience for birthdays and other events at the mansion. The rental company would set up the inflatable in the driveway and send an operator along for a few hours to run each ride. "It was always in good fun and in hopes, obviously, of creating good content surrounding it," she says. One such video racked up more than 1.5 million views.
Although styling wasn't a part of Stephanie's regular tasks, she was the design mind behind a custom walkout set for a highly anticipated boxing match between her boss and another YouTuber. He didn't provide any visual references, so she pitched the colorway and a few design updates to his logo for approval. During the fitting process, which took roughly six weeks, he settled on a shorter robe that hit at the waist and silky colorblock shorts. "It's one of the proudest accomplishments and projects I've ever worked on," she says of organizing the logistics of the fight. "His walkout was broadcast to millions of people."
Personal Items
Besides managing the content creator's work schedule and helping to produce videos, Stephanie also supported his hobbies and interests. At the time, her boss was only 21 years old, so some of these activities included building his Pokémon collection and weight lifting.
While Pokémon cards were popular among other TikTokers as a content gold mine (see: unboxing videos), Stephanie's boss was a former "Pokémon kid" whose interest was fueled by nostalgia. He stashed rare cards in a secret location, but the rest of the collection was organized using protective sleeves and binders that Stephanie bought, which were then stored on a large metal rack. As he amassed more cards, she found a consultant who could do appraisals and visit shops with Stephanie's boss to determine if prices were fair. "I did casual sweeps on eBay, as well, trying to find rare boxes or listings," Stephanie says — especially rare Pikachus, which she says her boss sought out in particular.
The digital creator's fitness routine consisted of dry-scooping pre-workout (swallowing a powdered supplement dry instead of mixing it into water) before heading to the gym for a few hours of weight lifting. Then, depending on his schedule, he would dry-scoop again before heading out for an afternoon workout session. To Stephanie's surprise, he wasn't loyal to any specific flavor or brand, mainly because the collab house was stocked with countless samples companies had sent. The one common denominator, though, was that they "always had very hypermasculine names," she says, like this "Bucked Up" pre-workout that she remembers seeing in the house.
The brand did matter when it came to his preference for hard seltzer. "His love language was building these towers of White Claws" for friends' birthdays, Stephanie says, for which he'd request a case of the beverage for each year of the celebrant's age. (So for a 21st birthday, he needed 21 cases.) Stephanie was in charge of ordering the White Claws and became such a fixture at local stores that they'd lend her a dolly to transport the cases to her car, where she'd then "Tetris" them in the back, she says.
Want to be featured in Assistant Files? If you've been an assistant in the past three years and want to tell us about your boss's shopping habits (anonymously or not), email strategist@nymag.com with "Assistant Files" in the subject line.
The Strategist is designed to surface the most useful, expert recommendations for things to buy across the vast e-commerce landscape. Some of our latest conquests include the best acne treatments, rolling luggage, pillows for side sleepers, natural anxiety remedies, and bath towels. We update links when possible, but note that deals can expire and all prices are subject to change.