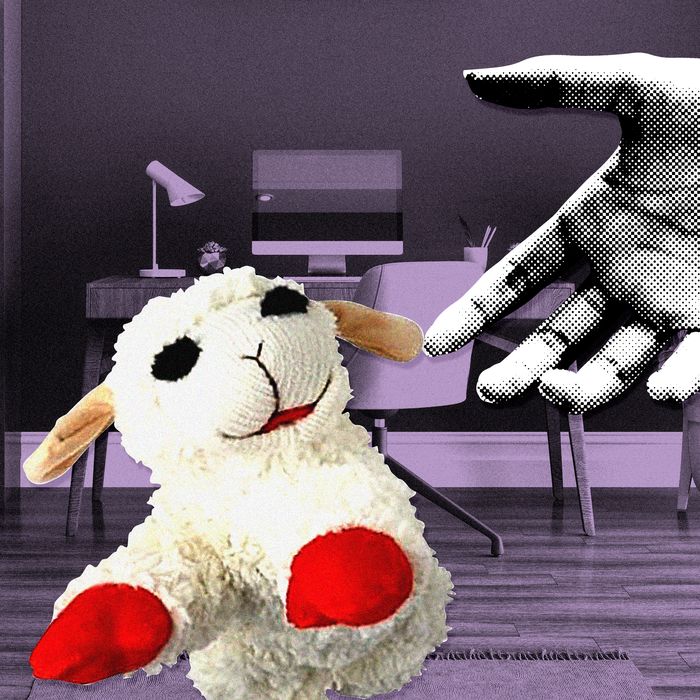 Photo-Illustration: The Strategist; Photos: Getty, Multipet
Assistant is a bit of a catchall term. Sure, assistants schedule meetings, take notes, and retrieve coffee, but they can also act as a quasi-concierge, sending fruit baskets to top clients and buying gifts for partners. In an effort to unearth the highly specific material needs of powerful people, we sat down with "Sophie," who has been an assistant to a best-selling novelist from Brooklyn since 2020. We spoke with her about buying custom flasks of coquito for some "iconically Nuyorican" promotional mailers, scheduling spiritually cleansing baths to counter "negative spiritual energies," and tracking down rare vintage magazines to inform the author's next book. 
Research and Promotional Materials
Sophie was hired as the novelist's first-ever assistant after her boss sold her debut book. Within a year, she was promoted to creative assistant, adding more responsibilities aligned with the novelist's writing. On top of clerical work, Sophie has first eyes on her boss's writing, stocks her home office, helps plan and execute marketing strategies, and gathers research materials.
Last spring, Sophie was tasked with finding art and fashion magazines so her boss could do research for her upcoming book, which is set during the '70s and '90s. The criteria "wasn't super-strict," Sophie says, so she used her best judgment based on her knowledge of the novel to search eBay for rare '70s art magazines and '90s fashion magazines. After landing on issues of Artforum, Art in America, Harper's Bazaar, Marie Claire, and Seventeen, Sophie took "a good week to inquire about and finally purchase 14 magazines" so she could secure bundle deals and avoid paying individual shipping fees, she says. The novelist told her the picks were "very helpful" and brought them to a writing retreat in upstate New York.
At the end of 2021, Sophie and her boss put together mailers to promote the debut book, which was released at the beginning of 2022. They planned to send out about 75 boxes to the author's close friends, influencers, and celebrities, including Aubrey Plaza, Maria Hinojosa, and Kimberly Drew. Sophie and the novelist both wanted the boxes to match the book jacket exactly, so Sophie reached out to the publisher and cover designer for the hex codes for each color. "It was very, very outside of my normal duties," she says. The box's contents included a signed copy of the novel and "iconically Nuyorican" items — a term that refers to Puerto Ricans living in New York City — to go with the book's setting and main characters.
One of the said Nuyorican items the novelist wanted to include was a ceramic Greek Anthora cup — a sturdier version of what coffee came in at bodegas. Sophie emailed Exceptionlab Inc.'s sales department, got a quote for 170 cups, and purchased them the same day. The cups arrived at the novelist's home soon after in sets of two, and since they had extras, Sophie gifted a few to her own family members.
Since the book's release was around Three Kings Day, a Puerto Rican holiday Sophie likens to "second Christmas," they wanted to include bottles of coquito, or a coconut-based rum drink Sophie calls "Puerto Rican eggnog." She searched online and found Brooklyn Coquito, from which she ordered custom, flask-size bottles. They arrived in a couple of days, and because Sophie was in Puerto Rico at the time, the novelist and some of her friends packed all the mailers themselves.
Personal Items
When it comes to the novelist's personal affairs, Sophie mainly acts as a liaison between the novelist and her accountant, manages her calendar, and books spiritual-cleansing baths or counseling a few times a year (more on that, below). Occasionally, she's also had to purchase items for the novelist's home and for her pandemic puppy, a Cavalier King Charles spaniel she's "obsessed" with.
The novelist is "very in tune with her intuition," Sophie says. "She's particularly sensitive to negative spiritual energies that are thrown at her. She knows when things are feeling heavy or stuck or just off." Whenever this happens, the writer likes to get a limpia, or spiritual cleansing, done in her home. The novelist's friend who typically does this for her was unavailable recently, so Sophie had to search for an alternative. She found Laura Maxwell on Instagram, who was able to squeeze in an appointment before the author's trip to Los Angeles. During their session, Maxwell cleansed her body with an egg limpia to remove negative energies, gave her an herbal mixture to put in a spiritual bath, and advised the novelist on ways to ward off negative energies from other people, like wearing white.
During the pandemic, the novelist moved into a ground-level apartment with a backyard, where she loves throwing small parties. The one downside: "It was a given that it was going to be infested with rats," Sophie says. On a friend's recommendation, the author asked Sophie to buy these Grizzly tarps to keep the rodents away. They worked initially, but then the rats adapted, climbing the fence and garden bed. After a month, the novelist hired an exterminator. Every once in a while, though, they'll catch the author's dog staring at a "sneaky area" in the back corner of the garden where they suspect the rats still emerge. "It's been pretty gross and a challenge, because they'll just migrate," she says.
The novelist's pandemic puppy is "so freaking adorable and sociable," Sophie says. "But he's an aggressive chewer" who rips through at least four of these plush lamb squeaky toys a year. He "always needs one," whether he's at home or traveling with the author as a service dog, so Sophie purchases replacements and has them sent to wherever the novelist is at the time.
Gifts
The novelist has a huge network of friends but keeps a tight-knit inner circle, many of whom have moved out of the city in the past few years, Sophie says. In lieu of that close proximity, she's "pivoted to sending gifts" for birthdays or important events, which Sophie keeps track of on her calendar.
The novelist doesn't cook frequently, Sophie says, but when she's hosting or craving Puerto Rican food, she always uses her Instant Pot. (She loves it so much for quick, "throw-everything-in-your-pantry-type stews" that she talked about a go-to recipe during her press tour for her novel.) Because of the convenience and ease, Sophie says it's her boss's favorite housewarming gift to give. In the past year and a half, she's purchased three or four.
The novelist doesn't have children, but Sophie describes her as "this fabulous, generous city auntie to all her friends' kids." Accordingly, an item Sophie has bought repeatedly is this Maisonette blanket with the baby's name embroidered on it to make a "very simple but elegant gift," she says. "We've received pictures of the baby with the blanket and their little name," Sophie says. "It was so adorable."
Want to be featured in Assistant Files? If you've been an assistant in the past three years and want to tell us about your boss's shopping habits (anonymously or not), email strategist@nymag.com with "Assistant Files" in the subject line.
The Strategist is designed to surface the most useful, expert recommendations for things to buy across the vast e-commerce landscape. Some of our latest conquests include the best acne treatments, rolling luggage, pillows for side sleepers, natural anxiety remedies, and bath towels. We update links when possible, but note that deals can expire and all prices are subject to change.