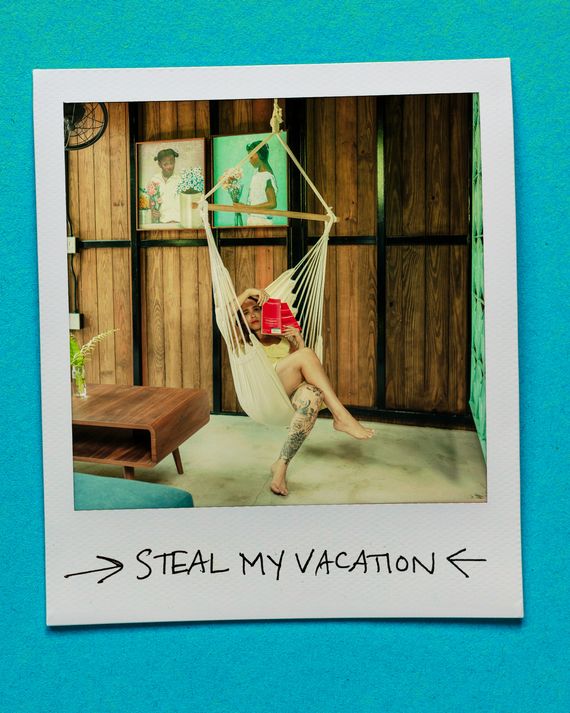 Photo-Illustration: The Strategist/Luiny Rivera
Everyone knows that person who spends weeks sniffing around travel blogs, going deep down into TripAdvisor rabbit holes, collecting Google Docs from friends of friends, and creating A Beautiful Mind–style spreadsheets to come up with the best vacations and itineraries possible. In this recurring series, we find those people who've done all the work for you, and have them walk us through a particularly wonderful, especially well-thought-out vacation they took, that you can actually steal.
Jewelry designer Luiny Rivera lives in Brooklyn but grew up in Puerto Ricoand makes frequent trips to San Juan and Vieques to stay at her favorite Ayurvedic hotel. With daily yoga, vegan food, and detoxifying body treatments on offer, Rivera returns regularly to chill and disconnect. But she's equally up for exploring the island, with hikes through the National Wildlife Preserve and late-night bioluminescence tours. Here she shares the best local restaurants, her favorite secluded beaches, and the ideal swimwear for getting a "Caribbean suntan."
Stop over in San Juan
My favorite place to go in Puerto Rico is Vieques, a small island on the east side. It's a beautiful Caribbean island, the best place to disconnect, especially if you're from the city. I'm from Morovis, outside of San Juan, so the way I do it is fly from JFK to San Juan, and stay in San Juan for one night at a little boutique hotel, La Botánica (from $142 a night). It's an Ayurvedic center, all vegetarian, it's very beautiful. The rooms are treehouses or little houses, kind of like Airbnbs. That evening, take a walk up and down Loíza Street, where there are lots of restaurants. My favorite Puerto Rican food is there, at Jose Enrique (1021 Ashford Ave). For me, the best item is the catch of the day, the fish. You could also Uber to Viejo San Juan, the old city, and walk around to see the buildings before dinner. For something fancy I like La Lanterna (202 Calle del Cristo). You need a reservation. It's Italian, and so good; last time I had some gnocchis, and they were delicious.
9 a.m.: Stock up on groceries
The next morning, go to the Super Max market (201 Calle de La Cruz), a ten-minute walk from La Botánica. Once you're on Vieques, you won't find as much stuff, so go buy mangoes, fruit, cheese, crackers, olives, bottles of wine. I like classic picnic food for the beach. You can carry it in a little basket on your flight to Vieques. You can take the ferry, but I don't recommend it; you have to drive east to Fajardo to catch it, and sometimes the times are not accurate. The airplane is more beautiful anyway, you can look down and see the islands. I always use Vieques Air Link (from $85). It has three trips a day; take the first or second one out so you can get to Vieques.
3 p.m.: Check into your treehouse suite
In Vieques, you should rent a Jeep or a four-wheel-drive truck so you can explore the island. Head to Finca Victoria, where I always stay and where I send New Yorkers. It's owned by the same people as La Botánica, so it's Ayurvedic and vegetarian as well. You can take several-day detox programs, or just get massages or do yoga by the pool. All of the rooms are pretty, but I love any of Nuria's suites (from $250 a night), and I like the Baez-Haus ($216 a night), because it's like a treehouse with a lot of air going through.
8 p.m.: Have a four-course vegan dinner out on the deck
On Friday night you'll want to stay at Finca Victoria; they offer seated dinners at the hotel and recently started bringing in guest chefs to prepare delicious four-course vegan dinners served outside on the deck. The menu changes every week; recently they served gazpacho and empanadas with jackfruit, white beans, and chimichurri. If you email info@lafinca.com you can make a reservation for the 6 p.m. or 8 p.m. dinner.
8 a.m.: Morning vinyasa
There's yoga every morning at 8 a.m. and complimentary breakfast every day at the hotel. They don't have a menu, so after yoga, you won't know what you're going to eat until you eat. It's probably going to be a little veggies, greens, roots, tortillas, a little rice. I've seen them serve blue rice, where the blue is from a flower added to the water when boiling the rice. It's very filling, but very healthy.
11 a.m.: Beach hop and look for wild horses
Finca Victoria is in the middle of the island, it's not on the beach. Drive about 20 minutes to the entrance of the wildlife reserve, and you enter onto a dirt road that leads to all these beautiful beaches. Bring your picnic foods and water, because there won't be any place to buy things. The best thing to do is drive and explore and just look. The most popular beach is Caracas, because it's the first one on the south side of the reserve, and because it's white sand — like, so white, white, powdery sand. You can easily visit a couple beaches in a day; the best thing to do is get a map and explore all the beaches, and the further you go — like to Ensenada Honda or Pata Prieta — the more secluded they are. And you'll see wild horses everywhere, not just on the reserve but everywhere in Vieques. It's an adventure.
4 p.m.: Book an Ayurvedic body scrub
Go back to the hotel and take a dip at the pool to refresh. The hotel is specific for people who want to chill and disconnect, and it's made for pampering. I did the detoxifying Panchakarma package of consultations and treatments — it was seven days, so that's a different trip — but you can book different massages and baths. I love the reflexology ($45), and the body-polish scrub (from $96) was my favorite. I did it twice. During those seven days my skin was the best ever — very glowy.
8 p.m.: Order the cornbread at Tin Box
In the late afternoon, chill on the deck, have some wine, and smoke some weed, if you have it. If you want to go out, there's a little seafront area where you hop around to bars. I always go to Tin Box (Intersection of Routes 996 and 201, Vieques) for dinner and drinks; it's a very short drive from the hotel. They have two restaurants in the same place; one is a sushi bar and the other is comfort food, like fish or chicken, but my favorite thing is the cornbread, it's amazing. They have good drinks too. I only drink red wine or vodka, and when I'm in Puerto Rico I drink vodka with natural fruit juice — whatever is fresh — or fresh coconut water.
10 a.m.: Hike through the wildlife reserve
If you're exploring, most of the good stuff in Vieques is in the wildlife reserve. Go back, and when you enter at Highway 997 there's going to be a little road on the right, Puerto Ferro Peninsula Road, that takes you to the Puerto Ferro bay where there is a beautiful lighthouse. You can walk around the lighthouse, and just sit there and chill and look out over cliffs. If you leave the reserve, you can also drive to the Black Sand Beach, which is an adventure because you have to leave your car on the little road leading up to it, and walk 20 minutes to find the beach. It's not a crazy hike though; if you have hiking sandals or any comfortable shoes you'll be fine. Once you get there, it's a beautiful place for a walk and for photos, but the surf is really strong so it's not the best place to swim. It's more like a scenery stop.
5 p.m.: Soak in a dosha-specific bath 
If you spend the whole day at the beach, you'll want to go back to Finca Victoria to relax and sit by the pool. Schedule an herbal bath ($45): At the treatment center, the Ayurvedic therapists will draw you the most beautiful bath that's specific to your dosha and your needs. It's like being inside a bag of tea. One of the bathtubs is outside on a deck, so you can soak while you're in nature.
10 p.m.: Make a late-night visit to Bioluminescent Bay
At night, head to Mosquito Bay, the famous bay with the microorganisms that light up in the darkness. You take a little boat tour to see the Bioluminescent Bay. The owner of Finca Victoria can recommend a local to reserve a boat with, or you can do what I did last time and rent kayaks through any of the guides listed on Vieques.com. Plan to go on the night when there's the least moon; it's better when the moon is crescent or it's a new moon phase, because the darkness makes the microorganisms glow more. Take the latest tour out; the darker it is, the more beautiful the organisms are.
Luiny's
Vieques
Packing
List
Swimwear
Isa Boulder makes high-quality products that are sustainable and ethical, but also sexy and classic. This is the perfect silhouette for a Caribbean suntan.
Bluetooth speaker
The ocean is a perfect background sound, but listening to your favorite playlist on the beach is always fun. This speaker sounds amazing and lasts for 20 hours of playing time.
SPF Oil
You've got to protect your skin from that Caribbean sun. This oil has SPF 50 and leaves you glowing — not greasy, just perfect. I love everything from Supergoop.
Luiny shell earrings
Add some shell earrings — they work for both a day at the beach or a tropical night out.
The Strategist is designed to surface the most useful, expert recommendations for things to buy across the vast e-commerce landscape. Some of our latest conquests include the best acne treatments, rolling luggage, pillows for side sleepers, natural anxiety remedies, and bath towels. We update links when possible, but note that deals can expire and all prices are subject to change.
The Covid situation there: Travelers entering any of the Island's three open airports are required to fill out a Travel Declaration Form on the Puerto Rico Health Department's online portal, which produces a QR code required to proceed. Both international/unvaccinated travelers must also upload a negative PCR molecular or antigen COVID-19 test result to the portal. Fully vaccinated travelers entering on domestic flights are permitted to upload their vaccination cards instead of negative tests.
Rivera recommends booking through local sites like Vieques Car Rental, but bigger sites like Kayak currently have more inventory.