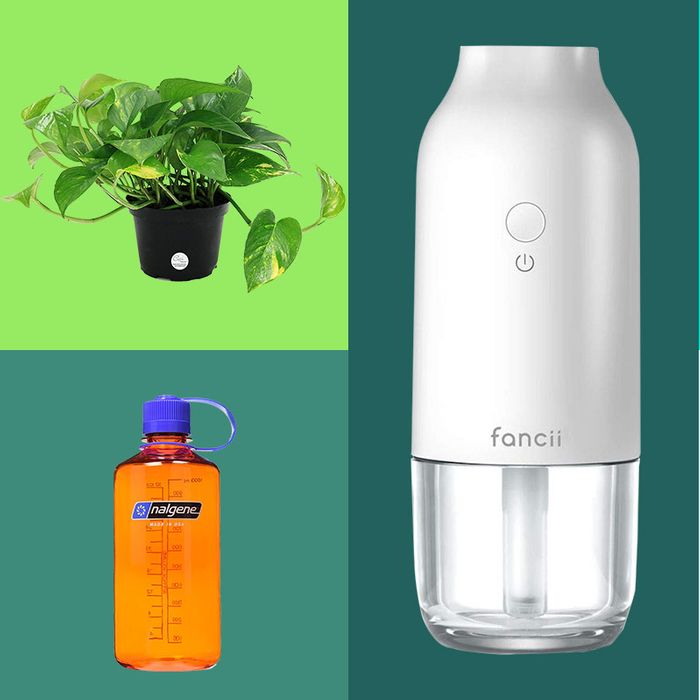 Photo-Illustration: Courtesy of the vendors
Gifting as a boss can be difficult. It's all about hitting that sweet spot of a gift that's not too personal (shampoo, say, or, horror of horrors, an item of clothing), but not too generic, either. We tend to think the best boss-to-employee gifts are something under $50, and that can resonate both with your employee's work life and their own personal interests. A fine line to walk, we realize, so we've rounded up a series of options below that are sure to do the trick.
For the employee who is a proud plant parent
Both guidebook and coffee-table decoration, The Leaf Supply Guide to Creating Your Indoor Jungle is a guide to turning any home into one of those junglelike, light-filled abodes they've likely seen on Instagram. It's written by the founders of nursery and interior-design store Leaf Supply, and covers everything from how to care for houseplants to nailing down a singular houseplant aesthetic.
For the employee who is already a human parent
For the employee who raves about their Instant Pot
If your employee seems to always be whipping up restaurant-grade meals in their Instant Pot, they'll appreciate this book by Christopher Kimball, which comes recommended in our list of the best Instant Pot cookbooks. In Milk Street Fast and Slow, Kimball, who has spent decades covering food and developing recipes, outlines how you can make meals you might never think of making in an Instant Pot quite easily at home (eggplant, tomato, and chickpea tagine, anyone?).
For the employee aspiring to a zero-waste lifestyle
Going completely waste free is a challenging feat, but reusable sandwich bags are a good start. Gift your employee with this highly rated self-sealing bag, available in vibrant, translucent shades.
For the employee who talks a lot about their cat
Cat parents love nothing more than thoughtful gifts for their feline friends. We recommend this Rio-approved tunnel, which promises hours of entertainment. Plus, it folds down flat, so it can be stored in even the smallest of apartments.
For the employee who's a night owl
This desk lamp is top rated on Amazon, offers seven different brightness levels, and has a built-in USB port to charge your phone. And, apparently, it's quite gentle on the eyes — making it perfect for the migraineur or the light sensitive on staff, or the one who gets their best work done after dark.
For the employee that's always cold
A cozy, borderline elegant (thanks to the handsome pom-poms) throw blanket that'll add some warmth to their WFH setup.
For the employee that's always hot
This compact yet powerful fan is powered by USB, so they don't have to sacrifice precious outlet space. Plus, according to enthusiastic reviewers, it is quiet — so it won't irritate their neighbors.
For the employee joining the Zoom call from greener pastures
If they're spending significantly more time outside these days, gift them this camp chair, which came recommended as an especially comfortable option by camping experts. It includes a zip-top cooler attached to one armrest, as well as a mesh cup holder and storage pocket.
For the employee with nice handwriting
Good handwriting deserves a worthy page — like the ones in this Leuchtturm1917, a Strat favorite with dotted, not bold, lines. Writer Dominique Pariso says it "delivers on the hype," noting that it feels high quality without being too precious.
For the employee with an impressive book collection
A pair of sturdy bookends that'll hold their James Baldwins, or their James Pattersons, if that's more their thing.
For the employee who always has their AirPods in
A silicone case (that comes in a bevy of colors, from lavender to burgundy to navy) is the answer to keeping their regular case pristine — and is likely something they wouldn't buy for themselves.
For the employee hosting frequent outdoor dinners
If your employee tends to spend their Summer Friday preparing to host an outdoor dinner gathering, they'll appreciate these reasonably priced (but expensive-looking) French farmhouse–style tablecloth.
For the employee who needs a USB-C, USB charger, and everything in between