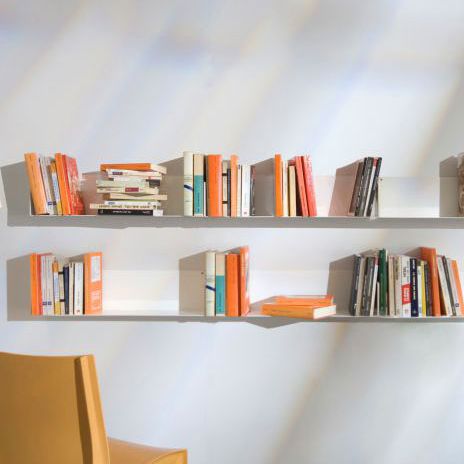 Photo: courtesy of the Retailer
If you've decided to declutter your book collection, you don't have to limit yourself to an arbitrary number of titles, like Marie Kondo's slim, 30-book collection. Keep your piles upon piles, but make sure you have enough space for what you have. That's why all five professional organizers I spoke with also recommended sorting your books before you start organizing, buy a bookshelf, or build new book storage. Realistically, even if you think you have a fabulous library full of serious volumes, there's probably a couple books you could donate or give away. Duplicates are easy to eliminate, and according to Patty Morrissey, a KonMari–certified consultant, "Marie does advocate for getting rid of books that you tell yourself you're going to read one day."
"Once we know what the volume is," says Karin Socci, a KonMari Master Consultant and founder of The Serene Home, "then we really have to be strategic about space-planning, especially in New York." To make sure you don't end up with unruly piles of books everywhere and help you find a stylish book storage solution that actually works for you, we spoke with three KonMari–certified consultants and two professional organizers about their favorite book storage ideas and products.
Wall-Mounted Book Storage Ideas
"In general, across all categories, vertical storage is recommended for most things, because it makes it more alive and less stagnant," says Morrissey. That's why most of the organizers recommended some kind of wall-mounted solution, though Socci emphasizes, "We really look to making sure that it's appealing and beautiful and restful and peaceful to look at" in addition to functional, especially in the KonMari method. Lisa Zaslow, a New York–based professional organizer and founder of Gotham Organizers, likes modular, wall-mounted shelves, but notes that it's important to be careful. "They kind of float, which looks great and is very minimalist, but your books can fall off the end if you don't have bookends," she warns. That's one reason she likes these floating shelves from Italian company Teebooks, which have built-in bookends.
Though shorter than the ones from Teebooks, these metal wall shelves from Urban Outfitters have a similar floating feel and practical brackets that'll also keep books in line.
If you do need bookends for a floating, wall-mounted shelf that doesn't have them, Zaslow likes these simple metal ones.
"In KonMari, there's the idea that like things should be together, but also that things should be where you use them," says Socci. "So if you read at night, then obviously you're going to have some rotation of books by your bed, or at your nightstand." To wrangle books in that corner, Laura Cattano, a Brooklyn-based professional organizer, likes the Umbra Conceal bookshelf. It's an easy-to-install storage solution for the couple of books that you're in the middle of, so you can avoid piling them on your floor or nightstand.
Another option, straight from the kids' section, is these shallow book racks, which are especially helpful if you're trying to show off or store oversize books. It's similar to a trick Ann Dooley, a KonMari–certified consultant and the owner of Simple Joy With Ann, has used before. "I had one client that had two layers of books on the same shelf, plus some sideways, stacked on top. It's packed," she explains, adding that the client eventually realized that she just liked some of the books for their covers — and that's okay. For those, Dooley explains, "We displayed it kind of like in bookstores, where the cover is facing forward, and using that as a divider between sections. I do it that way, I think it makes it a beautiful display."
Cattano likes these shelves from Restoration Hardware's children's line, noting that the shallow design is great for a tight kitchen or above a desk. Cattano describes it as a "little rotating library" for books that you're currently referencing or reading.
There's also this shallow, clear acrylic bookshelf that will make books look like they're floating.
In line with Kondo's organizing principle of keeping things where you use them, Dooley thinks keeping cookbooks in the kitchen can work "if everything else is organized to display, and plus, it's really easy to access." For that, Zaslow likes this pot rack from Crate and Barrel, which does double-duty as storage. "It has a shelf above it that you can free up some cabinet space [with] by hanging your pots, but there's also enough room for a decent-sized cookbook collection on top," she says.
Book Caddies and Carts
Another storage option for books that are actively being read — also taken straight from the kids' section — is a book caddy. "These little caddies could go at the foot of the bed, in a corner," Zaslow says. "And what's so cool, because it's acrylic, it doesn't look like it takes up much space." This is also a great option for anyone looking to organize a home office, even if they don't have a proper desk; it's a compact place to keep all your work-related books, gadgets, and documents together.
However, if you do have a desk, you can also get a tabletop bookshelf. "This is nice if you're somebody who has a lot of in-process books," says Zaslow.
Cattano likes this desktop bookshelf because it's fully adjustable in order to fit books of any size.
Bookshelves
And although it's incredibly obvious, sometimes you just need a bookshelf to keep your books organized, and there are plenty of affordable options for even the smallest spaces. Zaslow especially likes bookshelves that are tall and slim, like this one from Blu Dot, which she describes as "the skinniest one I have ever seen." It's not going to hold the most books, she admits, "but if you really have almost no space, I have never seen anything smaller," Zaslow says.
Cattano likes this slim metal bookshelf from CB2, which has a little more width than the one from Blu Dot, for slightly larger collections. She also likes the white finish, especially for rentals: "This is the kind of thing that I like because it just blends in. Stick it in a little corner, it just blends into the wall, and it takes up minimal visual space and minimal physical space."
Another stylish option for a tall, skinny bookshelf is this model from Design Within Reach. "The amount of space it takes up on the floor is basically the size of one big book, and then it just towers up, with super-skinny little shelves, and the shelves aren't even wasting any space," Zaslow explains. And even though the books are technically stacked on each shelf, they're still accessible. "If you have it all full, it just looks like this perfect stack of books, but there's shelves supporting them, so you can pull out the books and you don't have to worry about it toppling over," she says.
Cattano also recommends the Story Bookcase from DWR, but as she notes, "This bookshelf has been knocked off so many times that you don't have to get the Design Within Reach version." We particularly like this metal one, sold on Wayfair, for about half the price of the original.