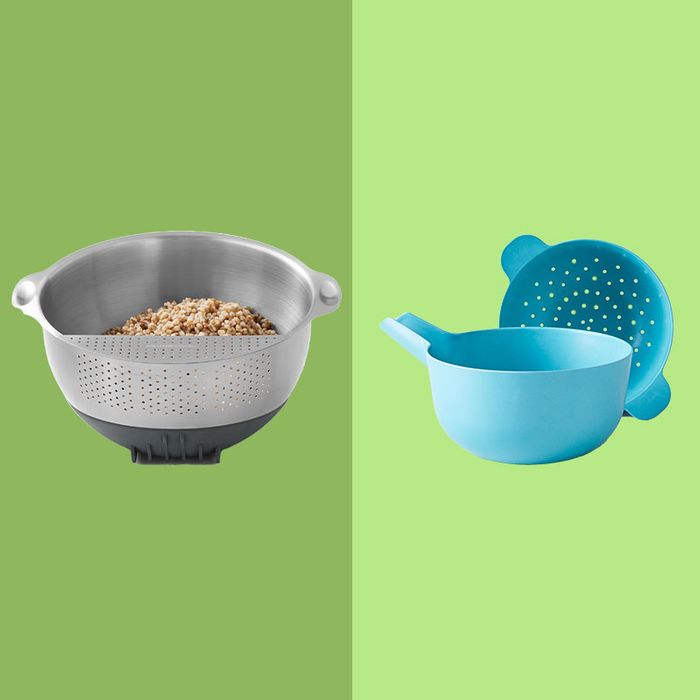 Photo-Illustration: The Strategist; Photos: Retailers
When it comes to draining pasta, washing berries, and any culinary task that requires separating and saving solids from liquids, a good colander is an essential kitchen tool. In my own kitchen, I have a larger footed colander and smaller, finer handheld strainers, which are easier to maneuver when washing rice or beans or for straining lumps out of lemon curd.
"I think of a colander for discarding liquid, and a strainer for discarding solids," says New Yorker food writer Helen Rosner. "They're different categories, but they're talked about interchangeably." Because they're so often lumped together, I asked food writers, a cookbook author, and recipe developers about both, and most agreed that you do need at least one — though which one depends on how you operate in the kitcq2hen (more on that, below).
Most traditional colanders have a wide, perforated bowl that sits on a flared or footed end so it can rest comfortably in a sink. But some colanders stretch over a sink, collapse to make room inside a cabinet, clip onto a pot, or are attached to a handle. Colanders and strainers are also sold in nesting sets, which you can stack like mixing bowls, for bigger and smaller tasks. Here, we've noted what style each strainer or colander is.
Colanders typically come in metal or plastic, both of which have their own advantages. Plastic retains less heat, for example, so you won't burn yourself; meanwhile, metal can have much finer mesh, which is useful for straining out smaller pieces of food. You might also see colanders that have silicone components, while others have an enamel coating. We've listed the main materials of each pick, below.
For most home cooks, the most useful size is going to be the one that can comfortably strain a pot of pasta or a haul of farmers' market vegetables with ease. But if you don't have a lot of storage, a collapsible or smaller colander might be a better option. We've included the measurements for each so you can get a sense of what works best for you.
Best overall colander
Style: Nesting bBowls | Material: Recycled bamboo fiber and melamine| Size: 10.25" x 5.5"
What makes this colander and pour bowl set my favorite, as well as Rosner's, is a combination of clever design; ease of use; and bright, fun color options that are a pleasure to have on the counter. I switched out my metal colander for this combo because I felt that the metal retained heat for too long, meaning I would frequently burn myself when I went to grab some strained beans or pasta. This set solves that problem and offers a solution if your sink is full of dishes: You can simply strain the liquid into the bowl beneath and worry about it later. It also means that this is an effective tool for both straining and draining.
Rosner, who uses hers to make stock "obsessively," is such a big fan that when her dog chewed through one set, she immediately bought another. "The strainer is good enough to filter out big pieces, and the handle of the bowl is good as a pouring spout for the strained stock," she says. "Plus, it looks like an elephant when it's put together." The set comes in large and small sizes (I have the large) and in tomato red, matte black, and teal, meaning it looks far less clunky than usual colander options.
Best less-expensive colander
Style: Stand-alone bowl | Material: Stainless steel | Size: 7" x 9"
If you're in the market for a sturdy, all-in-one colander, Ikea's Ordning does a great job for the price. It's a favorite of Food & Wine executive features editor Kat Kinsman, who loves the high sides and solid construction. "It drains well, and there's no mess or overflow because it's so deep," she says. The one drawback is that it's not small: The high sides mean that it also takes up cabinet space. But Kinsman says it's worth it. "I have other, shallower colanders, but I always find them much messier," she says. "I will always opt for this taller one."
Best plastic colander
Style: Stand-alone bowl | Material: Plastic | Size: 11.6" x 12.6"
This Preserve colander is sturdy enough to drain large quantities of food and inexpensive enough to be a great option for a vacation home, dorm room, or first apartment. It's no-frills but solid, so it stands up to a lot of kitchen work, and it's a tool that you won't have to replace for years. Strategist senior editor Jen Trolio can attest to that final point, as she has had hers since 2008. "It's made of recycled plastic, it's dishwasher safe, and it has held up beautifully," she says. "It's pretty large volume and easily drains a whole pound of pasta or holds a whole bunch of kale to be rinsed in the sink."
Best metal colander
Style: Stand-alone | Material: Stainless Steel | Size: 11 2/3" x 5 1/4"
Cookbook author and recipe developer Nik Sharma prefers this simple but well-made stainless steel colander. It comes in different sizes, including 1.5- and 3-quart versions, but the largest size, Sharma says, is best for his needs. "It's big enough for most applications, the perforations are just right for draining, and it's easy to clean — no fibers get stuck in the holes," he notes. It also won't tip over thanks to a ridged, non-slip silicone base that helps the colander sit high above the sink so water drains more easily.
Best nesting colander set
Style: Nesting bowls | Material: Propylene | Size: 9.3" x 8.7"
This sleek two-piece colander set is shaped like triangles with rounded corners, meaning that they're easy to pour from and take up less room than a traditional circular strainer. "They are intentional, designed, ergonomic," Strategist contributor Logan Sachon wrote, adding that they look like they belong at MoMA. "The handle of the smaller fits perfectly — satisfyingly — into the groove of the larger." The large holes also mean that draining and straining are a breeze, as is cleanup (though this one is dishwasher safe if you prefer not to scrub).
Best colander with handle
Style: Handheld | Material: Stainless steel | Size: 9" x 7.1"
A handheld strainer is miles easier to work with than a footed colander when you want to keep the liquid you're draining, like removing the seeds from preserves or the lumps from pastry cream. I keep one of these in my utensil crock and use it regularly to wash cans of chickpeas and cups of rice. I like it because it's versatile, lightweight, and small enough that I can maneuver it easily to fish out food from a simmering pot. The fine mesh means that smaller particles won't slip through the basket, and the long handle keeps your fingers away from a heat source or the hot liquid you're sieving out. Its size, logically, means it's better for smaller amounts and not as good for large portions of pasta or vegetables.
In a previous version of this story, this strainer won the same title, with many reviewers citing the fineness of the mesh. One buyer who cooks clams regularly even says the openings are fine enough to trap sand from the bivalves, while another writes that the contraption is "perfect" for rinsing small grains and "does not allow any escapees."
Best colander spoon
Style: Handheld | Material: Nylon | Size: 5.24" x 13.39"
A combination colander and handheld strainer, this clever scoop makes regular appearances in Strategist senior editor Winnie Yang's kitchen. "I use it several times a week at least, especially since having kids (though it's also good for a smaller household)," says Yang, who keeps it in her utensil crock, similar to my strategy with the handled colander, above. "It's great for draining single servings of short pastas." Yang says she also likes using it for stock: Rather than dumping all the liquid out, she simply dunks the colander spoon into the pot to extract spent bones and vegetables.
Best over-the-sink colander
Style: Over-the-sink | Material: Stainless steel | Size: 14.63" x 9.5"
If you have space for it and tend to stay on top of your dish-washing, an over-the-sink colander is a great option for easily straining larger quantities of food without worrying that you'll send any of it down the garbage disposal. Food writer Kiki Aranita is a big fan of this Cuisinart model, which she says is sturdy and high-capacity and fits nicely over her farmhouse-style sink. She's also impressed with its quality. "I've had cheaper colanders rust, and this one never did," she says. "The grippy sides stick comfortably to the sides of my kitchen sink." Note that though this pick is designed to adjust to a variety of sinks, be sure to measure yours beforehand to see if it will fit properly.
Some more colanders we've written about
• Kiki Aranita, food writer and Poi Dogs chef
• Kat Kinsman, executive features editor at Food & Wine
• Helen Rosner, New Yorker food writer
• Nik Sharma, author of cookbooks The Flavor Equation and Season
• Jen Trolio, Strategist senior editor
• Winnie Yang, Strategist senior editor
The Strategist is designed to surface the most useful, expert recommendations for things to buy across the vast e-commerce landscape. Some of our latest conquests include the best acne treatments, rolling luggage, pillows for side sleepers, natural anxiety remedies, and bath towels. We update links when possible, but note that deals can expire and all prices are subject to change.
Every editorial product is independently selected. If you buy something through our links, New York may earn an affiliate commission.