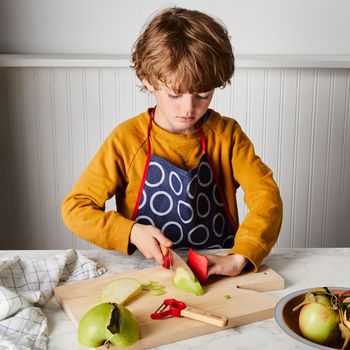 Making pancakes with a 4-year-old (or 6-year-old, or 10-year-old) can be a messy affair. But it's also a super-beneficial one. When you cook with your kids, you're teaching them — not just about food, but basic math, fine motor skills, multitasking, and time management. Plus, if you have a picky eater, including them in the process can help get them excited about new foods. According to Chiara D'Amore-Klaiman, a cheese expert at Murray's Cheese and parent to a 3-year-old, "Children are much more likely to eat something they have helped prepare. As soon as a child can walk, they can begin to help out in the kitchen."
All that's needed is a bit of patience from the supervising adult — and the right equipment. "In my mind, you should buy kids real tools, not toys," says Jessica Battilana, author of Repertoire and mom of two. A lot of what she has used with her kids over the years are just smaller, safer versions of adult tools — things she often makes use of herself in the right scenario. We spoke to Battilana, D'Amore-Klaiman, and five other chefs with plenty of culinary kid experience about the best cooking tools for budding cooks, bakers, and pastry chefs.
Step stool
If they can't even reach the counter, they definitely can't help you chop carrots or mix batter. A step stool may work fine for older children, but toddlers need something more sturdy, which is why both D'Amore-Klaiman and Jeanne Chang, mom of two and co-owner of Lil Pop Shop in Philadelphia, own and recommend this learning tower. Chang's kids have been cooking with her from the time they were 20 months old. She says "hands down, this is the best tool for getting little kids to cook in the kitchen. It has a platform that is enclosed so they can move around without me having to worry about them falling off."
Potato masher
Mashing potatoes is a fun and totally safe activity for little kids, and D'Amore-Klaiman says a potato masher is a "must-have." Chang suggests using one to make banana muffins like she did with her kids when they were small.
Salad spinner
This kitchen tool might as well be a toy. "I got a lot of mileage out of the family's salad spinner when I was little, and my kiddo loves using ours too," D'Amore-Klaiman says. Bonus: It can also serve as a carousel for action figures if you're looking for creative ways to keep kids busy while you're working from home.
Kid-sized whisk, spatula, and pastry brush
"A kid-size whisk is a good idea because when a little one uses a big whisk it seems to always result in a huge mess," says D'Amore-Klaiman. Franklin Becker, chef and co-founder of 100 Pleats, also recommends a small whisk both for mixing and "defending against unwanted attacks from their siblings." In addition to whisks that fit kids' hands, Becker, Chang, and Max Hardy, chef, owner of COOP Detroit, and father of two, recommend a silicone pastry brush for egg-washing pastries and milk-washing scones. This set from Cuisinart includes a mini silicone whisk, brush, and spatula.
Mortar and pestle
"My kids are really into pounding things," Battilana says. This mortar and pestle means they can do that with food. It has a silicone base, so it won't slip and tip over, or fall off the counter.
No-slip bowls
Limiting the potential for a cake-mix explosion will make cooking with kids a lot less stressful. That's why Sara Kate Gillingham, a James Beard Award–winning food writer and a co-founder of the Dynamite Shop, a cooking school for kids, recommends these OXO mixing bowls with rubber on the bottom, which keeps them from hopping across the table when you're whisking something. "I actually use these myself, and we have them in the shop for kids when we teach in-person. They're really great," she says. D'Amore-Klaiman is also a fan of stainless steel mixing bowls because they are "virtually indestructible."
Mini chef's Apron
In keeping with the idea that real kitchen tools in kid sizes are best, Food Network Magazine editor-in-chief, Maile Carpenter, who just finished editing The Big, Fun Kids Cookbook, told us about the aprons she bought for her own kids: "Rather than having to wear a sort of childish apron, we bought them kid versions of the butcher Stripe apron their dad (chef Wylie Dufresne) and other chefs wear. I think they like looking and feeling legit in the kitchen," she says.
Offset spatula
Among the many recommendations we got from Carpenter (she is also a big fan of candy melts) is an offset spatula — especially for kids who watch a lot of baking videos. "It's not easy for kids to ice by hand if they're frosting a cake or a cookie, and this makes it so much simpler," she says. Her own kids fight over the one they have at home.
Flour Shop x Williams Sonoma measuring spoons
Carpenter's kids also love these rainbow-colored measuring spoons, a collaboration between Williams Sonoma and Flour Shop (the bakery you can thank for all those confetti explosion cake videos on Instagram a couple of years ago). She recommends them along with the rest of the collection, which includes spatulas, mixing bowls, and oven mitts for kids and adults because they're fun to use and very well-made.
Cookie or biscuit cutter
Every expert we consulted recommends buying some form of cookie-cutter. Chang loves this pretty wooden biscuit cutter "because it's beautiful and has a nice little handle for kids' hands."
Rolling pin
Battilana likes this small, wooden rolling pin, which her kids used to roll out cookie dough. It's well-made, "without any plastic parts that fall apart or metal parts that rust over time," she says. "I even use it for rolling out smaller things, like pita bread."
Sifter
"I try to give my kids tasks in the kitchen that can't be messed up, mostly because it wastes food," Battilana says. "And it's pretty hard to mess up sifting." This is another tool that is the same as its grown-up counterpart, just smaller.
Knives
Though handing your kid a sharp chef's knife may sound scary, nearly everyone we spoke to prefers real kitchen tools over plastic options marketed for kids. With supervision, real tools help teach children real kitchen skills, including knife safety. For children younger than 5, Chang and Gillingham recommend starting with a butter knife and having children cut soft things like a boiled potato or banana to get them to understand how to hold the tool and the movement of cutting.
This knife and peeler set from French brand Opinel, which was recommended by Gillingham, Battilana, and D'Amore-Klaiman, is made for kids, but the tools aren't gimmicky. They're basically adult kitchen tools designed to fit kid hands. The set includes a four-inch stainless-steel knife and vegetable peeler, an apron, and a finger guard that supports the food being cut and teaches proper finger placement. "The knife has a ring for them to put their finger through that I think is really brilliant," Gillingham says. Hardy says tools like these give kids the confidence needed to begin experimenting in the kitchen.
A mezzaluna is another great tool for kids learning how to handle a knife, since the upper handles — whether they are arch-shaped like this one from Swiss brand Kuhn Rikon or have two knobs — keep little fingers away from the blade while cutting. "Kuhn Rikon tools were staples in my knife roll for their quality, and their tools come in fun colors," D'Amore-Klaiman says. She recommends kids use this mezzaluna as it is intended, to chop herbs, but also to slice things like pizza, quesadillas, fruits, veggies, pita bread, and more.
When parents of Gillingham's students ask her what to get their kids for a first knife, she always recommends a six-inch chef knife. "It's a really good investment that everyone in the family can use," she says. But also, when compared to traditional eight- and nine-inch chef knives, "it's shorter and less heavy for small hands." Just make sure you know proper knife skills before you try to teach them to your kids: "Being observant and teaching a bear claw saves many fingertips," she says.
Although it's not quite a knife, Battilana's kids (now a bit older) were obsessed with this crinkle cutter when they were in preschool. "It's basically impossible to cut yourself with," she says, "and it works for carrots, potatoes, apples, and more. I used to have them use it for vegetables in soups."
Additional reporting by Liza Corsillo.
The Strategist is designed to surface the most useful, expert recommendations for things to buy across the vast e-commerce landscape. Some of our latest conquests include the best acne treatments, rolling luggage, pillows for side sleepers, natural anxiety remedies, and bath towels. We update links when possible, but note that deals can expire and all prices are subject to change.