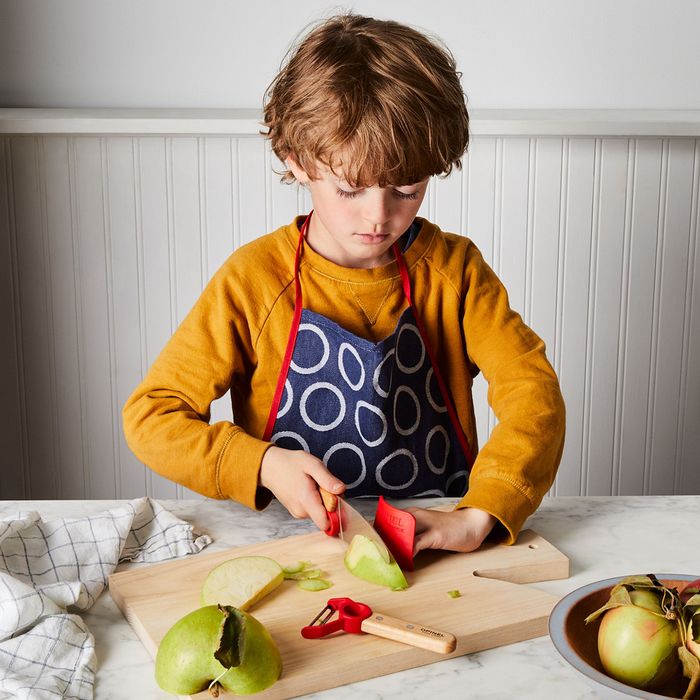 Making pancakes with a 4-year-old (or 6-year-old, or 10-year-old) can be a messy affair. But it's also a super-beneficial one. When you cook with your kids, you're teaching them — not just about food, but basic math, fine motor skills, multitasking, and time management. Plus, if you have a picky eater, including them in the process can help get them excited about new foods. According to Chiara D'Amore-Klaiman, a cheese expert at Murray's Cheese and parent to a 3-year-old, "Children are much more likely to eat something they have helped prepare. As soon as a child can walk, they can begin to help out in the kitchen."
All that's needed is a bit of patience from the supervising adult — and the right equipment. "In my mind, you should buy kids real tools, not toys," says Jessica Battilana, author of Repertoire and mom of two. A lot of what she has used with her kids over the years are just smaller, safer versions of adult tools — things she often makes use of herself in the right scenario. We spoke to Battilana, D'Amore-Klaiman, and five other chefs with plenty of culinary kid experience about the best cooking tools for budding cooks, bakers, and pastry chefs.
Step stool
If they can't even reach the counter, they definitely can't help you chop carrots or mix batter. A step stool may work fine for older children, but toddlers need something more sturdy, which is why both D'Amore-Klaiman and Jeanne Chang, mom of two and co-owner of Lil Pop Shop in Philadelphia, own and recommend this learning tower. Chang's kids have been cooking with her from the time they were 20 months old. She says "hands down, this is the best tool for getting little kids to cook in the kitchen. It has a platform that is enclosed so they can move around without me having to worry about them falling off."
Potato masher
Mashing potatoes is a fun and totally safe activity for little kids, and D'Amore-Klaiman says a potato masher is a "must-have." Chang suggests using one to make banana muffins like she did with her kids when they were small.
Salad spinner
This kitchen tool might as well be a toy. "I got a lot of mileage out of the family's salad spinner when I was little, and my kiddo loves using ours too," D'Amore-Klaiman says. Bonus: It can also serve as a carousel for action figures if you're looking for creative ways to keep kids busy while you're working from home.
Kid-sized whisk, spatula, and pastry brush
"A kid-size whisk is a good idea because when a little one uses a big whisk it seems to always result in a huge mess," says D'Amore-Klaiman. Franklin Becker, chef and co-founder of 100 Pleats, also recommends a small whisk both for mixing and "defending against unwanted attacks from their siblings." In addition to whisks that fit kids' hands, Becker, Chang, and Max Hardy, chef, owner of COOP Detroit, and father of two, recommend a silicone pastry brush for egg-washing pastries and milk-washing scones. This set from Cuisinart includes a mini silicone whisk, brush, and spatula.
Mortar and pestle