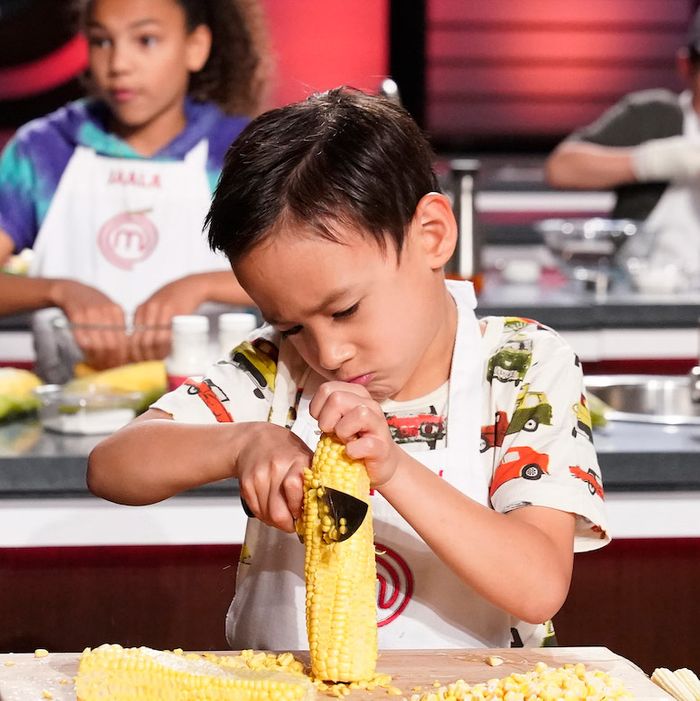 Anyone who has watched Masterchef Junior or spent a Sunday morning making pancakes with a couple of kindergarteners knows that there are few things more joyful (and messy) than cooking with kids. While the results can be delicious, the process is also educational, teaching children basic math and helping with fine motor skills. Max Hardy, a chef, father of two, and owner of COOP Detroit, says introducing culinary skills into children's lives early helps them learn how to multitask and manage time well. And if you have a picky eater, including them in the cooking process can help get them excited about new foods. According to Chiara D'Amore-Klaiman, a cheese expert at Murray's Cheese and mom to a 3-year-old, "children are much more likely to eat something they have helped prepare."
"As soon as a child can walk, they can begin to help out in the kitchen," D'Amore-Klaiman says. "It just depends on how much patience the supervising adult has." It also depends on having the right equipment. We spoke to Hardy, D'Amore-Klaiman, and four other chefs with plenty of culinary kid experience about the best cooking tools for budding cooks, bakers, and pastry chefs.
Toddler-friendly step stool
If they can't even reach the counter, they definitely can't help you chop carrots or mix pancake batter. A step stool may work fine for older children, but toddlers need something more sturdy, which is why both D'Amore-Klaiman and Jeanne Chang (mom of two and co-owner of Lil Pop Shop in Philadelphia) own and recommend this learning tower. Chang's kids have been cooking with her from the time they were 20 months old. She says "hands down, this is the best tool for getting little kids to cook in the kitchen. It has a platform that is enclosed so they can move around without me having to worry about them falling off."
Potato masher
Mashing potatoes is a fun and totally safe activity for little kids, and D'Amore-Klaiman says a potato masher is a "must-have." Chang suggests using one to make banana muffins like she did with her kids when they were small.
Salad spinner