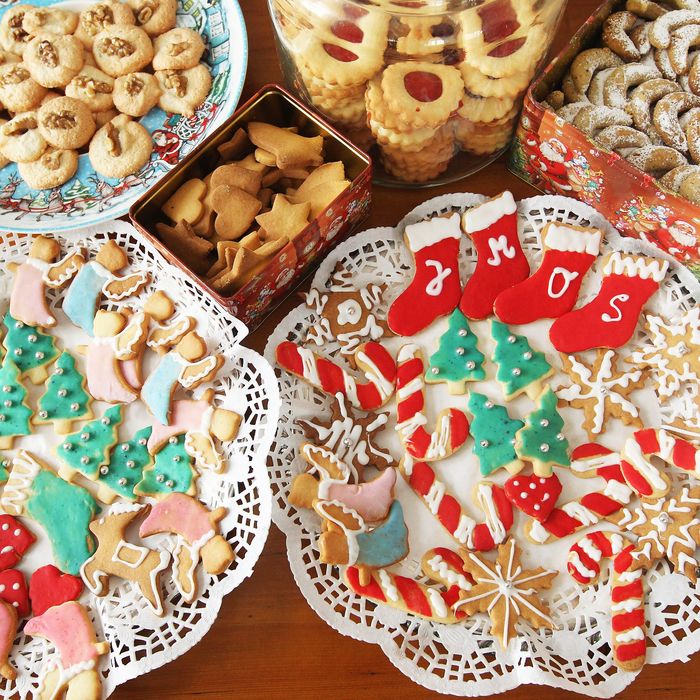 Photo: Sean Gallup/Getty/Getty Images
Whether you're attempting to put together a cookie box for the first time or just need a quick batch of shortbread to leave out for Santa, making holiday treats can feel like an intimidating project. But you don't have to be Martha Stewart to whip up worthy seasonal baked goods. According to Caroline Schiff, pastry chef at Gage & Tollner and head chef at Slow Up, "You don't need anything too fancy to make incredible cookies at home like a pastry pro." Instead, there are a few select kitchen tools that will help make your marathon baking sessions easier — and more enjoyable. We asked Schiff and 11 other professional bakers for their essentials, including a cordless electric mixer, cookie scoopers, and lots of sprinkles.
Mixers and attachments


Unsurprisingly, two of our experts sing the praises of the classic KitchenAid stand mixer. Both recommend the Artisan Series 5-Quart model in particular, because "it is just the right size," says food writer and chef Rachel Gurjar. "It is possibly my most used piece of equipment all year round. I love that it is strong and dependable, and mixes cookie dough perfectly." According to food photographer and baker Mike Johnson, "a KitchenAid is a must-have for any home baker. While hand mixers can get the job done, it's nice using a stand mixer and being able to free up your hands for other baking tasks."
[Editor's note: As baking — and gifting— season kicks into high gear, KitchenAid's stand mixers have become a hot commodity. Since they are low in stock just about everywhere, if you want to get your hands on one, we suggest acting fast.]
For a more affordable option that contains KitchenAid's same powerful motor, "this new cordless hand mixer should be on every baker's wish list," says Kristen Tomlan, founder of Cookie DŌ. She calls it "truly genius," explaining that "avid bakers know the most annoying thing is having a cord that never reaches where you need it to be and, without fail, ends up in your mixing bowl." Although writer and recipe developer Ella Quittner stands by the fact that some of the best cookies can be made easily by hand, "for doughs that require creaming, or intensive blending of fat into flour — I'm in a major shortbread phase if you can't tell — call in motorized help and don't look back," she says.
Baker and cookbook author Shauna Sever says, "when you're really cruising through cookie recipes, having to stop and scrape down the bowl is a drag." That's why using the right attachment on your stand mixer is so important. She notes that while the squeegee action of the Beater Blade has often been imitated, it's never been duplicated: "This is the one I go back to again and again," she says.
Cutters
Molly Yeh, cookbook author and host of Food Network's Girl Meets Farm, loves these tiny cookie cutters, which she uses for "marzipan cutout decorations, itsy-bitsy linzers, and homemade cookie cereal." The stainless steel set is "durable and sharp so they help achieve a super polished look."
"Every cookie baker should have a set of graduated cutters," says cookbook author and recipe developer Susan Spungen. While a bit more expensive than the ones above, she says "these will last a lifetime, and plastic cutters are easier to clean and care for than metal ones, which can rust and bend."
Baking mats
Silpats are "thin baking mats that create a heat-proof, non-stick silicone surface on any baking sheet," explains Schiff. "They are super easy to clean and reusable, which cuts down on waste in a big way." They'll also make your pans last longer, since, as Schiff explains, most non-stick surfaces wear away over time. Gurjar says this Silpat from Williams Sonoma has been one of the best investments she made in the kitchen. "It is amazing because it is reusable, non-stick, and bakes perfect cookies every time because of how evenly it distributes the heat." Plus, they save you from having to scrub your baking sheets.
Spungen told us she really likes these baking mats because "they're thinner than the typical Silpats, and they stick to the counter in a way that makes it really easy to roll a tricky dough right on the mat without it sliding around."
Scrapers
Sever says a bench scraper will make baking "delightful and easy." Among its myriad uses in the kitchen, she says, "it's ideal for lifting and moving doughs while rolling to prevent sticking, transferring chopped chocolate and nuts to your mixing bowl, cutting dough logs into neat portions, and cleaning off a work surface with ease."
Schiff calls this scraper "the unsung hero," of every dough she makes. She always has one in her apron pocket. "They're so useful for getting the last bits of dough gathered up out of the bowl and into a ball. Due to the stiff material, they're much more effective than a standard, handled spatula."
Spatulas
Editor and food stylist Erin Jeanne McDowell says GIR has been her favorite spatula maker for years because "the grip is perfect and not at all slippery, and they are strong enough to do a great job of scraping to the bottom of the mixing bowl, even for stiffer doughs." She loves that they come in an array of sizes and colors, and especially likes using the mini ones to mix up different colors of icing for decorating.
Don't let the name of this spatula fool you, Sever says. "Of all the handled things rattling in my kitchen drawers, this is what I reach for the most, for both baking and cooking." As she explains, "its thin, flexible, vented blade makes it perfect for lifting even the most delicate baked good from a pan or baking sheet."
Gurjar says this is "an all-star overall tool but is especially amazing" for baking. Not only doe