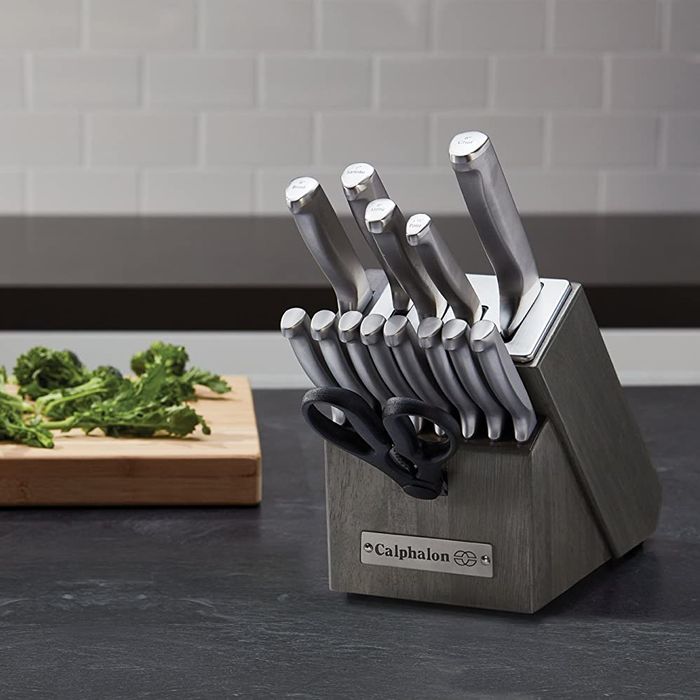 We've written about lots of kitchen gear — including the best food scissors, cutting boards, and even a guide to shopping for knives — and here, we've rounded up the best kitchen-knife sets, as praised by the most enthusiastic reviewers on Amazon.
Related Articles: A Cheap But Impressive Ceramic Knife Set
Best-rated kitchen-knife set
More than 2,000 reviewers give this knife set five stars and many were happy to find both an affordable and attractive option, but most importantly sharp. This isn't a self-sharpening knife block, but more than 400 reviewers liked set's external sharpener. One reviewer thinks it's "the best part. Most people assume a knife will keep its sharpness throughout its lifetime, but unfortunately, that's not true. When the time comes for them to dull down a bit, I can sharpen them right back up." One reviewer who has a "modern looking kitchen" appreciates that this set, which he calls high quality, matches his decor with its "nice acrylic space saving rack." He also adds that the "knives are already incredibly sharp" but the knife sharpener will come in handy as he plans to use these knives a lot. "Still on the fence? Just go for it, make the plunge," says another reviewer. He's owned these knives for three months and hasn't had to sharpen them yet.
Best-rated (less expensive) knife set
Across the many positive reviews, customers love that this set is easy to store in drawers, like one who writes, "I bought them to use in my office. I love that they have covers on them so I don't feel weird putting them in my desk drawer!" Many are pleased by how sharp the blades are: "Cutting up food is a pleasure instead of a battle," says one reviewer. Others were drawn to the bright colors. "I like getting bright colored things to use in my kitchen, I think it makes cooking more fun," says one reviewer. She was "hesitant to buy" these knives, however, "because they looked like kids toys. I wanted real, quality knives." But, she says, "after reading the reviews I took a chance and I'm SO HAPPY I did! These knives are fantastic! Beautiful and sharp." Put another way by another reviewer: "The bright colors may be deceiving, these are some serious knives! Unbeatable for the price."
Best kitchen-knife set for beginners
If you're new to the kitchen, this is an ideal starter kit. At least one reviewer describes it as a, "Beginners set … For an adult who doesn't do that much cooking and just needs something that will cut different things — watermelon, chicken, a steak with dinner — this is great." The set of 14 blades is comprehensive enough without being too overwhelming, which another reviewer appreciates. "I live alone, so it has all of the essentials without taking up too much of my counter space," they say. And though reviewers comment on the relatively inexpensive price of this set, they also say that they are quality. "The knife is sturdy and has a good weight when you hold it," one says. "The blades are super sharp and cut cleanly and easily." Maybe best of all is that unlike many of the sets on this list, reviewers say they have had no issue washing these in the dishwasher.
Best lightweight kitchen-knife set
"If you're a professional chef, these likely aren't the knives you're bringing to work. If, however, like me you're prepping and cooking two to three meals a day for your family, these are an excellent option," writes one reviewer. And part of what makes these knives ideal for a home cook is their weight. "If like me, you're looking for a quality, domestic knife that is lighter, and will help you effortlessly glide you through meal prep several times a day, these are a great choice," one user writes, and another says it's a "good weight especially for arthritic hands." They are very sharp knives, and many others shared their cautionary tales of accidentally nicking themselves. But that's not a bad thing: "Every cut is like a hot butter knife through butter, and will be for a long time if you take care of them."
Best kitchen-knife set with wood block
The durability of this "super sharp and heavy" set shocked and impressed reviewers. According to one, "I found myself buying knife block sets regularly because nothing under $200 lasts these days, until I purchased these. They are nice and weighed. Great quality and long lasting if taken care of property (hand wash and dry, don't put in dishwasher or you could rust them). I am very pleased with these," he says. Another reviewer — a professional chef for almost 20 years — previously thought that "you don't get quality in an inexpensive knife set. This AmazonBasics Premium set really impressed me … This here is a quality product at a good price. Treat them with respect and they will last for YEARS."
Best (less expensive) kitchen-knife set with wood block
Reviewers were impressed by this relatively inexpensive set's ability to hold up to to pricier sets. One professional chef says, "I use high quality (read: expensive) knives at work all day. My budget-conscious fiance surprised me with these for the home. Needless to say, I was skeptical … So I put them to the test against my Miyabis. Incredible. I was truly shocked at how well these worked!" Dozens of reviewers also praised the sharpness of the blades, with one saying that even after six months, "They're still the sharpest knives I've ever had and I haven't even had to sharpen them since I opened them." Others praise the knives' weight, which "helps each slice come through nice and clean (and didn't squish the tomatoes down!)." People also like the included kitchen shears, which are both "very well made" and "fantastic."
Best kitchen-knife set with wooden handles
"I feel like I got a deal of a lifetime for this gorgeous wood knife set," writes one reviewer, and many others compare the quality of these knives to more expensive, German brands. That includes one reviewer who'd been a longtime fan of J.A. Henckels knives, "but have been running into issues with how they've been cutting." They write, "I wanted to stick with German Stainless Steel knives & came across these. I'm extremely IMPRESSED to say the least." Another reviewer adds, "I have had Henckels and Wustoff, but for the price, these knives are the way to go." Another feature that stands out is the wooden handles, which are "secure and feels nice in my hand," according to one reviewer. However, the wooden handles means these knives must be hand-washed, and soon after use: "I think the biggest thing to always keep in mind when caring for wood handled knives is to not let them sit in water - clean and dry them well, maybe a little oil rubbed into the blades before storing."
Best kitchen-knife set with a glass block