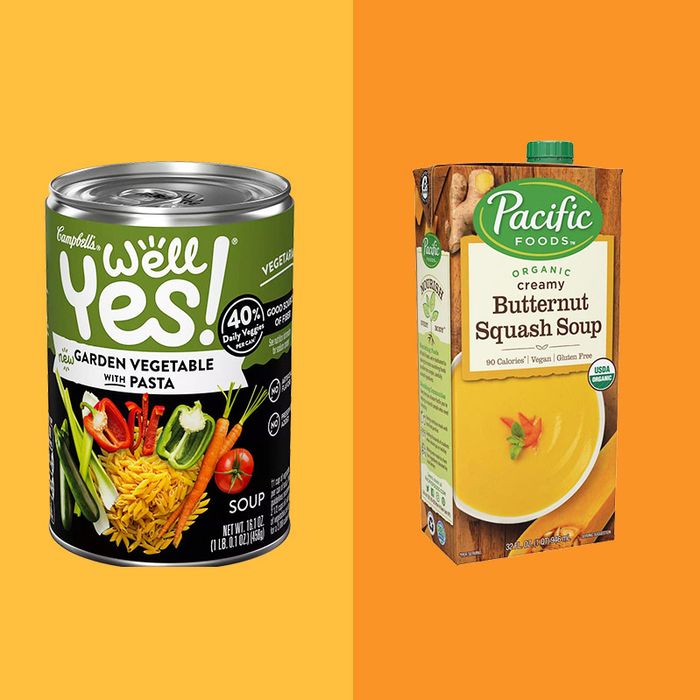 Photo-Illustration: retailers
Good soup has always been able to instantly alter my perspective, turning a depressing workday into a cozy scene from a Nancy Meyers movie. It's right up there with bubble baths, fresh-cut flowers, linen sheets, and any other form of self-care. And since medicine still can't actually cure a cold, I turn to soup for that, too. But if you're like me, you may not always have time to make it from scratch, especially if you're sick, leaving you with two real choices: call your mom or pull something prepackaged from the pantry. The latter option is where the challenge comes in.
Not all canned and boxed soups are created equal. Like other packaged foods, many store-bought soups contain high amounts of salt and sugar, which are antithetical to the nutritious benefits many people associate with soup. "Ingredients are listed from highest quantity to lowest, so if you see salt toward the top of the list, be wary of it," advises chef Max Zumwalt of Hachi Maki. Quality soup should have minimal preservatives and real ingredients. "You want to avoid things that you cannot pronounce," he says. To help you find the ones worth stocking up on, we asked 13 chefs and food experts to tell us about their favorite ready-to-serve soups — from the best tomato soup to pair with grilled cheese to the tastiest bone-broth-based one you can find online.
Best overall canned soup
While it was easy to find consensus on the best soup brands on the market, personal tastes vary so much that we didn't get many repeat recommendations for a specific brand's soup flavor. That said, two of the experts we spoke to recommended Progresso Chicken Noodle. Kysha Harris, food editor at the Spruce Eats, loves this traditional soup, saying, "It's as close to the real thing as you're likely to find, making it perfect when you're feeling under the weather." Chef Carolyn Timbers prefers the light version. It has fewer calories per serving and less fat, too. "It is rare to find good and healthy canned soups nowadays. This one tastes great and is perfect for punching up with toppings or mixing with Mexican dishes," she says.
Best organic canned soups
Amy's Organic Soups got the most recommendations (by far), with six of our experts endorsing the specific soups or the brand's full line. Chef and restaurant owner Grace Woinicz loves Amy's soups (her favorite flavor, corn and potato chowder, isn't currently available online) because they taste great, are made with organic ingredients, and come in single servings. Timbers agrees, saying, "The flavors and seasonings are delicious."
Although chef Keesha O'Galdez considers herself a "soup maven" and loves making her own soup from scratch, she always keeps some canned options on hand in case of an emergency. "My emergency is usually that I'm too tired to cook for myself after working," she says. She likes that Amy's entire line of soups is organic and tastes great: "This one is nutrient dense and loaded with vegetables and beans, so it makes me feel healthier."
"I try to look for canned soups that aren't jam-packed with sodium or ingredients I can't identify," says food blogger Carolyn Truett, who recommends these two options. She loves that Amy's soups are certified and clearly labeled so you know which ones are vegan, gluten free, dairy free, soy free, or kosher. To make a quick and delicious meal, Truett suggests pairing either of these soups with a grilled cheese or a slice of corn bread.
"My husband and I always have a few cans of this in our pantry," says Ligia Lugo, culinary expert, recipe developer, and co-founder of the Daring Kitchen. She likes that it is lower in sodium than many other canned soups (Campbell's Vegetable soup has nearly twice the sodium per serving), organic, free of trans fats, and great for people with dietary restrictions since it's dairy and gluten free. Plus, she notes that it has a relatively high vitamin content compared to other packaged soups. Her favorite way to eat this soup is with added spinach and Feta cheese.
Harris calls this soup "a perfect quick, convenient, and healthy meal that's soothing and comforting on a cold day."
Best Boxed Soups


After Amy's, the brand brought up most was Pacific Foods. Four of the experts we talked to recommend Pacific Foods' organic boxed soups because they're made with a short list of recognizable ingredients, come in a wide variety of flavors, and taste really, really good.
Since she typically makes her own soup, chef Stephanie Ness says this is the only prepackaged option she recommends. She describes it as "velvety smooth, not made with chemicals, and tasty."