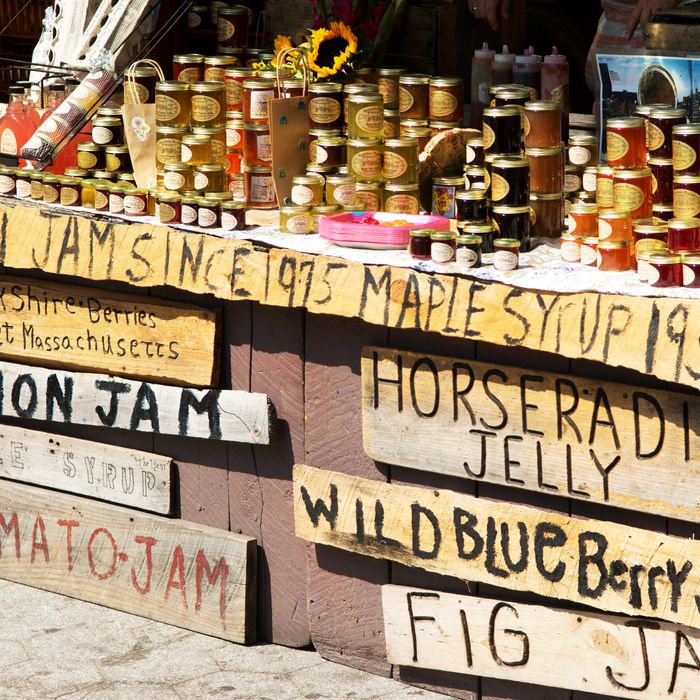 A few years ago, a friend asked me to contribute to a book of family recipes. My recipe, for My Mother's Burnt Toast with Butter and Jam, went something like: "Make toast. Burn it. Scrape the burnt layer into the trash with a butter knife. Butter the toast with Breakstone butter (from the blue tub). Add Polaner jam. Serve on Nana Hannah's white dishes with a cup of coffee, next to a fireplace kindled with old issues of Newsday." That book of family recipes has yet to come to be, but on almost every day since I wrote mine, I have made a version of it.
I say a version because, over the years, I've become a jam gatherer, an enthusiast. Jam acquisition is a sport, a hobby even, that's hard to quit. I first fell in love with jam shopping while looking for some for my father, who loves jam — or jelly, as he calls it (a vestige from his childhood in 1950s Far Rockaway). Along the way, I started buying jams as gifts for others — namely, myself, my husband, and now my daughter. Whether buying it for yourself or as a gift, jam will set you back less than a vintage nightgown on eBay and will last for many, many mornings. A stock of jam in your cupboard can make a small world feel rich in past experience and future pleasure: like a madeleine to Proust, each jar will remind you of something new every time you reach for it. And when you've scraped the last bit of jam out, you can rinse those empty jars with warm soapy water and keep them around to hold chia pudding, for the occasional mornings that you are not eating toast with butter and jam (which is also the perfect food for an afternoon of reading a fat novel or the weekend paper). Below, some of my favorites. They are harder to come by right now, but many are in stock at some lovely small businesses (and as a creative director at a lovely small business, I urge you to support any if you are able).
The jam from my recipe
The jam that inspired me to start collecting jams
This is the one that ignited my love and lust for artisanal jams, back when the Bedford Cheese Shop was in a tiny space that had past lives as an apothecary and a used-book store. I'd stop in on snowy days to pick up Anarchy in a Jar's locally made Strawberry Balsamic Jam (and a hunk of Parmigiano-Reggiano and rosemary crackers) for a long, toasty weekend at home.
The 'jam' that made me reconsider marmalade
It has the most mellifluous name (marmalade marmalade marmalade!), but until too recently, I thought orange marmalade was reserved for Paddington and for being ignored at breakfast buffets. How wrong I was! Bonne Maman's is perfect for spreading on burnt toast with a sprinkle of sea salt. Even though it (in normal times) it can be found on the shelves grocery stores and fancier bodegas, it's all still made in France and is Non-GMO-Project verified. I'm not its only fan: When I asked my friend Payton Cosell Turner of design firm Flat Vernacular which kinds of Bonne Maman she loves over DM, she replied that her answer required an email. While larger jars of Bonne Maman marmalade are harder to find right now, you can still get a set of 12 one-ounce jars — an ideal number to keep 11 and send one to a friend.
The avant-garde jam
We started selling Sqirl at Catbird, where I work, a few months ago, and I am still starstruck. Our photoshoot was full of luxuriantly dripping blobs of jam, twinkling for the camera. It's how I feel about Sqirl, a literal house (in fashion speak) of jam. I've made my way through a jar of their marmalade and am waiting for a special weekend to open up my jar of their fig jam (which, alas, is not available — but a few other flavors are here.)
The jam that tastes like summer
We spend some time every summer on Shelter Island with beloved friends. On the drive home, we take the North Fork route and stock up at Briermere Farms. I started buying their seedless raspberry jam when my daughter became a jam-eater (left to my own devices, I like seeds), and have not turned back. It's dark and jammy and thick — almost like a paste — with a bit of a bite.
The jam that tastes like a summer (in Italy)
I first bought this strawberry jam from Chiaverini (an Italian maker founded in Florence in 1928) at a food market inside a Montreal hotel my family stayed at, and my daughter, besotted with pink, carried it around. My husband later proclaimed it one of the best, a statement that might or might not be related to its sugar content — it runs higher than other jams I tend to buy. But he's right: It's jammy and thick and velvety, like the Briermere Farms jam, but with less of a bite. And how can you say no to that packaging, which makes for a superior vase when empty!
The jam for flower children
I realize I may be offending purists with my cavalier disregard for distinctions such as jam, jelly, and confit, but for now, it's all the same to me. I love a spoonful of Matin des Pyrenees Rose Petal Jam with coconut yogurt (and, if you've got it, a spritz of rose water).
The jam I took for fancy as a kid, and still eat today
I grew up on Long Island in the '80s, and can keenly remember my very low-key mom (in Yiddish, we'd say haimesh) waxing poetically about chilled strawberry soup, the Russian Tea Room, the murals at Café des Artistes, and brunch at Sarabeth's. I loved my mother enormously, and I smile whenever I see Sarabeth's jams (I can only hope all my small toast rituals and chattering about jams will one day leave my daughter with her own joy-filled stockpile). Sarabeth's jars are rather huge, so they'll hang out in your fridge for a while, which is nice. I'm partial to this Peach Apricot flavor, but I just learned that the Orange Apricot Marmalade is how it all began for them, using a 200-year-old family recipe. (If you want to try Sarabeth's Peach Apricot Preserves, Orange Apricot Marmalade, and four more of its jams, Sur La Table has a nice sampler set for $25.)
The Strategist is designed to surface the most useful, expert recommendations for things to buy across the vast e-commerce landscape. Some of our latest conquests include the best acne treatments, rolling luggage, pillows for side sleepers, natural anxiety remedies, and bath towels. We update links when possible, but note that deals can expire and all prices are subject to change.