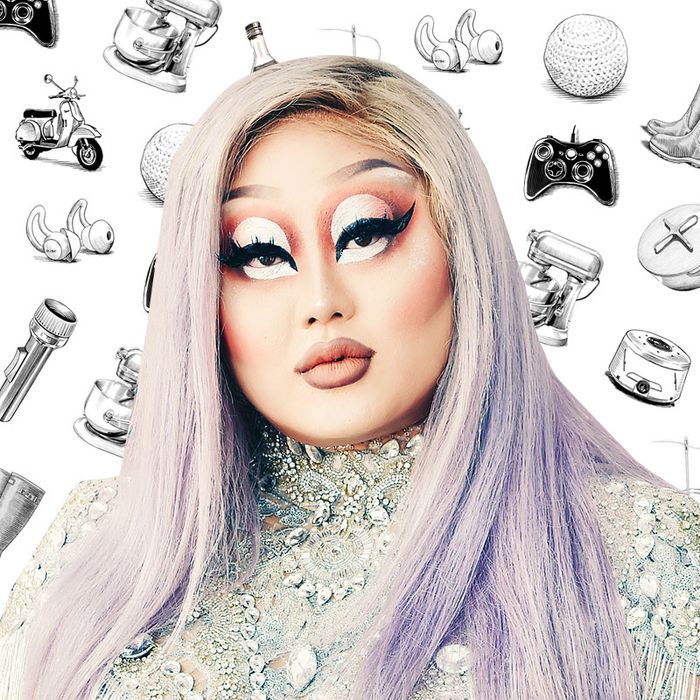 Photo-Illustration: Getty
If you're like us, you've probably wondered what famous people add to their carts. Not the JAR brooch and Louis XV chair but the hair spray and the electric toothbrush. We asked drag queen Kim Chi — the founder of beauty line KimChi Chic — about the cleansing balm, candle, and ramen she can't live without.
It feels nice and luxurious, even though the price point isn't that high. It gives me a glow and keeps me feeling squeaky clean all day long. It works great as a makeup remover, too. The product just melts it all away. I've been using this ever since it launched. I got Plastique Tiara and Naomi Smalls to use it, too. They love it.
This candle is really, really strong, but fragrant. Wherever you put it — the bathroom, your living room — if something smells foul, just light this and it smells like you're in a field of flowers. If you close your eyes and imagine you're in a bed of flowers and there are fairies flying around tickling your nose — that's what it smells like.
I saw advertisements for it all over social media before I bought it. At first I was like, "Another product they're trying to force me to buy." Then one of my friends posted about cooking with it and I was like, "I guess I'll give it a try." It has been the best investment and I actually threw all my other pans out. This is really the only pan I need. I cook a lot of Korean stews with it, like kimchi stew and miso stew. It's also really good for tossing pasta. It's so versatile. I have the terra-cotta color, but there are other pretty ones like lavender and green.
When I go on tour, a lot of times I'm in hotel rooms or dressing rooms or theaters all by myself. I like to listen to music when I get ready to pump me up. The Wonderboom is the perfect on-the-go speaker: It's light, fits into any luggage easily, and is very sturdy. The sound quality is pretty good, too. At home, I like to take it out onto my balcony. Right now I'm listening to a lot of Jessie Ware. She's my