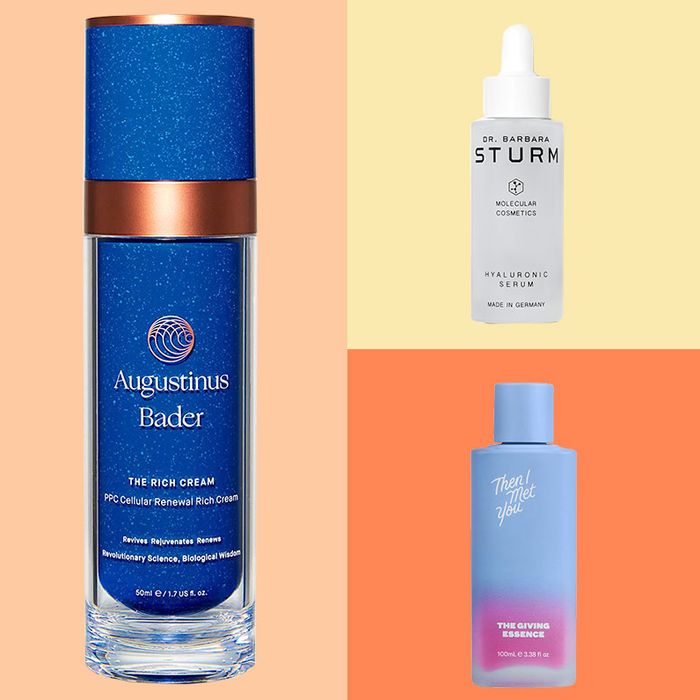 A few months ago, I received a series of frantic texts from a friend of mine who'd recently gotten engaged. She wanted me to tell her exactly what she should buy to begin to get her skin into shape for her wedding day. I, of course, responded with a psychotically long email explaining what products she should and shouldn't use, what treatments she should get (and how often), and even what makeup artist to hire for the big day (Shayna Goldberg, always).
This was not the first nor last time I've written a long, specifically tailored response to a bride-to-be (whether that bride-to-be is a friend, a friend of a friend, or a perfect stranger who DM'd me on Instagram) looking for advice on how to get bright, glowy skin before their wedding day.
While each email is slightly different, I find that there are a few products that I always end up recommending to my skin-obsessed brides. Those products, plus my treatment advice, are listed below. (A note: Most brides that reach out to me ask for "splurge-worthy skin care," so this list is on the pricey side. Look here for an article on some of my under-$30 skin-care favorites.)
Routine Order
Morning
Cleanser
Vitamin C Serum
Toner
Essence
Moisturizer
SPF
Evening
Cleanser
Toner
Essence
Hyaluronic Acid Serum
Moisturizer
Cleansers
Then I Met You's Living Cleansing Balm and Dr. Loretta's Hydrating Cleanser are two of my favorite cleansers in the entire world. Both are super gentle, hydrating, and brightening. The balm is better for taking off makeup and the hydrating cleanser is a bit more nourishing on the skin. I recommend using them together (balm first to take off makeup, then gentle cleanser to clean your skin).
Essences / Toner
These two products together are just so intensely plumping and hydrating and will make your skin so glowy — wedding skin in a bottle, in other words. After you wash your face, apply a few drops of the toner, then pat it into your skin (warning: It's mildly exfoliating, so don't use it with any other exfoliant). Then apply a few drops of the essence and pat that into your skin. Before weddings, you're at a big risk of using too many products while trying to make your skin look perfect (over-exfoliating is the worst thing you could possibly do pre-wedding), but these are both incredibly gentle and insanely effective.
Serums
A really magical hyaluronic acid serum that's so wonderful for deeply moisturizing your skin. It's expensive, but genuinely so worth it if you can afford it. Apply this after the toner and essence above.
Photo: Courtesy the vendor
People all the time ask me, "Do I really have to use a vitamin C serum? I don't see it doing anything!" Well, the answer is absolutely yes, you should be using a vitamin C serum daily — especially if you're trying to get extra-bright skin for your wedding day. And for any skeptics, this serum is here to prove you wrong. It's an extra-potent vitamin C serum (35 percent), and you just will notice a change in the brightness and overall radiance of your skin if you use it daily. This will help lift any dark marks or post-inflammatory hyperpigmentation (the spots left behind after zits), making sure you're a clear, super-watt light bulb for your wedding day. If you're sensitive to vitamin C, you might prefer something a little milder, like this serum from Klairs.
Moisturizer
So this is like … the "It" cream right now. There's tons of insane science behind it's magical, skin-healing properties, and every celebrity in the world endorses it. It's intensely thick and a tiny bit goes a long way — don't overdo it. Just to be completely transparent, I know people who love it and I know people who don't really like it (it can make you break out), but it's the kind of thing where if it does work for you, it's absolutely insanely game changing. Like take your skin to the next level vibe. If you have a while before your wedding I would maybe try it and see if it works for you because if it's good, it's really, really good.
This is my personal go-to moisturizer (and the one I'd use if you don't want to spring for the Augustinus Bader). It's really moisturizing but not greasy and heavy, and it's really helped my skin a lot this winter.
Sunscreen
Wear sunscreen every single day! On top of sun safety, there are so many anti-aging benefits and also can make sure your skin looks as bright as possible on your wedding day. This won't break you out. Also it even protects you from BLUE LIGHT from your computer (!!!).
Face Masks
My favorite pre-event sheet mask ever. It fits wonderfully, feels great and cooling, and my skin just soaks up all the amazing plumping and hydrating treatment instantly. Do this on your wedding day. It's so brightening and hydrating and makeup goes over it perfectly.
This is one of my favorite fixer-upper masks when I'm dealing with breakouts or when my skin just generally looks all-around bad. This is kind of a DIY situation — the mask comes as a powder and you mix it with equal parts water (in a cup or in your hand if you're lazy) to create this black charcoal mask. Throw it on, hang out, then hop in the shower (I find it's the easiest way to wash it off without making a complete mess). My skin looks glowy, less red and irritated, and ultrasmooth afterward. Use this one about every two weeks leading up to the wedding if you have dry or sensitive skin (once a week if you have oily skin).
As far as eye creams go, I always recommend the very inexpensive Snail Mucin Cream to use as a daily treatment. However, when I do want to splurge on my problematic, sunken eyes I love this eye mask from Joanna Vargas. These eye masks are packed with wonderful ingredients like hyaluronic acid, chamomile, hexapeptide-8, and algae extract, all of which help lift, hydrate, and brighten up your under eyes. Use them for the five days leading up to the wedding (including before the rehearsal dinner, and on day of after the Colbert sheet mask).
Treatments
New York
For my monthly maintenance I see Sofie Pavitt, who has a charming studio on Canal Street (she's a goddess and her facials are so reasonably priced). But, when I'm feeling particularly indulgent I head uptown to Mia Wagner Salon, where skin legend Sofia Visan works (she was formerly at Aida Bicaj, another famous uptown salon). Her facials are expensive, but so incredibly worth it. Trust me when I say her hands are magic. I don't know what it is about her, but after I see her my skin is insanely clear and radiant for weeks. The first time I saw her I was struggling with really terrible breakouts and she completely turned my skin around. This is definitely the kind of treatment you want to indulge in pre-wedding. A friend of mine, Alison Chemla (who runs jewelry company Alison Lou) saw her religiously before her wedding this year and said that she couldn't be happier with the way her skin looked on the big day.
Los Angeles
I'm sure you have a facialist in L.A. already, but there is this one woman called Joomee Song who does really intense facial massages that essentially sculpt the shit out of your face. She was Lady Gaga's facialist during the production of a A Star Is Born — since she wasn't able to wear makeup in a lot of scenes, she had to make sure she looked snatched all the time, and Joomee helped her do that. This is an incredible pre-event thing. She makes you look so chiseled and awake. I would definitely go in and see her before an engagement party or rehearsal dinner or whatever. She doesn't do deep-cleaning extractions, but anytime I'm doing a photo-heavy thing in L.A., I see her.
The Strategist is designed to surface the most useful, expert recommendations for things to buy across the vast e-commerce landscape. Some of our latest conquests include the best acne treatments, rolling luggage, pillows for side sleepers, natural anxiety remedies, and bath towels. We update links when possible, but note that deals can expire and all prices are subject to change.