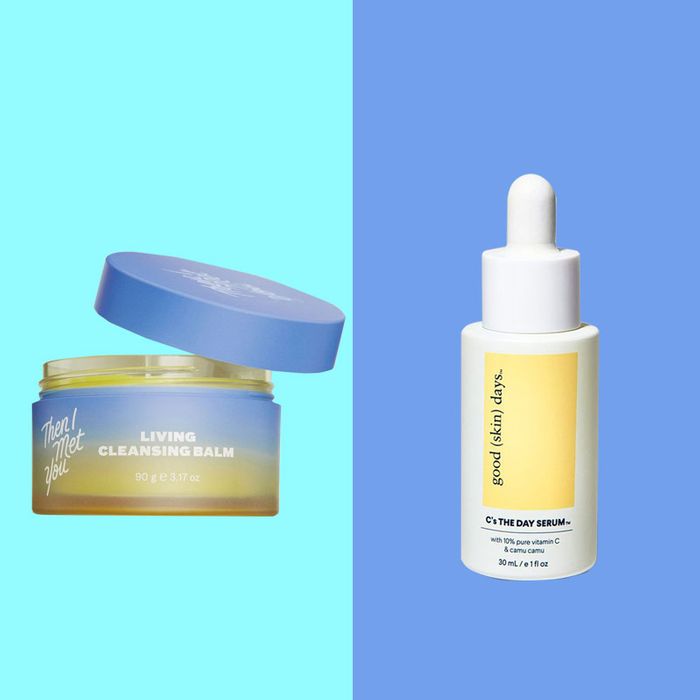 Photo-Illustration: retailers
Anyone who has shopped at an online retailer with no physical storefronts knows how hard it can be to figure out where to begin. There are dozens upon dozens of options that all seem as worthy as the next, but the reality is that products from any given brand are not all created equal. When you shop as regularly as we do, you learn that many brands just do some things better than others. Soko Glam — known for their K-Beauty skin-care and makeup, hair, and body essentials — is one of those brands. So to help you narrow down which cleansers, exfoliators, moisturizers, acne spot treatments and more are most worth your money, we culled through our archives to put together a list of the most praised products from Soko Glam that we've written about, from the cleansing balm beloved by bloggers and vloggers, to the rose petal toner the Dewy Dudes swear by, to the perfect hair oil Soko Glam co-founder Charlotte Cho uses herself. Note: We've structured this story in order of the most to least-recommended product categories, but if you want to jump ahead to a specific section, you can use any of the links below.
Cleansers | Moisturizers | Masks | Toners | Essences | Serums | Acne and spot treatments | Eye cream | Exfoliators | Sunscreen | Hair oil
Cleansers
We've heard about more of Soko Glam's cleansers than any other product type. Our longtime beauty columnist Rio Viera-Newton loves this cleansing balm from fragrance-, sulfate-, and paraben-free brand Beauty of Joseon, and relies on it to "easily remove any sweat, dirt, and debris." Including it as one of the best beauty products under $30 to perk up dull skin, she explained that the fermented grains and chrysanthemum extract nourish without stripping (making this a great alternative to makeup wipes or micellar water).
Vlogger Michelle Choi, the Cut's Kathleen Hou, and Rio again all recommend this slightly less-expensive, cult-favorite balm as one of the best K-beauty cleansers. It does a "great job of melting down all the oil and dirt stuck in the pores and keeps them clean," Choi says.
This balm is the first step of Rio's evening beauty routine whenever she's battling breakouts because of its anti-inflammatory grape-seed oil and vitamin E ingredients. It also quickly melts away any makeup and dirt that's accumulated on your skin throughout the day.
For those who prefer a gel cleanser, dermatologists and facialists say this affordable cleanser from cult brand COSRX should be part of any skin-care routine for oily skin, because it deep cleans without stripping. As facialist and acne certified specialist Sofie Pavitt explains, the cleanser "has BHA [beta hydroxy acid], an active ingredient that really cleans inside the pores" but is still gentle on the skin. Rio is also a fan, and says it "ensures nice, soft skin but also preps for whatever toner or essence you're putting on next."
[Editor's note: While this product is typically available at Soko Glam, it's currently sold out, so we've included another retailer that has it in stock.]
Exclusively made by Soko Glam Labs, this bestselling cleanser is made with green tea, broccoli, celery and spinach extracts. Rio relies on it whenever she's been on the go, praising how it "heals my skin from the intense badgering it gets from the sun," and leaves her face feeling "refreshed and bouncy without any tightness whatsoever."
This cleansing foam is made with over 30 natural plant and pearl extracts, the latter of which Rio says are "great for brightening." (It's why she included this as one of the best skin-care products for the colder months.)
Making an appearance in Rio's first Google doc as the travel cleanser she buys "over and over again," this cleansing stick is also one of her best gym bag beauty products. That's all because it's portable, TSA-approved, and easy to use: Simply roll up the stick, wet your face, lather it on, then wash it off.
When we asked bloggers and vloggers about the best K-beauty products, Dot Dot Skin founder Elisa Lee suggested the Troiareuke Oil Cut cleanser, because it's "an oil-free all-in-one cleanser." She adds, "I don't need to double cleanse when using this; it removes all my waterproof makeup and dirt in one go, while leaving my skin hydrated."
Moisturizers
Soko Glam also stocks a lot of great moisturizers. We previously named this steam cream (the 'steam' part refers to the production process) of the six best facial moisturizers for dry, acne-prone skin because of its all-star ingredients — snail mucin, bee venom, and niacinamide — that hydrate as well as reducing blemishes. It's a "holy grail for me," Rio says.
Rio also uses this COSRX cream — which is a little more intensive than the one above because it's made with hyaluronic acid — to combat her dry skin. "It's super rich, and truly one of the only moisturizers I've found that goes deep into my skin and keeps it nourished all day long," she says. Some proof: Her Wayskin Skin Analyzer noticed she had a high moisture reading the morning after using this, when normally that's her most dry time of day.
[Editor's note: While this product is typically available at Soko Glam, it's currently sold out, so we've included another retailer that has it in stock.]
This tinted moisturizing cream is made with centella asiatica, which helps calm the skin and build collagen. It happens to be writer Garrett Munce's "favorite tinted moisturizer … lightweight while still providing great coverage." The cream also has SPF25, and comes in three shades to match different skin tones.
Another favorite product of Rio's from the COSRX skin-care line is this moisture ampoule, which is made with three types of hyaluronic acids to hydrate the skin. It "sinks into skin immediately, unlike similar serums like The Ordinary's, which tends to leave an unappealing sticky, wet feeling," she writes.
[Editor's note: While this product is typically available at Soko Glam, it's currently sold out, so we've included another retailer that has it in stock.]