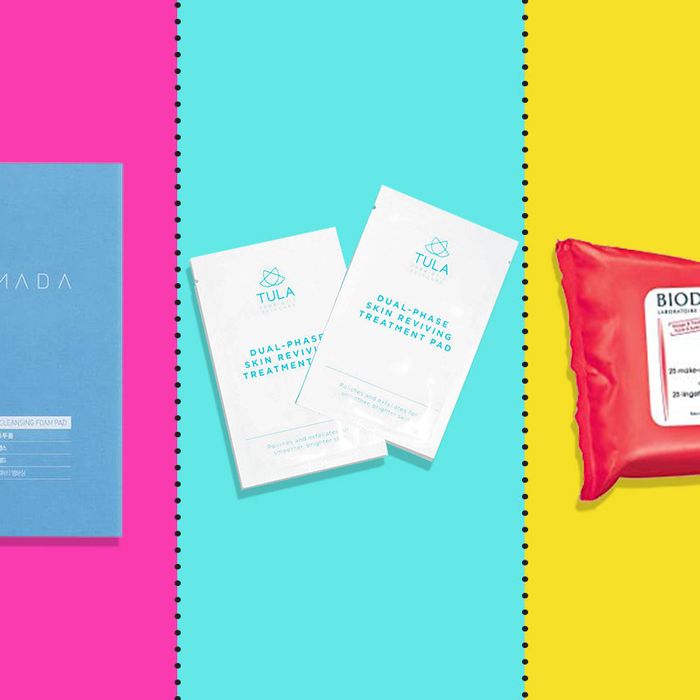 Photo: Courtesy of the retailers.
I am by no means a workout junkie. But when I do exercise, you'd better believe I make sure the sweat and grime is off of my skin the very second I step off the treadmill so that I don't break out.
Cleaning your skin as soon as you're done working out is essential when it comes to maintaining a clear, radiant complexion, especially if you're breakout-prone. If you wait until you get home, the sebum and dirt from your sweat can get way too comfortable on your skin, and can lead to clogged pores, acne, and irritation.
But even for a true beauty maximalist such as myself, performing a full, ten-step skin-care routine at the gym just isn't realistic. For one, it means stuffing just too many things into your already-heavy gym bag. Plus, who wants to be lurking around a gym locker room for that long? Not I.
So when it comes to my gym skin-care routine, I like to keep it concise, efficient, and travel-friendly — every product in my routine is small enough to fit in my bag, and effective enough to ensure that my skin is getting the cleansing and moisturizing it requires after a tough workout. Below, the products that live full-time in my gym bag.
I like to keep my gym bag liquids to a minimum in case of emergency spillage, so I sub in these bag-friendly micellar wipes for my usual micellar water. I swipe my face with these pre-workout, as I'm putting my belongings away in the locker room, to make sure any and all makeup and sunscreen is off my skin before I hit the gym. I then wipe my face again with them when I return to the locker room post-workout, to make sure that layer of sweat is off my skin before I go in with a cleanser.
These cleansing pads — single cotton pads soaked in cleansing treatment — sud up when applied to wet skin and act like a regular cleanser. The pad is also double-sided, meaning you can do an actual, super-quick double-cleanse right there in the locker room! These cleansing pads have all-star ingredients like rose-hip oil for moisturizing and clarifying, and witch hazel for gentle exfoliation. My skin is dry and sensitive and it's never reacted negatively to this lovely travel cleanser.
If you have super dry skin, you might prefer this OG classic Green Tea cleansing stick from my very first Google Doc — it's a bit more hydrating than the Harumadas. Reliable and soothing, this green stick will give your skin the perfect post-gym cleanse to ensure it stays supple and clean. I have bought this over and over again.
As you guys may know, I love Tula's probiotic-infused skin-care products (their day and night cream is one of my all-time favorites). And these single-use exfoliating pads are absolutely no exception — the combination of lactic acid (which brightens and smooths) and probiotics (which plumps everything up) makes my skin look like an absolute dream. This is the best post-workout pick-me-up for my skin. There are cheaper exfoliating pads out there, but what can I say — my skin adores these.