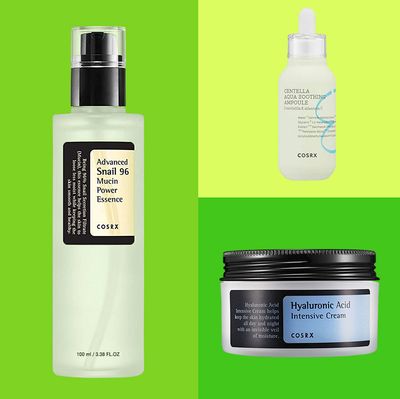 Photo: Courtesy of the vendors
It's wild to think that just as recently as three years ago, COSRX — the hugely popular Seoul-based brand now sold in Urban Outfitters, Ulta, and Ricky's — was known only by U.S.–based skin-care sleuths (the folks like me who lurked around the r/Asian beauty subreddits, YouTube, and blogs like Fiddy Shades of Snail). Nowadays, it would be difficult to find an Instagram shelfie that didn't feature one of COSRX's clean, medicinal-looking bottles. Even the most entry level of skin-care lovers have at least heard of the brand's game-changing cabinet staple: the Pimple Patch, which sucks up excess oil in the skin, flattening your zit significantly over night.
It doesn't surprise me in the least that COSRX has had such a quick rise to fame. Its products are cheap (most are under $20), and more importantly, their straight-to-the point formulas really, really work. I have incredibly reactive, acne- and eczema-prone skin, and not once has a COSRX product broken me out or triggered an eczema flare up. Since I am such a COSRX nut, and can confidently say I've relentlessly tested every single one of its (ever-widening) array of products, I decided to compile a list of my favorites — all of which are worth owning, if you don't already.
A relatively new launch from COSRX is this moisturizing hyaluronic acid serum. It's basically a winter soldier in a bottle, combining skin-conditioning glycerin and three different types of hyaluronic acids to deeply hydrate. This also sinks into skin immediately, unlike similar serums like The Ordinary's, which tends to leave an unappealing sticky, wet feeling. If you're struggling with wintertime-related chapped skin, or are just in the market for an affordable and seriously effective hyaluronic acid serum, this is a great choice.
This suitable-for-just-about-every-skin-type cream is packed with niacinamide, one of my favorite ingredients for healing and brightening, as well as with rice extract, which conditions. My dry, acne-prone skin adores this moisturizer (I put it on as the last step in my routine before bed), but I have pals with much oilier complexions who also adore it and say that it doesn't make them feel greasy or clogged up. If COSRX Hyaluronic Acid Serum is too thick for you, this is a great, lighter-weight (yet still moisturizing) alternative.
You may have heard of COSRX cult-favorite snail mucin essence (more on that later), but have you heard about the cream version? I don't use this product as a night cream — personally, I find it a touch too sticky to wear all over my face, though if you don't mind the texture, it does work wonders for healing any blemishes or otherwise damaged skin (like wind-swept cheeks!). Instead, per the advice of my skin-care guru Fiddy Snails, I use this daily under my eyes as an intensely nourishing, smoothing, and replenishing eye cream. It's thick without being pore-clogging, and has helped so much with my fine lines (it has also helped me avoid any concealer creasing whatsoever this winter). Plus, you get a giant jar for a third of the price of a standard Sephora eye cream — and, frankly, it works better than any fancy eye cream I've ever used (including my old Banana Brightening Cream from Ole Henriksen).
Popular vitamin C serums on the market, like Glossier's Superglow or Klair's Freshly Juiced vitamin C serum, contain a concentration of around 5–10 percent vitamin C. COSRX vitamin C serum, however, contains a whopping 20.5 percent — higher than even the extremists at Drunk Elephant, whose serum contains only 15 percent vitamin C. The only thing to say about this product is that it just really, really works — after a couple weeks of consistent use, you will notice fading of dark spots and an overall brightness in your complexion. If you like Drunk Elephant's Vita C, you must try this for half the price.
Put simply: These exfoliants will deeply scrub your skin, leaving a brighter, baby smooth complexion behind. The AHA White Head Power Liquid formula below is made up of glycolic acid and niacinamide, which means it's great for tackling on-the-surface issues like dullness, uneven skin tone, or hyperpigmentation. And the BHA Blackhead Power Liquid formula is great for anyone struggling with inflammatory or acne issues (it uses Betaine Salicylate, an exfoliant that penetrates deeper into the skin to break down sebum, as well as White Willow Bark, which can help decrease redness and inflammation). Use this exfoliant right after washing your face, wait as long as you can (20 minutes is recommended), and then proceed with the next step in your skin-care routine. Lot of exfoliants on the market are a blend of AHA and BHA — it's pretty rare to find exfoliants stripped down this much— so you can really exfoliate depending on your concerns. Lots of people like to use both products on different parts of their face: the AHA on areas where they suffer more with pigmentation problems, and BHA where they struggle with acne.
In my opinion, this is one of the most slept-on hits of COSRX. Unlike a lot of spot treatments that are high in benzoyl peroxide and salicylic acid (which can dry out or irritate your skin when used too frequently), this treatment has primarily calming and soothing ingredients: aloe vera, centella, and calamine, all of which help knock redness and general irritation around zits. The second you notice a suspicious bump pop up, this is what you should use: It's totally non-irritating or abrasive, and you will notice the size and swelling of a zit go down straight away.
This is a beautiful, effective, and affordable essence to integrate into your routine if you're struggling with acne, texture, dull, or dry skin. It's jam packed with 96 percent galactomyces ferment filtrate, an ingredient that helps restore and brighten the skin. It also has niacinamide, a workhorse ingredient that's incredible for healing and brightening up any dark spots or pigmentation. This can be incorporated into your routine easily — niacinamide is an amazing ingredient that can be used alongside exfoliants (AHAs and BHAs), retinol, and vitamin C. With consistent use, you'll notice a big improvement on the overall state of your skin. I like to use this daily, after exfoliating.
One of the best affordable, ultra-rich nighttime creams for winter out there. The two main ingredients of this cream are hippophae rhamnoides water (or water derived from sea-buckthorn berry), which is deeply healing and moisturizing, as well as hyaluronic acid. This is an absolute staple of mine that's saved my skin time and time again from winter dryness and irritation. If you suffer from ultra-parched skin, or if you're looking for an affordable way to battle winter scalies, this is the cream for you.
This blend of hyaluronic acid, snail mucin, and panthenol (an ingredient that has both hydrating and reparative properties) makes for one of the best healing, brightening, and moisturizing essences on the market. This do-it-all essence can combat practically any issues — whether it be dullness, dryness, or acne. Even though this is technically an essence, the formula is so thick I like to apply it as the last step before my moisturizer.
This cream is my go-to for healing any kind of scabs or old acne. When you have a scab, it can be tempting to want to dry it out so that it's easier to pick off. This is actually the complete opposite of what you should do: It's been proven that making sure the affected area is as moisturized as possible aids in speeding up the healing time of a pimple. And this cream is exactly what you need to ensure that your annoying little scab gets enough reparative and hydrating treatment to help it move out of your life faster. The formula of this product is made up primarily of ultra-healing centella asiatica leaf water, plus vitamin E–rich sunflower oil (another ingredient great for healing compromised skin), as well as Glycerin, a rich skin-conditioning ingredient. I use this anytime I have a weird, picked at scab that I need to get rid of, and it works wonders.
In addition to sucking up all that excess oil in your skin and flattening zits out in as fast as one night, as a picker, these little flexible, clear hydrocolloid circles have saved me from myself time and time again. When in doubt (or if you're about to tear into your skin), put a patch on it!
The Strategist is designed to surface the most useful, expert recommendations for things to buy across the vast e-commerce landscape. Some of our latest conquests include the best acne treatments, rolling luggage, pillows for side sleepers, natural anxiety remedies, and bath towels. We update links when possible, but note that deals can expire and all prices are subject to change.