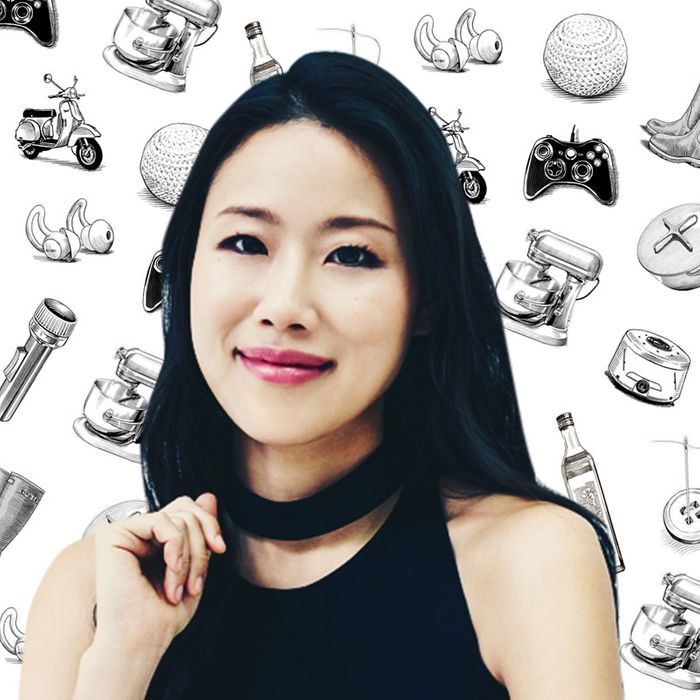 Photo-Illustration: The Strategist; Photo: Courtesy of Peach & Lily
If you're like us, you've probably wondered what famous people add to their carts. Not the JAR brooch and Louis XV chair but the hair spray and the electric toothbrush. We asked skin-care expert Alicia Yoon, founder of K-beauty brands Peach & Lily and Peach Slices, about the matcha-making machine that starts her day, the "nursing" cart she recommends for all new moms, and the phone tripod that gives her the perfect Instagram angle.
I have three of these carts. One is for when our family visits and stays in our guest room, which doubles as our office. We put towels and whatnot on it, but then when they leave, we can just store it away until someone else visits. Another one is my work-from-home cart. My husband works from the office, and I like to sit at our dining-room table. But I don't like having all my stuff out all the time, especially when we're eating. I have tons of products I test, too, and it's just such a pain to carry from room to room. The cart holds it all, then can be put away at the end of the day when I'm done working. But I have to say having it as a nursing cart was the most life-changing thing. It has my pump, my book to read while pumping, little snacks, water, and just basically everything I would need. When I nurse my son, I also cut his fingernails, so I keep those on there. I store balms for sore nipples. I never misplace anything while moving from room to room. I don't have to dig through a bag to find something, either. And when I switch sides while nursing, I just roll the cart to the other side so I can reach things from my free arm. I recommend every new mom get herself a cart.
This helps me unwind, and I use it while I'm watching Netflix or any time I can. It's actually a very versatile device — I use it on my neck and shoulders, but I also put it on my couch and put my legs and feet in it. I put my arms and hands in it as well. If you're using it on your neck, you put your arms in the loops hanging down, which applies more pressure on the device, so you feel a deeper massage. It even gets warm. My sister found it first. I was very skeptical of it because after trying tons of different machine-type things, I still preferred a real person. But after I used hers a couple years ago, I ordered my own.
We have these in a few different rooms because we like to keep track of the humidity. If it drops below a certain humidity level, I can see it in my skin. I'm product testing all the time, too, so I want to make sure that I'm keeping other variables the same in order to have an accurate review. In Korea, there's a big obsession with keeping things very humid, because like New York, Korea has four seasons, and it can get super-, super-dry and cold in the winter. People keep mini humidifiers at their desks in their office because they want to make sure their face is staying hydrated. Growing up around that has embedded in my mind that humidity is important.
I definitely wear this post-shower, especially if I'm not going right into my clothes. The material is almost fast-drying and super-absorbent, so I could be dripping wet, but when I hang it up after I take it off, it's dry and so am I. But aside from that, I have been living in this postpartum. Actually, when I was in the hospital getting a C-section, this robe came with me. It's light but really warm, which is really important because I find the bulky, heavy ones too uncomfortable to have on. Other moms told me to bring something that was warm and comfortable for when I walk to the nursery or around the hospital. I'm cold all the time, so I wanted something extra fluffy to keep me warm, and after a C-section, I wanted one that would be super-soft against my skin and my baby's skin. In the recovery room, a lot of nurses came by and asked me where I got it.
I use this basically daily. It makes a really consistent, high-antioxidant, anti-inflammatory matcha. It only makes room-temperature matcha, so if you'd prefer it to be hot, I boil hot water in a kettle, then just mix it into that. But I like to drink it at room temperature — I'm a purist when it comes to matcha. You can do so much with this matcha maker. You can make matcha lattes without all the whisking. It only takes a couple minutes to make once you press the start button. It also keeps me in a routine. They say habits and routines are a powerful thing because one little thing triggers this chain reaction of thought, and when I press the button to start the machine, I feel ready for the day. It helps that the end product is fantastic.
I saw an Instagram ad for this, I think, and was very intrigued. I'm a big jewelry person, but I was so sick of having an organizer with a large footprint. I had all these clear ones that stacked across my dresser, and they looked very messy. When I saw this, I was like, Oh, this is perfect. I got the taupe color, and it's so visually pleasing. You can customize it, too. I have five tiers: one that is completely empty with no dividers for big chunky things, one that's only for necklaces, another with all little compartments in a grid form for earrings, one that's a hybrid of the necklace and earring tray, and then the top one with a lid. You can mix the orders depending on what you've been using most or what you need the easiest access to.
I have other tripods, but this one is my go-to. The legs are super-bendy, so I can get the perfect angle and height for my video. Because the legs have a rubbery grip to them, it's so stable, which is what I want in a tripod. You don't want to have to stop filming, especially during an Instagram Live, to adjust the camera. And I can unscrew the top, too, to change my phone from vertical to horizontal, depending on what I'm filming. It's been very helpful for work and social media, but honestly, it's been great for our family too. With the pandemic, my family and friends were all in different places. We were doing Zooms and FaceTimes all the time, so instead of holding my phone for all these calls, I just put it on the tripod. We also would put it on the table during dinner so it felt like we were all having a meal together.
When we were creating the serum, we wanted to make sure it was something that supports skin health very comprehensively. Glass skin essentially means your healthiest skin yet — when your skin is healthy, it is luminous, clear, and smooth, like glass, but when we first launched the product the term wasn't used. To achieve glass skin, you need to take into consideration a number of different things. Your skin has to be hydrated, protected with antioxidants, and calm. Your skin also should have lots of anti-inflammatories and essential vitamins and minerals and fatty acids. This serum delivers all of that. I see a huge difference in my skin when I use it — I don't go a single day without it. I formulated it to be universally loved by everyone, including those with very sensitive skin. I have very severe eczema with dry, sensitive skin, so I totally understand the struggle.
The Strategist is designed to surface the most useful, expert recommendations for things to buy across the vast e-commerce landscape. Some of our latest conquests include the best acne treatments, rolling luggage, pillows for side sleepers, natural anxiety remedies, and bath towels. We update links when possible, but note that deals can expire and all prices are subject to change.