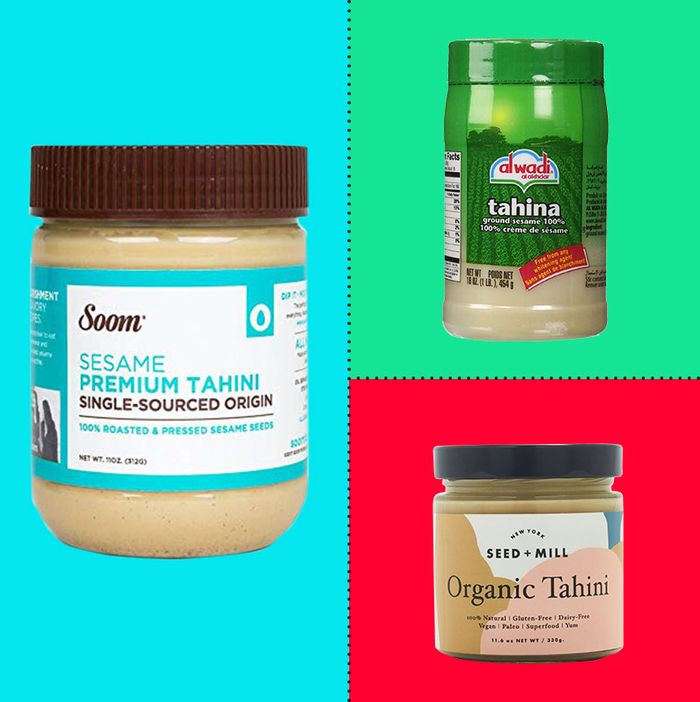 Photo: Courtesy of retailers
Tahini, the versatile condiment that's creamy without dairy and nutty without technical nuts, has been a staple in Mediterranean and Middle Eastern cuisine for millennia (recent interest in the region's food notwithstanding). It's a common ingredient in dressings and pastries, called for over and over again in some of our favorite cookbooks, but, as food writer and author of Dining In and Nothing Fancy, Alison Roman points out, "They're not all the same."
We asked 13 experts on the subject, Roman included, which tahini they prefer and why. Everyone agreed that the sign of a subpar tahini (or one that has gone bad) is bitterness and oil separation. Danielle Oron, author of Modern Israeli Cooking, who grew up eating tahini with everything including hard-boiled eggs in the morning, told us that a good tahini "should taste good to you in its raw state, straight out of the container," and explained that "the oil content in tahini is very high and can easily go rancid. So if you bought a good tahini last year and it's still on your shelf … toss it." Another point they all agreed on was that adding water is key (Roman uses a two-to-one ratio) when making a simple sauce or dressing. Here, our experts' top eight tahinis plus a few tips on how to use them.
The best tahini
Of the 13 experts we talked to, six recommended Soom tahini, the Philadelphia-based company owned by three sisters. "I currently use Soom tahini at home and at work" said pastry chef M Whitaker of the Butcher's Daughter. "It has a perfectly silky texture, a wonderful flavor profile, and is also certified women owned, which is always a plus in my book." And Samantha Kincaid, pastry chef and owner of Cadence, named Food & Wine's No. 1 Best New Restaurant in America told us, "We are loyal Soom users. They source white humera sesame seeds from the Tigray region of northwestern Ethiopia, and maintain a constant relationship with the growers. The tahini is blended fine to yield an ultracreamy consistency, and it has an intensely earthy, nutty flavor with little bitterness."
Other fans of the brand include Oron; Roman (though she specified that for recipe development she uses the most basic tahini she can find to ensure success for her readers); Brooklyn business owner and restaurateur Andrew Tarlow, who told us he carries Soom at his fine-food grocery Marlow & Daughters (though technically he named Har Bracha as his pick for the best); and Jen Satinsky, co-owner of Weckerly's Ice Cream, who uses it in her chocolate-sesame sorbet saying, "I found that it has a depth of flavor that compliments the cocoa and dark chocolate, and gives the sorbet a creamier texture."
Seven
other
chef-recommended
tahinis
The second-most-popular tahini, among the folks we asked, was Har Bracha. Tarlow said he knows it by the packaging since the writing is in Hebrew. "My friend and chef Nir Feller showed it to me. He is from Tel Aviv. I use it more for dressings and always thin it out with a bit with water," he said. Johana Langi, executive pastry chef at Boulud Sud NY and Bar Boulud NY, told us, "We use Har Bracha tahini in the sesame foam that goes in our Grapefruit Givré." She also said that at home she likes to add a little salt and drizzle tahini over Stracciatella ice cream. And Elad Zvi, co-founder of Bar Lab and Broken Shaker, said he loves the diverse flavor of Har Bracha, which he "brings home from the motherland." Oron also uses Har Bracha, which she also gets from Israel, via her mother.
Another tahini that was recommended by Oron and Roman is Seed + Mill. The New York brand has a shop in Chelsea Market where you can get soft serve made with their tahini.
Both Oron and food writer/ceramicist Marian Bull said they love Beirut tahini. Bull gets hers at Kalustyan's and both agree that the big jar is a plus. Oron told us, "I go through a lot of tahini. It was the most used ingredient after salt, pepper, and olive oil in both of my cookbooks." So when she's not using Soom, Seed + Mill, or Har Bracha, she chooses Beirut tahini because it's "super-delicious" and "comes in big containers." Her advice for baking with it: "Think of it like you would peanut butter. Whatever you can make with PB, you can make with tahini."
Alwadi tahini was mentioned by both Nasim Alikhani, executive chef at Sofreh in Brooklyn, and Aaron Gottesman, executive chef of Oyster House in Philadelphia. Alikhani uses it in a tahini and date salad at work and told us her recipe for a simple homemade tahini sauce. "Ice water to thin it down, sometimes honey, lemon juice, and grape molasses." Gottesman, who uses Alwadi in dressings, vinaigrettes, and a preserved lemon hummus said, "It doesn't separate as much as many other varieties we have tried and the consistency in general is creamier and smoother."