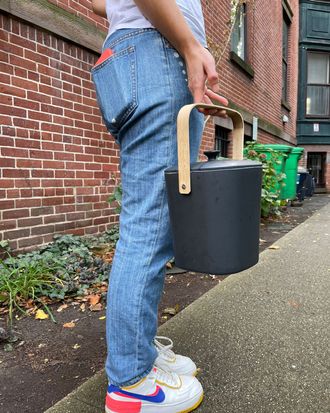 When I moved into my first solo apartment, I was fresh off six years in a four-bedroom railroad apartment. My ever-changing cast of roommates and I shared a sturdy, industrial-size trash can that was perfect for our communal kitchen, and you better believe I took that thing with me when I left. What I didn't anticipate was that in my new apartment, when the can accumulated all my trash for the week — vegetable discards, coffee grounds, a very empty chip bag, and some cheese wrappers (it's called a balanced diet) — the bag would begin to sag and smell, and it would be maybe a fifth full at that point.
I have it on good authority that a normal human can discard a partially full tall kitchen trash bag of semi-rotten food without losing sleep, but it ain't me, babe. I began to obsess over my garbage. There were the practical concerns: How long could I let a watermelon rind sit before it burst through the plastic and transformed my apartment into maggot central? But those were no match for the guilt: How much of the planet was I murdering each time I threw away a basically empty bag? Should I try emptying trash bags into my landlord's cans and then reuse them? (I did for a while, and I really recommend you don't.)
Then, at the farmers' market one Sunday morning, I noticed fellow tote-bag-carrying, seasonal-produce-loving shoppers dutifully carrying the exact food scraps that were keeping me up at night and dumping them into giant Department of Sanitation compost bins. Municipal compost! It was the solution to my trash problems and an opportunity to go full smug ecowarrior all in one. I was ready.
I began by repurposing one of the many black, plastic takeout containers I'd accumulated, but it was too small. I switched to a produce bag stored in the fridge, which worked well enough except when I had guests who would go to grab a beer and find wet food waste encased in clear plastic. I picked up some green plastic bags, but they were too biodegradable and would leave a little trail of ooze as I walked to the market to discard them.
Life is suffering, and buying your way out of a waste problem is a first-world sucker's game, but it still seemed there had to be a better way. It revealed itself to me one day when I was browsing kitchenware sites, trying to spend too much money on a drying rack. The Bamboozle compost bin has a smaller footprint than my coffee maker, but it can hold a week's worth of food scraps. Soon after buying it, my sister-in-law visited, and I showed her the composter and asked, "Isn't it cute?" (Like any normal host, I demand people compliment me on my latest acquisitions.) I knew she'd found my previous compost system stressful and confusing because she'd told me as much so many times. "It's very inviting," she said of my new bin. "I used to be afraid to have garbage at your house, and now I'm not anymore."
The chic matte colors were part of what attracted me to Bamboozle, but I did worry I'd be sacrificing function for form. I couldn't bring myself to go with a plastic bin — they too closely resemble the wipe dispensers parents keep on baby-changing tables — and I felt as if I'd need gardening shears and some sort of straw visor before I'd be ready for a lidded stainless-steel bucket. My nod to practicality was selecting graphite because it seemed the most likely to hide the signs of liquified vegetables and stray coffee grounds, but I have since learned that all it takes is one cycle in the dishwasher to restore the bin to its original state. She's sturdier than she looks!
And because I have to walk several blocks to toss my compost, I need something that's easy to haul, and with its barely there weight, this fits the bill. I occasionally feel as if I'm cosplaying a coal miner with a lunch pail, but then I see other hot, environmentally conscious New Yorkers rolling up to the market with their own Bamboozle bins swinging on their arms, and it's a look I can get behind.
But let's be real: The real challenge of organic-waste disposal isn't looking cute while doing it; it's the stank. Stank and guilt are what guided me on my compost journey, and while my guilt is unconquerable, I am pleased to report that the Bamboozle's charcoal filter is a magic stank eraser.
Over the summer, I left town for a few days. Normally, I'd stash the bin in the fridge while I was away and the air conditioning was off, but this time, despite the bin being semi-full, I forgot. I returned to find my apartment roughly a million degrees, but it wasn't until I removed the lid that I realized my mistake. Inside the bin was an odor that can be described only as all the reasons people don't compost. I immediately replaced the lid, and within seconds, it was as if it had never happened. I walked the sealed container a few blocks south to a church with a communal compost drop, where I emptied it out, my hot garbage mingling with the city's hot garbage, no longer my problem.
The Strategist is designed to surface the most useful, expert recommendations for things to buy across the vast e-commerce landscape. Some of our latest conquests include the best acne treatments, rolling luggage, pillows for side sleepers, natural anxiety remedies, and bath towels. We update links when possible, but note that deals can expire and all prices are subject to change.