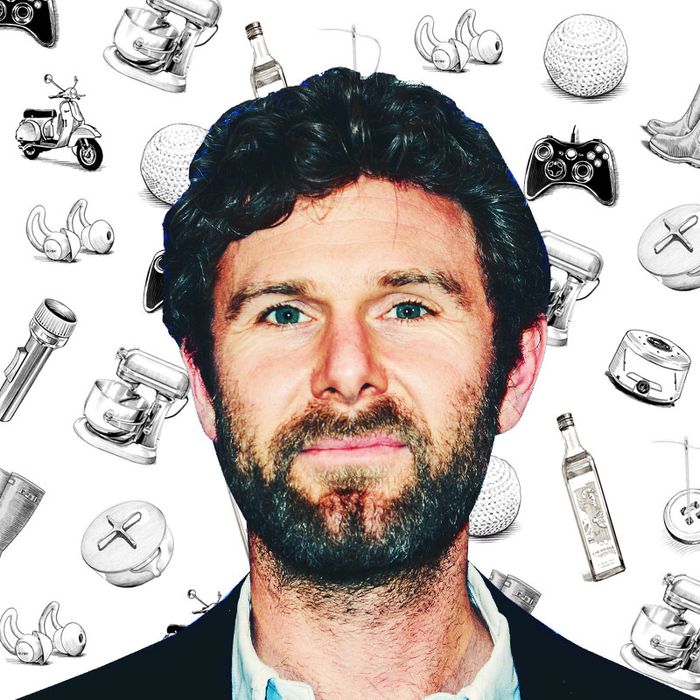 Photo: Aurora Rose/Patrick McMullan via Getty Images
If you're like us, you've probably wondered what famous people add to their carts. Not the JAR brooch and Louis XV chair, but the hand sanitizer and the electric toothbrush. We asked artist and Sky High Farm founder Dan Colen — who, with Dover Street Market, is debuting a line of clothing and other goods at DSMNY this month for New York Fashion Week — about the hoe, cucumber seeds, and ceramic plates he can't live without.
I have Sky High Farm because of my art practice; the studio really allows the farm to exist. There'd be no harvest without this thing — the weeds would take over the farm. It's just a kind of classic farming tool. The blade is sharp; the grip is comfortable. Farming is tireless; you're constantly juggling whether it's more productive to weed (so your next harvest has the space to grow), or to get the current harvest. It's all backbreaking, but a good, comfortable hoe that's built right takes a little bit of the strain off. This one, when you're holding it, is ergonomic — it allows you to use your knees and your back. Without it, I'd be down on my knees pulling things out of the ground or throwing my back out, which I do all the time regardless.
Emily Bode is a good friend of mine. She won [Emerging Designer of the Year] at the CFDA Awards last year, and GQ recently honored her. We're looking at doing some wool stuff together for the farm. Today, most everything is so slick and mass-produced and kind of cheap — the hand is gone. But all of her stuff is so thoughtful and meticulous and handmade. There's just a physical quality to it all that makes it feel very special and different from things that everybody else has. I wear this scarf, which has what's kind of the signature print of the brand. I don't want to wear Louis Vuitton, so I like that Emily offers her own take on a classic signature print.
Whether it's Emily Bode or Chris Bollen, a big part of how I bond with my friends is through their work. I've known Chris probably since 2001; we met during my very early days in downtown New York. His 2012 novel Lightning People is on this list because I'm often inspired to go back to it. I recently turned 40, so I'm feeling a little nostalgic and have been thinking about my career, which started around the time Chris and I met. He kind of used our scene as an inspiration to tell this story; it's a bigger downtown story, but our scene is definitely a part of it. It also explores death — something I'm always looking at in my own work — and how it can be an accident, a plan, or an inevitability. That difference between things kind of fading away versus things being more actively ripped away. I also just started a new sculpture that features a snake, so I've been talking to a bunch of snake experts, and one of the characters in this book is a snake expert. Chris actually just came out with a new book, too, which is another reason I've been thinking a lot about this one again.
This is a specific strain from a company that's really reliable. The thing with farming is there are so many factors essentially out of your control — you can lose a whole harvest to one storm that floods your garden, or to cows breaking through your fence. So you at least want to make sure you're working with reliable seeds. We've gone through a lot of different seeds, and these yield a great, really tasty cucumber. They'd be great for a New Yorker to grow a little cucumber bush on their fire escape; really, you need nothing else but the seeds and a nice pot of soil. Care for them, love them, check in on them, water them. These go from seed to vegetable in six to eight weeks.
Urs has always made great books. As a young artist, Kir Royal and Good Smell Make-Up Tree were totally eye opening. His latest book, about five years of his sculptures, blew my mind. Most artists don't produce in the explosive, tireless way that Urs does. He's all over the place, but there's a very natural feeling to his output — nothing is overthought. In Sculptures, you see the variety of themes, materials, and pieces that characterize his endless creativity. Some are giant, some are tiny, some are heavy, some are light, some are whimsical, some are powerful. When I received Sculptures in the mail, I wasn't thinking it would bring me back to the experience of discovering his other books, but it did. I know how amazing Urs is, but sometimes you lose touch with that. But man, the guy is a fucking beast.  
In a time when so much is disposable and trying so hard to fit into current trends, Marc Armitano Domingo and his ceramics are a breath of fresh air. Marc is the boyfriend of my oldest friend, Ryan McGinley, whom I grew up with in New Jersey. I find it hard to talk about ceramics without talking about Marc. He is like Emily [Bode], in that his work also really feels like it's from another time. The past, for sure. Marc is much younger than me, but feels kind of like an old soul; he's also a cellist and plays very Baroque music. His ceramic pieces are delicate, absurd, but all totally functional — I eat meals off of a plate just like this [Editor's note: Dan's exact plate, which has a strawberry on it instead of a bee, is currently unavailable]. To look down at your plate and have an experience, not just see some white thing in front of you, is a beautiful thing. I'm actually surprised every time I look at mine.
It's hard to find words to describe this. Just get it and read it yourself. Matt is an artist; he and I went to college together, and he has had a big influence on my work. I'm not sure there is a better painter out there today, in the classical sense. The paintings he makes now are kind of photo-realist-fantasy, but his art is very hard-core and conceptual. He has chops like John Currin, but uses them to achieve a totally different thing. This book itself is art. It's a written book that he'll do readings of from time to time, but I'm pretty sure he'd call it his art and say it exists to be consumed in the same way as his paintings.