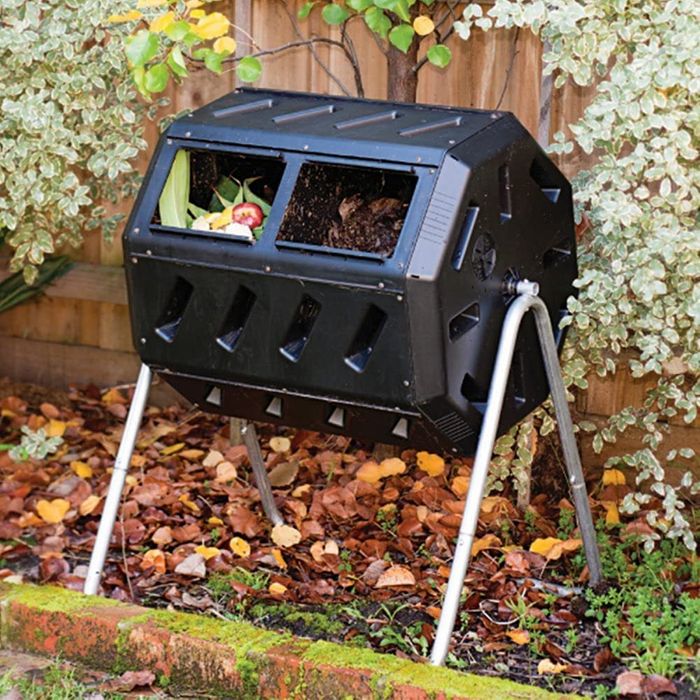 "Composting is the human version of recreating what Mother Nature does out in the wild: mixing together various organic materials" to decompose into a nutrient-rich soil, says Rebecca Louie, founder of the Compostess website and author of Compost City. If you live in a municipality with a composting program, the process can be as simple as dropping off scraps curbside or at a designated site. But if you have some outdoor space — and want to save on fertilizer by keeping the plant-enhancing end product to use in your garden — consider a composting system, which takes your kitchen and yard waste all the way from fresh scraps to rich, dark soil.
Backyard composting can be as simple as nailing together some scrap lumber to contain a pile, then introducing a good balance of nitrogen-rich "greens" (produce, grass clippings, et cetera) and carbon-rich "browns" (for example, cardboard, shredded newspaper, and dried leaves). But if you want to shield your compost from hungry wildlife and unpredictable weather — and streamline the process of "turning" compost, necessary to aerate vegetable scraps, to eliminate the need for a pitchfork — tumblers and other compost systems come in handy. A compost tumbler "spins around in various ways, rolling or churning your browns and greens in there and speeding things up in terms of decomposition," says Louie. We've also included a few other non-tumbler systems that take some of the unpredictability out of the composting process.
Best overall | Best with multiple sizes | Best drum | Best stationary | Best splurge | Best worm | Best Bokashi
What we're looking for
Capacity: Compost-tumbler capacity is usually listed in cubic feet or gallons; we're using gallons here for easier conversion from kitchen and trash measurements. Most options on our list are between 30 and 100 gallons, which are large enough to process a household's worth of food scraps. (For reference, a standard countertop compost bin holds about a gallon, and a large-ish kitchen trash can holds about 15 gallons.) One thing to note is that compost decreases in volume over time by as much as 70 or 80 percent, so more space will become available in your compost tumbler as scraps break down.
Dual or single chamber: Some options on our list have multiple chambers, which is helpful if you're adding new scraps to your tumbler semi-regularly and want to separate fresh vegetable ends from the semi-broken-down organic matter that's further along on its way to becoming compost. "Two chambers mean you can get one batch of compost going while still adding fresh food scraps to a new batch, yielding finished compost faster," explains Strategist writer Liza Corsillo. We've included some outdoor composting options on this list that aren't strictly tumblers, some of which are engineered to work efficiently with one chamber — or, in the case of a worm-powered composter, have as many as five trays for loading new scraps.
Best overall
37 gallons | Dual chamber
The FCMP Yimby tumbler is a durable and reliable option — and surprisingly affordable. It has two chambers, the style favored by Marisa DeDominicis, co-founder and executive director of Earth Matter NY. Corsillo bought the Yimby tumbler while tending a COVID victory garden and reports that, a year and a half later, it's "surprisingly weather-resistant…it hasn't rusted or lost its original sheen" and still spins smoothly. She also appreciates its raised design: "I like that it is completely contained and elevated to keep mice or rats at bay and that it stands at waist height, so it doesn't require any bending down to fill or turn. That makes it easier to use for everyone in the family, especially my parents," Corsillo says.
Plus, Corsillo says that she was "shocked" by how well her plants responded to her homemade compost: Her calendula plants "went crazy, filling in the large areas of empty soil and bursting out over the edges" of their planter. "We used some to top up our houseplants, too, which made them very perky and bright," she says.
Best compost tumbler with multiple sizes
18.5 gallons, 27.7 gallons, 37 gallons, 55.4 gallons | Single chamber, dual chamber
Miracle-Gro's outdoor tumblers come in several sizes and configurations, from a petite 18.5 gallon option to a dual-chamber system with a total capacity of 55.4 gallons. The three smaller sizes all have over 1,400 five-star reviews on Amazon, with reviewers praising its sturdiness, ease of use, and low price.
Best drum compost tumbler
50 gallons, 52 gallons, 90 gallons | Single chamber, dual chamber
Sized for a patio or rooftop, this drum composter rotates to mix together your greens and browns. (The brand also makes a larger 90-gallon size, for bigger composting jobs.) It was mentioned by Sandy Nurse, founder and co-director of BK Rot, who says that it "looks to be the best for being rodent-proof and [easy to] use." It comes in both a single-chamber and dual-chamber configuration, giving you some options depending on your composting needs.
Best stationary compost tumbler
94 gallons | Single chamber
The Algreen soil saver composter is a stationary composter: The bin collects water and air from its surroundings to combine with everything you put inside, and as DeDominicis said, "Compost happens." The compost does have to be turned by hand, but the vertical system eliminates the need for multiple chambers — scraps added at the top won't mix with nearly finished compost at the bottom. There are two hatches at the bottom, which allow you to remove usable compost while the upper layers continue to decompose.
Best splurge compost tumbler
113 gallons, 55 gallons | Single chamber
Pisegna calls the Aerobin "the Boeing 747 of compost bins … the newest hottest thing in composting, completely airtight with zero odor." The benefit of the Aerobin 400 is its internal aeration core that eliminates the need for turning; simply add your scraps, cardboard, and clippings at the top and let it do the rest — the system produces usable compost in as little as a few months. The Aerobin also features a liquid reservoir at its base and a spigot so you can collect and use the concentrated leachate, nicknamed "compost tea," as additional fertilizer — just remember to dilute it at a half-and-half ratio with water before adding to your soil.
Best worm composter
Up to 31 gallons | Five trays
Best for an indoor or semi-outdoor space like a garage or closed porch, the Vermihut composting system is another option for producing your own compost. Diane Miessler, permaculture designer and author of Grow Your Soil, recommends the bin, with the caveat that "worm bins require some simple maintenance to keep them thriving and odorless," but the system scales well to the volume of food scraps you're processing. You can add or remove trays as necessary, and at its fullest capacity, the VermiHut can process up to five pounds of food scraps per day. Plus, she says, the final product — rich compost full of red worms — "brings joy to most gardeners."
The Vermihut bin doesn't come with worms, which you'll have to buy separately. Louie and George Pisegna, deputy director and chief of horticulture at the New York Horticultural Society, recommend red wigglers from Uncle Jim's Worm Farm. Pisegna suggests ordering them online — one thing to note is that most retailers won't ship during the coldest parts of the year to avoid freezing the worms.
Best Bokashi composter
Five gallons | One bin
A compact system that will enrich your outdoor garden, Bokashi composting works in the absence of oxygen by mixing microorganism-saturated oat bran with food scraps and storing the blend in an airtight container. This specific bin and bran kit comes recommended by both DeDominicis and Pisegna. One advantage of Bokashi, Louie says, is that you can add "the crazy Frankenstein stuff in the back of your fridge — like condiments or oily things — that wouldn't go in a normal compost system." Vegetable scraps aren't entirely broken down in the bin; once they're fermented, they're finished by burying in your garden to further decompose and nourish the soil.
Some more composting tools we've written about
Our experts
• Liza Corsillo, Strategist senior writer
• Marisa DeDominicis, co-founder and executive director of Earth Matter NY
• Rebecca Louie, founder of the Compostess website and author of Compost City
• Diane Miessler, permaculture designer and author of Grow Your Soil
• Sandy Nurse, founder and co-director of BK Rot
• George Pisegna, deputy director and chief of horticulture at the New York Horticultural Society
The Strategist is designed to surface the most useful, expert recommendations for things to buy across the vast e-commerce landscape. Some of our latest conquests include the best acne treatments, rolling luggage, pillows for side sleepers, natural anxiety remedies, and bath towels. We update links when possible, but note that deals can expire and all prices are subject to change.
Every editorial product is independently selected. If you buy something through our links, New York may earn an affiliate commission.