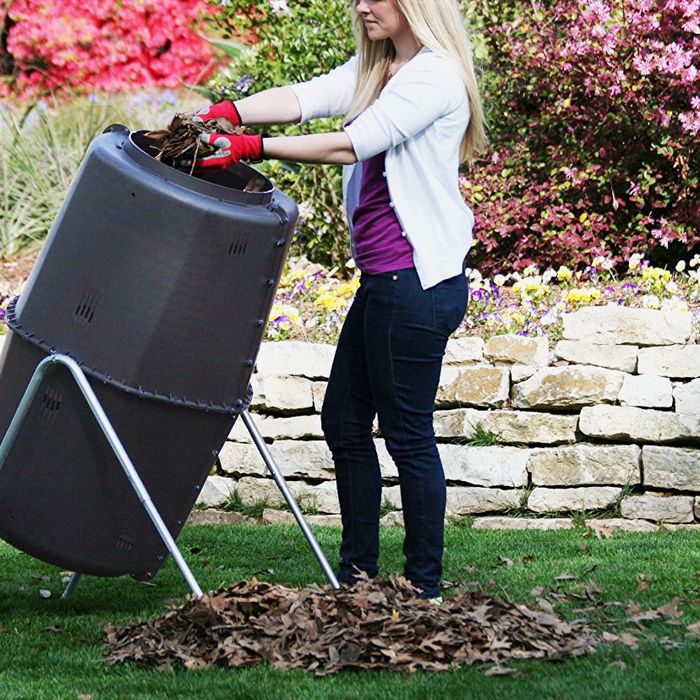 Here at the Strategist, we like to think of ourselves as crazy (in the good way) about the stuff we buy, but as much as we'd like to, we can't try everything. Which is why we have People's Choice, in which we find the best-reviewed products and single out the most convincing ones. (You can learn more about our rating system and how we pick each item here.)
And while we've written about lots of garden tools before — including the best pesticides and insecticides, the best garden shears and pruners, and the best garden hoses — here we've rounded up the best compost tumblers and outdoor compost bins, as praised by the most enthusiastic reviewers on Amazon.
Best-rated compost tumbler
Experienced and beginner composters all enjoy using this compost tumbler, including one reviewer who has been composting since 1998: "I go out several times a day and spin it, adding kitchen waste, leaves, and grass all the time. I like that there are two separate sections, so one side can be cooking while you add to the other … I like it so much I got one for my mom's birthday." Dozens more customers also liked the dual chamber, which, as one reviewer explains, "makes for an easy way to let one side do its thing after full while still being able to add new material to the other side." Another adds compost to it frequently and notes, "This thing has really lived up to the task. The two chambers hold quite a bit, and it's fairly easy to turn."
Many composters even mention that this composter attracted fewer bugs and animals than others they've had. "I wanted something compact that would hopefully contain smell and keep critters out," admits one compost veteran who has "neighbors in very close proximity. I had previously been using some oversize pots that I was no longer using, but it was a pain to mix, and small lizards actually fell into the pot, couldn't get out, and left their skeletal remains. So far, it has done a really good job of keeping in any sort of smell, so I don't have annoyed neighbors, it is obviously very critter-proof, and everything is decomposing nicely."
Best-rated (less expensive) outdoor compost bin
"This compost bin happens to be the best thing I've purchased for composting," raves one reviewer. "This was the easiest compost bin I have ever used. The compost stays in place, and it makes it easy for me to be able to turn it by myself." Many more also love this bin for composting, with dozens comparing it to much pricier tumblers. "This Geobin is slower than a tumbler, but other than a semi-monthly move, turn, and reload, it does not take any attention and the investment is low and it holds far more than most tumblers," admits another reviewer who also owns a $100 tumbler. Another agrees it can definitely hold more than expected: "This kicked my hot compost pile into high gear. The key is its huge capacity, its ability to be adjusted, and how easy it is to remove to turn the pile." And as this shopper explains, "This bin is a great value. It's simple, cheap, and it works. Frankly, it does not make much sense to spend over a hundred dollars for a bin, which is what most cost." He updated his review two years later, concluding, "They are really quite durable. I'd had some concerns initially, but they hold up pretty well."
And now some micro-picks for every type of compost tumbler and outdoor compost bin you might be looking for.
Best easy-turn compost tumbler
One-quarter of all five-star reviewers say this composting tumbler turns easily. "One of the nicest features is the ease of turning the fairly narrow chambers. If it were a large, barrel-type single chamber, I'd be struggling to turn," admits one. Another agrees and rejoices that it's "so easy to use and to turn the barrels. I am so proud of it and love it so much. Trust me, for someone older, it is so easy to turn." One more reviewer even thinks that this one is actually attractive, compared with others, and notes that it's "easy to turn and looks nice sitting behind the house. Kind of surprised how good it looks, and it works just as designed." A few mention that it's not very big, but as one reviewer explains, it's not meant for heavy-duty composting: "It is very convenient for taking kitchen scraps out back and close to the house." While another thinks the sliding doors are genius, concluding, "I like that they won't slip open when inverted but will come off completely to make it easier to empty."
Best compact compost tumbler
This miniature compost tumbler attracted reviewers looking for something that wouldn't take up too much space. "I liked how it was compact and you could roll it to the garden (or wherever) when you were all done. It's also BPA-free, which is important to me because what's the point of making your own dirt if it's full of chemicals? Plus the smaller size is a lot easier for me to turn," writes one experienced composter. Another reviewer, who has owned this model for almost five years, says, "It is without a doubt the most valuable tool we use in our garden and on our extensive property. We mix in old coffee grounds and dirt, put it in the bottom of all of our plantings, trees and fauna alike, and what happens is this: Everything we plant is vibrant! The cool thing is that our garbage doesn't smell, ever." Many more reviewers mention that this composter doesn't smell or attract bugs. As this one puts it, "I rent and didn't want the landlord to see me attracting bugs or critters to the property or having yucky smells around. I have not noticed any unpleasant smells. There have not been notable flies or bugs around the unit. No critters can access the compost. Best of all, nothing to assemble! Ready to go, right out of the box."
Best dual-chamber compost tumbler
The dual chambers of this compost tumbler are a main selling point. One shopper thinks it's just "nice to have two chambers for beginning and end compost materials." Another bought this for his mom, "who loves gardening and wanted to start making her own compost." He notes, "She especially loves that it has dual chambers so that she can actually use the compost that she's making more frequently." And he adds that he owns a single-barrel composter himself and is a little jealous: "The worst part is having to wait to add new materials until the original materials have properly decomposed. No wait time here, really, once you get your first batch." A third reviewer has "been wanting a dual-chamber-barrel tumbling composter for years," explaining, "The value here is everything you need for a big compost setup at a great price. It's holding up beautifully, looks … chic? For a compost barrel? Really happy with this purchase."
Best worm outdoor compost bin
"This product is so amazing. It was my best ever Mother's Day gift," celebrates this psyched composter. "Our food waste is next to nonexistent, and that makes us happy since our city does not collect compostables. The worms are happily multiplying, and we have many babies and cocoons." Many more equally thrilled reviewers think their garden has benefited from the rich worm compost. "It feels good to know I'm doing something positive for the environment and my garden," writes one shopper who has owned a worm farm for nearly three years. Another reviewer thinks "anyone who does home composting can benefit from this product" and explains that "worms break down kitchen waste, leaves, and newspaper very quickly, and the composted product also includes very rich worm castings — perfect fertilizer!" A few complain that there's a bit of a stench and the composter attracts bugs, but as one reviewer notes, "As for smell? Nothing noticeable unless I remove the lid and take a big breath. Slight issue with some type of tiny fruit flies. A yellow sticky trap nearby keeps them in check."
Best large-capacity compost tumbler