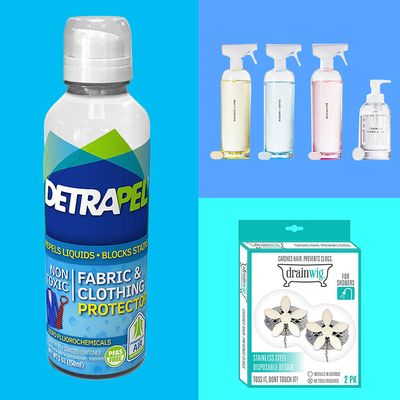 Spring cleaning, according to
Shark Tank
.
Photo: Courtesy of the vendors
Every season, Shark Tank features products that run the gamut from the practical (at-home fitness gear) to the absurd (ornaments for your beard). While they're all certainly unique inventions, some more useful than others, the cleaning innovations in particular always manage to solve completely obvious problems you didn't know you needed solutions for. Would you ever have guessed that you could buy a neoprene gap filler to prevent things from plunging between your car seats? What about a bib to keep your facial hair from falling all over the sink? Or a fabric repellent that keeps your clothes dry and stain free? Shark Tank is here for all your spring-cleaning needs, alerting you to where you'll need help before you even realize it.
Broom and dustpan
This broom-and-dustpan set was made for tight, hard-to-reach spaces. The broom handle can extend up to 50 inches, and the bristles, set at a 90-degree angle, act like a squeegee to get into all your tough corners.
Auto brush
Clean up your car (or bike or hot rod) wheels with this water-saving gadget. This brush and optional flow-control-switch handle combo is said to reduce water use by 50 percent compared with a garden hose or car wash. The brush itself is plastic to avoid rusting (and thus the need for replacement, leading to more plastic use).
Sports-equipment deodorizer
Rid your gym bag, car, or mud room of sport stank with these odor-eliminating sticks that kill bacteria, deodorize, and eliminate the moisture that breeds future bacteria. Originally made for lacrosse gloves, fans have had success deodorizing everything from gardening gloves to boxing gloves (as well as non-glove things, like Uggs).
Drain-clog remover
A disposable drain chain designed to catch hair and whatever else gets clogged down there, without your ever having to touch its findings.
Clean cleaning products
These are nontoxic cleaning products in reusable, BPA-free packaging. This starter kit includes three reusable cleaning bottles, one reusable foaming-hand-soap bottle, and four cleaning tablets that, when combined with water, turn into multi-surface cleaner, glass cleaner, bathroom cleaner, and hand soap.
Water filter
Hydroviv studies water quality from local, county, state, and federal databases to identify contaminants and susceptibilities and then creates a filter specific to the water in your area. It removes the bad chemicals and leaves the good minerals, and the company will continue to monitor your water. Hydroviv will even send a new replacement cartridge free of charge if something changes.
Splatter guard
While this funnel isn't exactly a cleaning aid, it can prevent a mess. It sits around the rim of your frying pan, intercepting any splatters between your pan and your backsplash.
Fabric spray
Another precursor to cleaning, this fabric spray protects various textiles from getting wet or stained. Any liquid that comes in contact with it beads up and rolls off like water off a lotus flower — which was the inspiration for this product. One treatment equals a year of protection.
Scrub Daddy
Perhaps the world's most famous sponge. There's also the newer, equally incredible, Scrub Mommy.
Disinfecting wipes
Heavy-duty grease-and-grime wipes that were so popular with the Sharks, Barbara Corcoran and Robert Herjavec went 50-50 on the deal.
Odor eliminator
The Sharks didn't bite, but it's still a super-useful, food-grade, all-purpose odor eliminator.
Car-seat-gap filler
This handy neoprene piece stuffs into that black hole of a gap between a front car seat and the center console, so no more collecting piles of crumbs or helplessly dropping your iPhone while you're searching for directions.
Reusable paper towels
These are just as thin as paper but made from bamboo and machine washable.
Locker organizer
Transform that messy locker into neatly organized shelves with the help of these customizable components.
Tasty face wipes
These kids' face wipes are sweetened with stevia to make face washing an enjoyable and tasty ritual.
Water-bottle cleaner
Drop one of these biodegradable tablets into a deep water bottle, let it soak, and watch as all those grimy substances you can't quite reach wash away.
Clothing wipes
Much like a fabric-freshening spray, these wipes swipe over stanky clothes to make them smell like fresh laundry. Plus, they're easy to just throw in a bag and carry around in case of emergency.
Flea-and-tick spray
Don't let pets bring invasive species into your home. Spray them down with this flea-and-tick remover first (it can also be used on furniture and rugs, if it's come to that).
Beard bib
Sure, it looks ridiculous, but we vote that eliminating hairy sinks is worth it.
Sock tabs
It's the type of invention you wish you'd thought of first: These little plastic pieces hold socks (even thin trouser socks) together, so they won't split up or disappear in the wash.
Heavy-duty hand soap
The thing about dirt is that it absorbs chemicals, oil, grease, and toxins while also acting as an exfoliant. This counterintuitive soap uses dirt to clean dirt.
Vegan body wash
Developed by a husband-and-wife team of former chefs who went from preparing dishes with flowers and herbs to transforming them into soaps and body washes.
Portable shower
Fill this with water, carry it around, and get clean anywhere. It even comes with a hot-water adapter.
Cat potty trainer
The Strategist is designed to surface the most useful, expert recommendations for things to buy across the vast e-commerce landscape. Some of our latest conquests include the best almost-invisible shoe rack, natural cleaning products, retro stain remover, clothes organizer, and pot scrubber. We update links when possible, but note that deals can expire and all prices are subject to change.

Every editorial product is independently selected. If you buy something through our links, New York may earn an affiliate commission.